2019 #ColtsCamp Notebook, Day 15: Browns Come To…
4 min read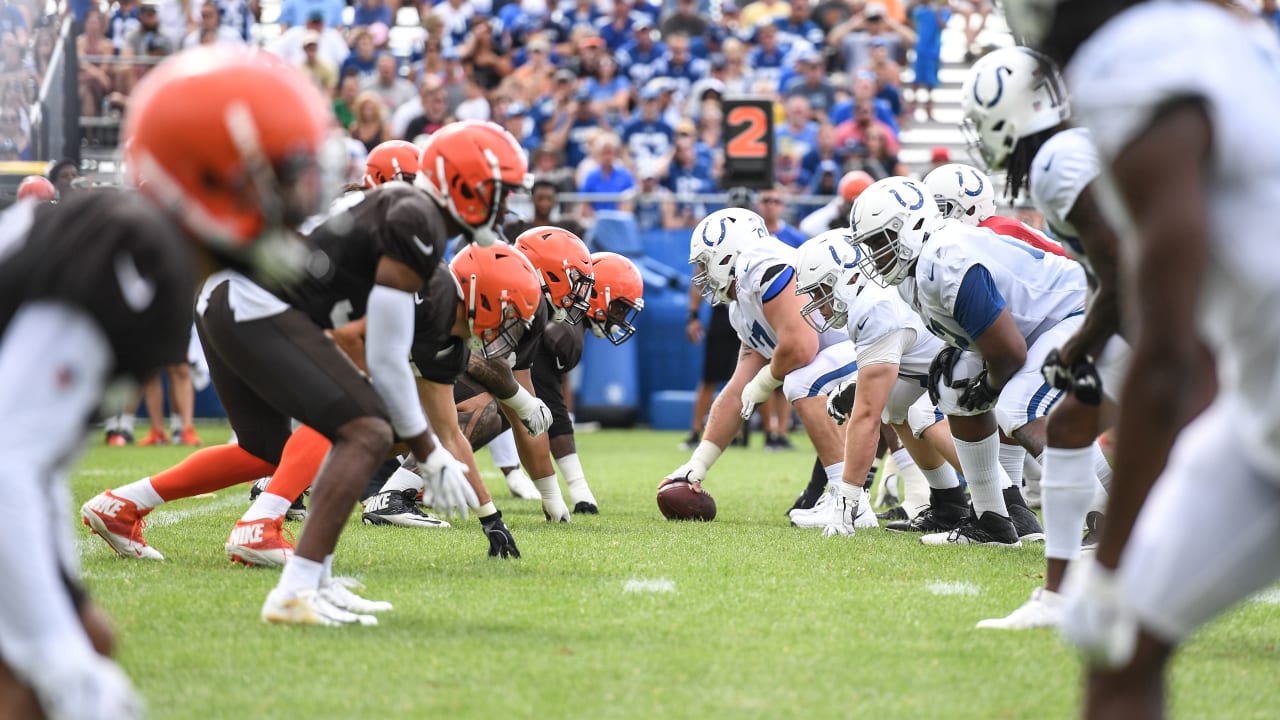 — With Quenton Nelson still nursing an ankle injury, Josh Andrews took over his left guard spot again. For the second consecutive practice, the first-team line was Anthony Castonzo (left tackle), Andrews (left guard), Ryan Kelly (center), Mark Glowinski (right guard) and Braden Smith (right tackle).
— Also seeing first-team reps at the skill positions throughout practice were Jacoby Brissett at quarterback, Marlon Mack, Nyheim Hines and Jonathan Williams at running back, T.Y. Hilton, Devin Funchess, Chester Rogers, Zach Pascal, Deon Cain, Marcus Johnson and Daurice Fountain at receiver and Jack Doyle, Eric Ebron and Mo Alie-Cox at tight end.
— The second-team offensive line was Le'Raven Clark (left tackle), Jake Eldrenkamp (left guard), Evan Boehm (center), Daniel Munyer (right guard) and Joe Haeg (right tackle).
— With an opponent in town, we did not see a third-team offensive unit. Instead, quarterbacks Phillip Walker and Chad Kelly alternated second-team reps in 11-on-11s and 7-on-7s.
— Brissett was sharp throughout practice, going 11-of-14 in 11-on-11s with completions to Hines (four), Hilton (two), Hilton (two), Funchess, Rogers and Cain. Brissett then went 4-of-6 in 7-on-7s with completions to Hilton, Mack, Hines and Pascal.
— We began seeing Cain get more run with the first-team offense as he continues his work his way back from 2018 ACL surgery. He made a couple catches throughout practice, showing off his trademark effort and athleticism.
— In what has become customary, Krishawn Hogan also had himself a day, as the Colts' young receivers were making their presence felt. Aside from dominance in 1-on-1 drills against the Browns' defenders, he caught a big pass from Walker during 11-on-11s on a dig route for about 15 to 20 yards.
— It wouldn't be a recent training camp practice without Fountain making plays. He had an acrobatic catch during 1-on-1s where he had to jump up and shield the ball from the defender, bringing it into his body. He also broke up an interception at one point. Whether Walker's pass was too short, or Fountain went too far on his route, Browns defender Juston Burris had the ball in his hands before Fountain quickly went to break up his grasp. But Fountain's play of the day was a 60-yard touchdown down the right sideline from Walker. Fountain left two Browns defenders in the dust on the play.
— Tight end Ross Travis also was a standout today, showing crisp route running and big-play ability. On one play in 11-on-11s, Travis caught a pass about 30 yards down the left side from Walker, and then the defender simply slid off of Travis when trying to wrap him up. Next, Travis had a great route where he went about 10 yards, faked a plant foot inside and then cut inside. He caught the pass and turned upfield for about 20 yards.
— Hines also had his own couple of big plays. First, Brissett hit him on a quick screen pass on the right side, and Ebron and Pascal opened up a big hole for Hines to fly through. Later, Hines caught another pass where he ran a nice little five-yard out, and then had plenty of daylight to race upfield for about 30 yards.
— After missing some time earlier in camp with an oblique injury, Doyle is starting to round into form. Late in 11-on-11's, Brissett threw about a 10-yard pass up the middle, which was tipped by Browns linebacker Christian Kirksey. The ball continued to travel about five more yards downfield before Doyle went to the ground and caught it.
— There were a couple of short touchdowns by the Colts' offense during late 11-on-11s. First, Kelly found Pascal for five-yard score on a little slant route. Shortly after, Williams took a handoff on the left side off-tackle and brought it into the end zone from five yards out.
— Finally, there was only really one small skirmish between the two teams on Wednesday. Late in practice, Colts running back D'Onta Foreman was hit late from behind by former Colts cornerback Lenzy Pipkins. Foreman, who had spun away from a pile of defenders, took exception and then the two sides started to display their displeasure. The dust-up was quickly broken up.
(via Jake Arthur/Colts.com)
https://www.colts.com/news/2019-coltscamp-notebook-day-15-browns-come-to-town