2019 Vikings Position Recap: Quarterbacks
4 min read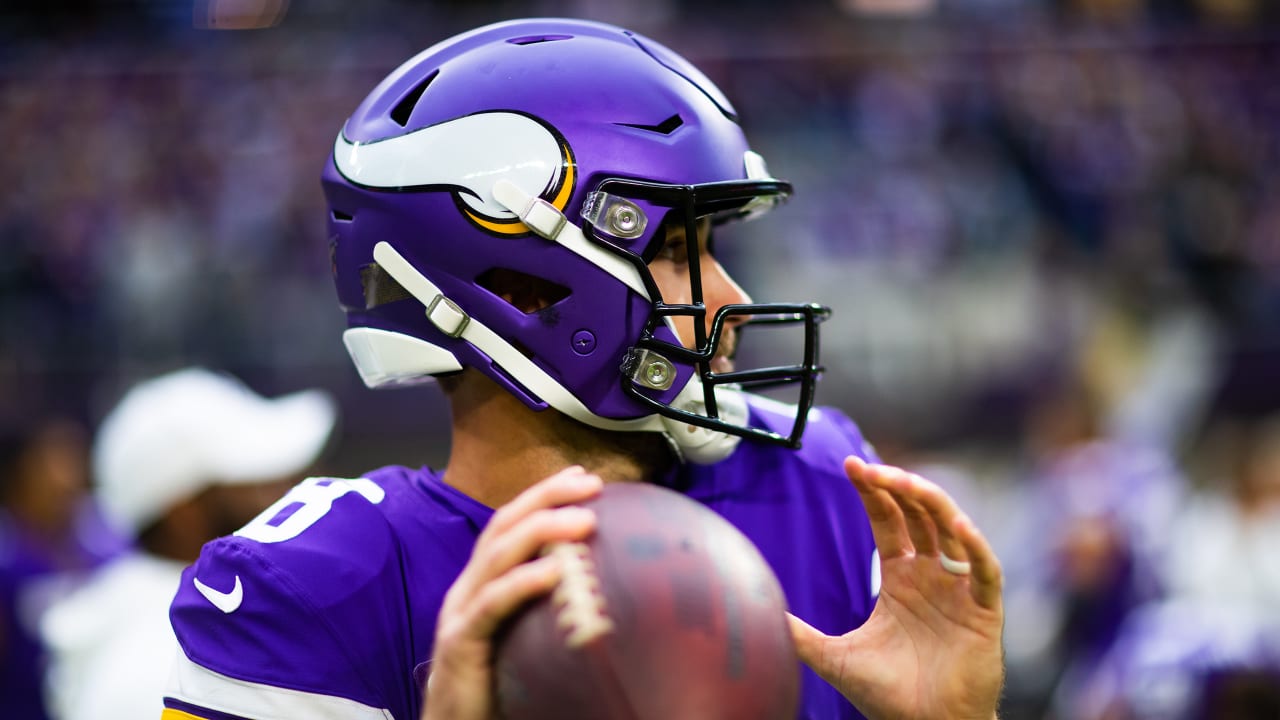 107.4 — Cousins posted a career-high passer rating of 107.4 in 2019, surpassing his previous high of 101.6 as a starter (2015).
The Vikings weren't messing around in overtime.
On the road in the Wild Card game and with advancing to the Divisional round on the line, Cousins and the Vikings offense drove down the field and attacked the Saints defense. Cousins connected with Diggs for a 10-yard gain on third-and-1 to keep the drive moving; three plays later, he released a deep throw.
Cousins' pass soared through the Superdome and came down perfectly for Thielen to haul it in at the New Orleans 2. The 43-yard play set up a third-down touchdown pass to Kyle Rudolph to win the game.
Regular-Season Statistics
15 games (15 starts); 307-of-444 passing for 3,603 yards (69.1 completion percentage); 26 touchdowns; 6 interceptions; sacked 28 times; 107.4 passer rating
3 games (1 start); 12-of-21 passing (57.1 completion percentage); 0 touchdowns; 2 interceptions; 35.1 passer rating
1. On the road against a division foe, Cousins delivered.
The Vikings entered halftime at Detroit tied at 21, but Minnesota didn't look back in the third and fourth quarters. Cousins threw touchdown passes to four different Vikings that day, including perfectly placed, 25-yard ball to Thielen in the first quarter. He also connected with rookie Bisi Johnson for his first NFL score, fullback C.J. Ham on his first receiving touchdown and tight end Kyle Rudolph.
When all was said and done, the Vikings ran away with a 42-30 win at Detroit. Cousins finished the day 24-of-34 passing for 338 yards and four touchdowns with a season-high passer rating of 141.5.
2. As noted above in the "memorable moment," Cousins played lights-out in his second career postseason game, particularly during the overtime drive en route to Rudolph's walk-off score.
The Vikings quarterback finished his first playoff victory 19-of-31 passing for 242 yards, one touchdown and no interceptions with a passer rating of 96.4.
1. Green Bay. Really, that's enough said. Cousins struggled in both Border Battles in 2019, beginning with the Week 2 contest at Lambeau Field. The quarterback threw two picks, including one on first-and-goal late in the fourth quarter. Rather than opting to throw the ball away, Cousins forced a pass to Diggs that was intercepted by Kevin King and essentially sealed the Packers 21-16 win. Minnesota's offensive line also struggled in both games against the Packers, which made things difficult for Cousins. In the Week 16 contest at U.S. Bank Stadium, Cousins was sacked five times. In two games against the division rival, he was 30-of-63 passing for 352 yards, two touchdowns and three interceptions. His passer ratings in Week 2 and 16 were season-lows – 52.9 and 58.8, respectively.
2. After coming up clutch during Wild Card weekend, Cousins couldn't get anything going at San Francisco in the Divisional round game. But in his defense, neither could any part of Minnesota's offense. The front struggled against a dynamic, physical 49ers defensive line that outplayed the Vikings in the trenches and stunted both the pass and the run. The highlight of the afternoon occurred early on, a deep pass by Cousins to Diggs for a 41-yard score. After that, however, there were no more explosive plays to be seen. In the Vikings loss, Cousins was 21-of-29 passing for 172 yards, with one touchdown and one interception for a passer rating of 84.3.
"I think momentum's a big part of football. And as much as I'd love to tell you that it's just about between the white lines, I think emotion and momentum matter. I think that it's not game-to-game but also within a game. You're always trying to find ways to get it and keep it. But part of getting momentum or having a great locker room is winning and having good players."
– Cousins on role of momentum in the NFL
"It's always been a good locker room; I sensed that when I first arrived, that there were just a lot of hard-working players who didn't have big egos or a big agenda. They just wanted to win, and I felt like I could fit into that culture pretty quickly. Camaraderie, certainly, is built stronger when you win. It's a lot easier to have a good locker room and to enjoy your week when you're winning football games. I've been a part of a 3-13 team and a 4-12 team, and it can be a different dynamic; nobody likes losing. When you win, the weeks tend to go a little faster, the season tends to be a little more enjoyable."
– Cousins on the chemistry in Minnesota's locker room
https://www.vikings.com/news/2019-vikings-position-recap-quarterbacks