2021 Draft, Linebacker Zaven Collins, Tulsa, Round…
3 min read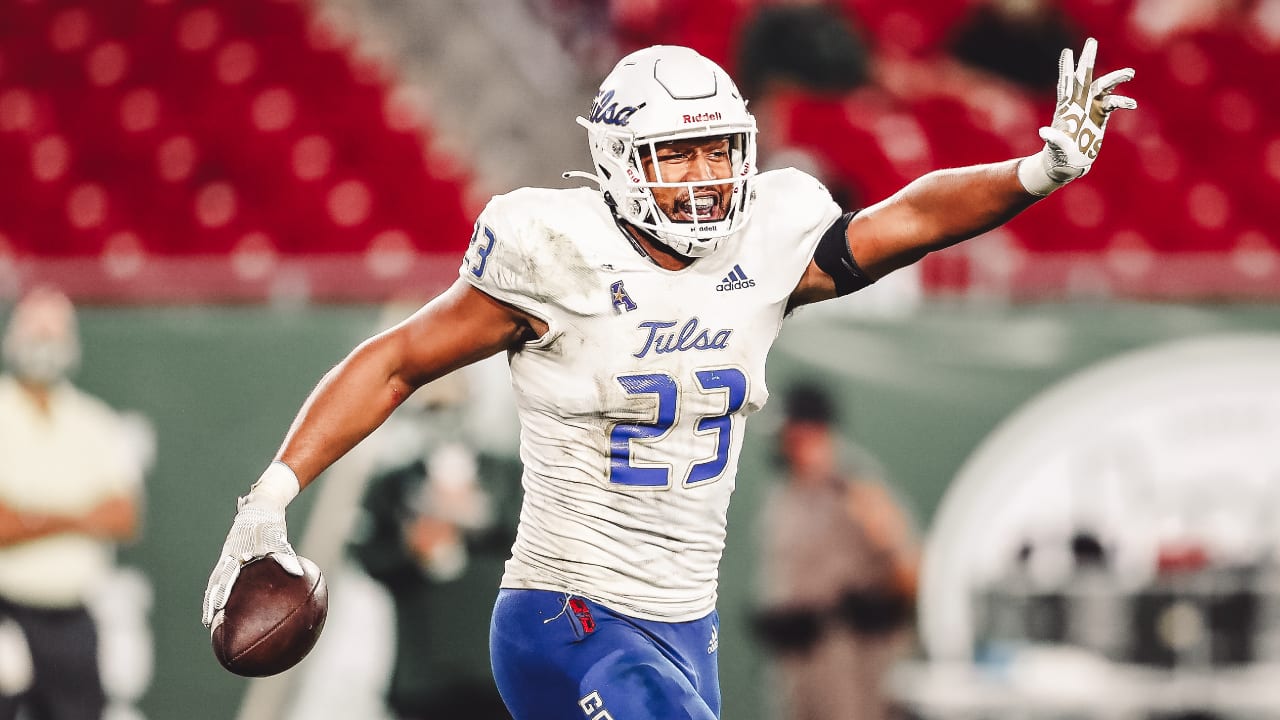 In only eight games for Tulsa in a pandemic-shortened season, Collins had 11½ tackles for loss, four sacks, four interceptions (two returned for touchdowns), two pass breakups and a blocked kick. Keim compared him to Bills inside linebacker Tremaine Edmunds, another 6-5, 250-pounder who has reached the Pro Bowl in each of the last two seasons. Edmunds was, coincidentally, also the 16th pick overall.
The Cardinals also gave him an "alpha" tag – a rare leadership notation that the Cardinals gave only four other players in this draft and usually only hand out to five or six players annually – as they continue to build out the locker room.
Collins said he envisions himself as a defensive chess piece, but unlike Simmons, Keim was adamant Collins – who played in a 3-3-5 alignment at Tulsa – fits perfectly at the Mike, where veteran Jordan Hicks currently sits atop the depth chart.
"It's not like this is a projection," Keim said, noting that this isn't another Haason Reddick situation coming out of college. "This guy has played stack linebacker, which is a whole different deal when you see the vision and the ability to play from that second level."
Kingsbury said he expects Collins to pick up the defense quickly and play a lot this season. Whether he or Hicks, who agreed to a pay cut earlier in the offseason, starts will be left to competition in training camp.
"Playing side-by-side with Isaiah Simmons when you see those two guys in there with their length, it's really like having two trees in the middle of the field," Keim said.
The only media at Collins' draft celebration were from Tulsa. He said he set a goal to be a top 20 pick – he said he often sets small, short-term goals to reach – and that goal was to be shared with family and friends. Cleveland was never really considered.
"I'm from a small community, and that's what I wanted to make it feel like," Collins said.
But he is anxious to start, emphasizing over and over how much he looked forward to coming to Arizona and making an immediate impact.
"I want to know every detail about every formation, about every scheme, that's the big things for me," Collins said. "I think about those things evert down – situational awareness, game awareness, those things matter a lot to me."
For a player from a tiny town, who received only a couple of smaller college scholarship offers, it was no wonder emotions reigned.
"All these coaches told me I'd never be a big enough player, I'd never had enough competition, I'd never be great enough to play at the Division I level," Collins said. "Honestly, I tell everyone this: Piss on them, excuse my French, but piss on them.
"I want to be great. I want to prove myself to the world, I want to prove myself to the National Football League that I can be great."
https://www.azcardinals.com/news/zaven-collins-nfl-draft-linebacker-tulsa-cardinals-2021