2022 Pro Bowl Features Dalvin Cook TD
2 min read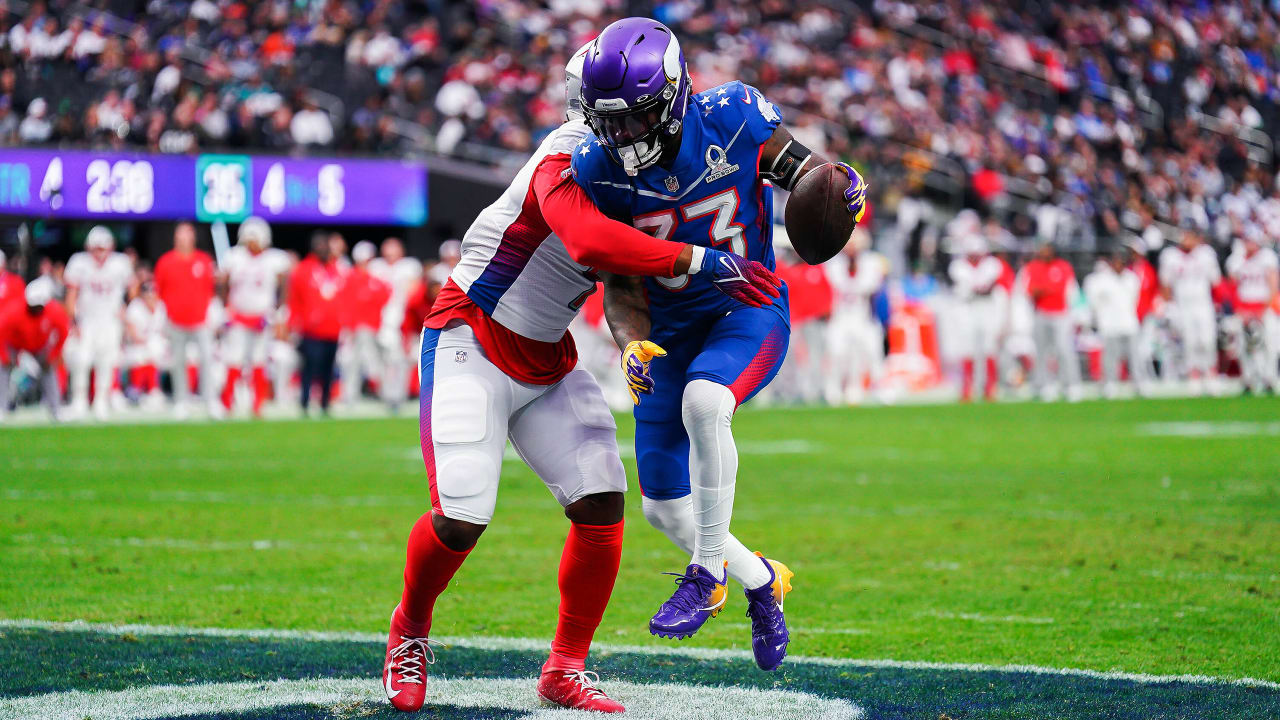 And while the Pro Bowl typically lacks the dynamic tackling and quarterback sacks of the regular- or postseason contests, it does offer a unique platform for testing out potential rule changes.
A big difference in Sunday's game was that after a team scored, it had the option of (1) giving the opponent the ball on its own 25-yard line, or (2) the scoring team can attempt a fourth-and-15 from its own 25-yard line. If successful, that team maintains possession of the ball. This particular rule was designed to test the potential alternative to onside kicks.
It's an attention-grabbing idea, but the sought-after effect wasn't fully felt in Vegas, as the AFC and NFC squads went 0-for-8 on fourth-and-15 attempts. Cousins' interception occurred on a fourth-and-15 attempt following the Juszczyk touchdown. The Vikings QB launched a deep pass to 49ers receiver Deebo Samuel, but it was picked off by Titans safety Kevin Byard. Attempts by other quarterbacks also were intercepted or simply landed incomplete.
There also was the "spot and choose" rule, which was proposed last year by the Baltimore Ravens. If a team wins the coin toss – in regulation or overtime – it receives two options: (1) receive the ball and start on offense or (2) defer and choose where to spot the ball.
The caveat is as follows, though: If the winning team chooses to receive, then the other squad can dictate where the possession will start. If the team that wins the coin toss chooses ball placement, the other can elect to play offense or defense from that spot.
The goal of this rule change would be to add more strategy to the coin toss and tweak the current overtime rules, which against received criticism following the Chiefs defeat of the Bills in the AFC Divisional playoff game.
At kickoff, the NFC won the toss and elected to receive, and the AFC spotted the ball at the 15. The NFC's drive was cut short by a 45-yard pick-six by Colts linebacker Darius Leonard.
To start the second half, the NFC spotted the ball at the 5. The field position was less-than-favorable, but the AFC squad executed a 95-yard drive capped with a touchdown by Raiders receiver Hunter Renfrow.
The Pro Bowl also test-ran a play clock that began at 35 seconds (rather than 40)). Also, an incomplete pass didn't automatically stop the clock – unless inside the final two minutes of the first half or final five minutes of the game.
While there's no guarantee any of these rule changes will be implemented into regular-season NFL games, Sunday's all-star matchup offered fans a fun glimpse of their favorite players – and of "maybe" modifications that could crop up down the road.
https://www.vikings.com/news/dalvin-cook-touchdown-2022-pro-bowl