4 things to watch in Bears-Giants game
4 min read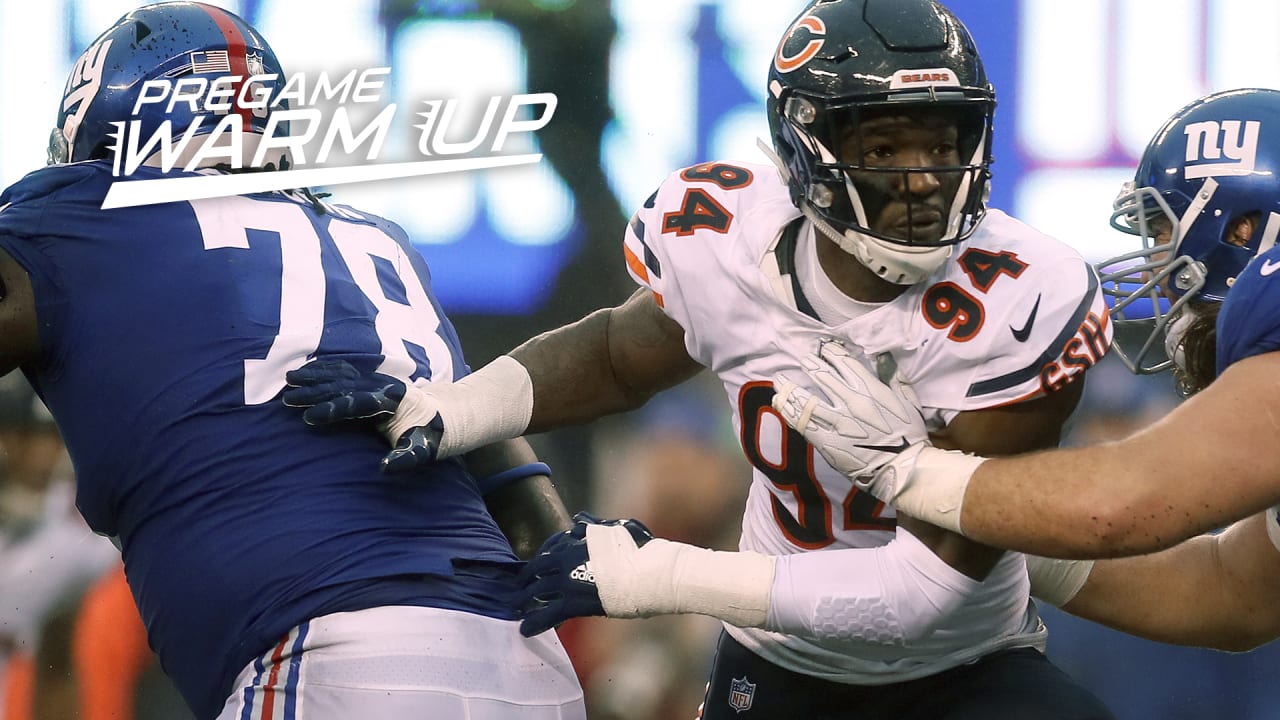 (2) Will the Bears defense be able to generate multiple takeaways?
Takeaways were the lifeblood of the defense last season when the Bears led the NFL with 36. This year they've compiled only 14 in 10 games but should have some chances to pad that total Sunday. The Giants rank 31st in the NFL in both giveaways (24) and turnover-differential (minus-12).
This season the Bears are 4-1 with a positive turnover ratio, 0-4 when it's negative and 0-1 when it's even. They're 0-3 in games in which they haven't generated a takeaway.
Giants rookie quarterback Daniel Jones has committed 16 turnovers in eight starts since replacing veteran Eli Manning as the starter. Jones is also more than capable of putting the ball in the end zone as he showed last Sunday when he threw four touchdown passes in a 34-27 loss to the Jets.
"He can make all the throws, very mobile," said inside linebacker Roquan Smith. "He's playing for a reason. And they've got a lot of other weapons around him, so it will be a great challenge for us. I'm looking forward to it."
One reason the Bears aren't producing as many takeaways as last season seemingly is because they have not played with as many big leads. The defense has still excelled this year, however, ranking fourth in the NFL in average points allowed per game at 17.4. With the offense struggling, the Bears have lost three games in which they permitted 17 points or less after going 10-0 in those contests last year.
(3) Will the Bears be able to contain Giants running back Saquon Barkley?
The Giants' most dangerous offensive weapon is Barkley, who finished second in the NFL in rushing last season as a rookie with 1,307 yards and 11 touchdowns on 261 carries. Hampered by a high ankle sprain this year, Barkley has been limited to 402 yards and two TDs on 101 attempts in seven games. Since returning from the injury, Barkley's rushing yards have declined each game from 72 to 64 to 28 to just 1 on 13 carries in last Sunday's loss to the Jets. Still, the Bears aren't taking anything for granted.
"He's definitely a premier back," Smith said. "He's a great back. I think we all know that. I have a tremendous amount of respect for the guy and the things he's accomplished throughout his short career. I know it'll be a great challenge for our defense and I'm very excited for it. It'll be a good chance to go against one of the best backs in the league."
Last season Barkley rushed for 125 yards on 24 carries in a 30-27 overtime win over the Bears. He didn't top the 100-yard mark until a 29-yard run on the first play of overtime.
"He's explosive, man," said outside linebacker Khalil Mack. "He can sneak in and have a big play out of nowhere, and he'll be jumping over guys and all these different things. It's going to be huge for us to make sure we consistently shut him down this week and it's going to be a big task for us."
This season the Bears are 4-2 when allowing fewer than 100 yards rushing and 0-4 when they permit 100 yards or more on the ground.
(4) Will Eddy Pineiro rebound after missing both of his field-goal attempts against the Rams?
After making 12 of his first 14 field-goal attempts this season, Pineiro has missed his last three tries, including 49- and 47-yarders in last Sunday night's loss to the Rams.
"Obviously that wasn't a good game," said special-teams coordinator Chris Tabor. "He needs to perform better than what he did the other night. But we went down to the stadium [Wednesday] and he went 21-of-23, kicked real well. The good news about that is he's refocused, staying true to the process, but the process has to carry over to the games. We're not going to get that answer until Sunday."
Tabor is not concerned about Pineiro losing confidence in himself.
"He's great mentally," Tabor said. "I'll be honest with you: I don't even worry about that. I don't overreact and I don't underreact. It is what it is. He's a young kicker. He's hit a little bit of a rut, and our job is to get him back in a groove. There's a difference between a rut and a groove, and that's what we're working on."
What They're Saying: News from the New York Giants
https://www.chicagobears.com/news/4-things-to-watch-in-bears-giants-game-x4230