4 things to watch in Chicago Bears-Cleveland…
4 min read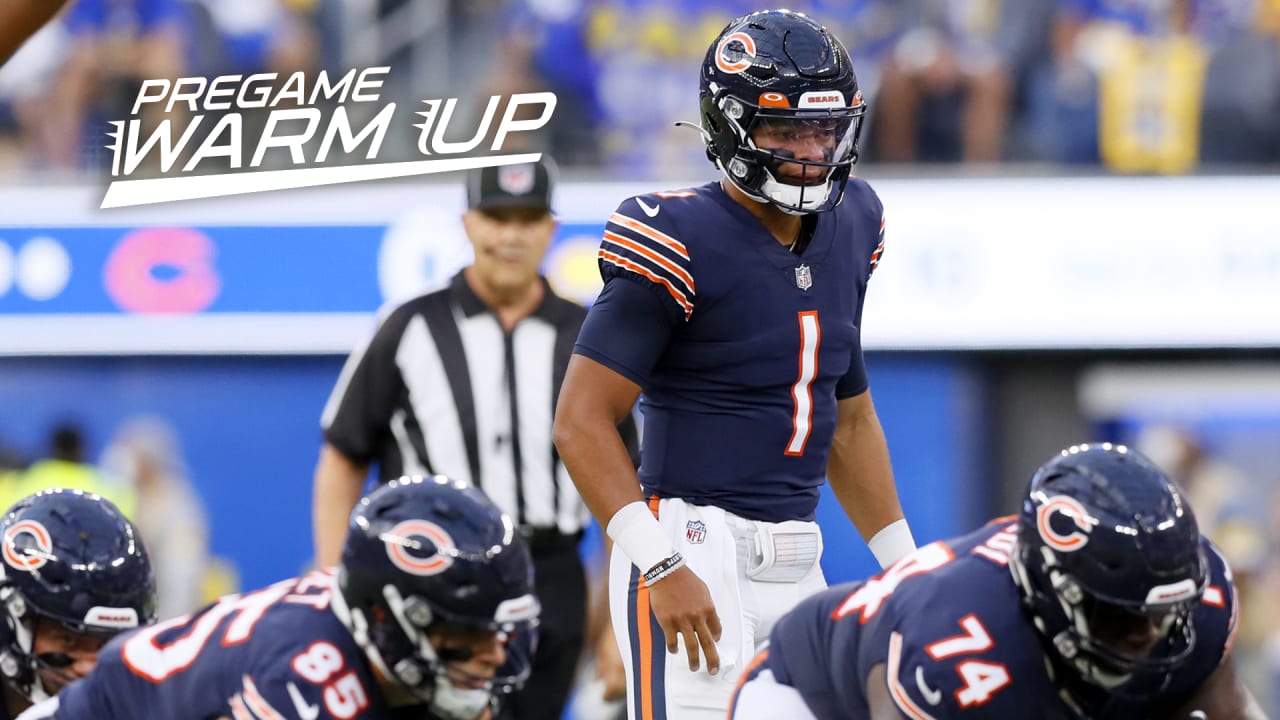 Teammates have lauded Fields for maintaining his poise under pressure and don't expect anything different Sunday in Cleveland. "I think that's something that really stands out," said tight end Cole Kmet. "Last weekend when he throws that pick, it's just 'next play,' which is really impressive. We've seen that. He has the ultimate confidence in himself, which is really cool to see. When the quarterback has confidence like that, it instills confidence in everybody else."
"He's always calm," added receiver Darnell Mooney. "He just wants to make a play and get a 'dub' for the team. It's been showing on the field, it's been showing off the field as well as in practice, and with him getting a lot of reps this week, it's showing as well."
(2) Will the Bears defense build on its impressive performance against the Bengals?
The defense struggled in the season opener, allowing touchdown passes of 67 and 56 yards while not generating a takeaway in a disappointing 34-14 loss to the Rams. But the unit bounced back in a major way last Sunday, registering takeaways on four straight possessions in the second half and compiling five sacks in a 20-17 win over the Bengals.
The Bears hope to continue to play stout defense and force turnovers Sunday in Cleveland. "It was great to see a lot of [takeaways] and get them in bunches, so I am really proud of the guys to be able to do that," said defensive coordinator Sean Desai. "Part of the message is they just have got to keep swarming the football and over time. the ball will find them. That's just a function of the league. You've got to play with good technique and fundamentals and be in your spots when you need to be in your spots and then when the ball is available to be taken, you go do that."
The only teams with more than the Bears' four takeaways this season are the Cowboys with six and the Patriots and Texans with five apiece. The Browns have committed four turnovers in their first two games—two lost fumbles and two interceptions.
(3) Will the Bears be able to contain a vaunted Browns pass rush led by a pair of No. 1 overall picks in Myles Garrett and Jadeveon Clowney?
"They've got talented guys, long guys, they've got guys who are intense," said offensive coordinator Bill Lazor. "Even some of their backups we've played in the past are guys with high motors and bring it hard. I think if you had to rank all the issues … you'd have to start it up from with how they play and how they can disrupt at the ends, those defensive ends first and then inside. You're going to have to block them run and pass, so I would say that's job No. 1 looking at this team specifically."
A productive running game would slow down the pass rush and keep the Bears out of predictable passing situations. David Montgomery ran for 108 yards and one touchdown on 16 carries against the Rams but was limited to 61 yards on 20 attempts versus the Bengals. Entering Week 3, the Browns defense ranked 14th in the NFL in total yards, ninth against the run and 23rd versus the pass.
Fields' mobility should also help; the Browns will have to account for his 4.4 speed and ability to escape the pocket and extend plays with his legs.
(4) Will the Bears defense be able to slow down a balanced Browns offense quarterbacked by another No. 1 overall pick in Baker Mayfield?
Mayfield enters Week 3 having completed a league-leading 81.6 percent of his passes for 534 yards with one TD, two interceptions and a 101.9 passer rating that ranks 13th in the NFL. Mayfield and the Browns are expected to benefit from the return of receiver Odell Beckham Jr., though receiver Jarvis Landry was placed on injured reserve this week.
"The quarterback is playing at a really high level; he can extend plays," said Desai, who described the Browns offense as "stacked." "He's got a cannon for an arm and they've got the receivers out there that will go make plays as well on the ball, and the tight ends are some of their top targets in the pass game who are fast and have a big catch radius."
Cleveland also boasts a dynamic running back tandem that combined to rush for 1,908 yards last season in Nick Chubb (1,067) and Kareem Hunt (841). "They are physical and they run angrily and mean," Desai said. "They run with their shoulders over their toes. They're not afraid to hit the ball downhill and they are not afraid to make anybody miss. It's going to take a lot of people at one time to get them down."
https://www.chicagobears.com/news/4-things-to-watch-in-bears-browns-game-justin-fields-first-start-baker-mayfield