49ers 24, Broncos 15: Observations
3 min read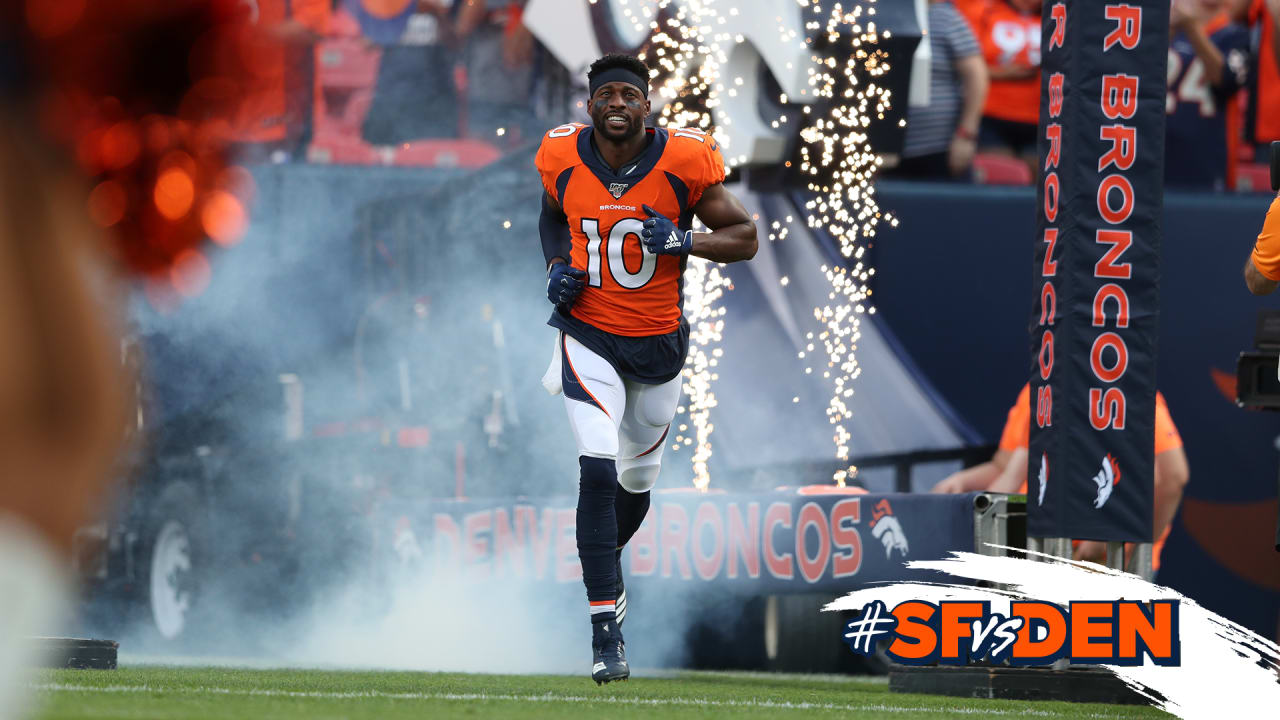 WIDEOUTS, QUARTERBACKS SALVAGE GROUND GAME
On the surface, the Broncos' total of 113 rushing yards on 27 carries was solid. But it doesn't take much digging to find issues.
Denver's five running backs mustered just 47 yards on 21 attempts, averaging 2.23 yards per carry. Only two of their attempts moved the chains. Their wide receivers and quarterbacks, meanwhile, moved the chains four times on their six rushing attempts, averaging 11.0 yards per carry.
Fangio said that part of the ground woes stemmed from the problems caused by the 49ers' scheme, which saw their front seven attack the interior while leaving open lanes in coverage. The Broncos were able to exploit the gaps for some downfield strikes, most notably the 21-yard first-quarter pass to Courtland Sutton. But the 49ers' work inside left the running backs staring down multiple front-seven defenders in the backfield, and three of the Broncos' first four carries by their running backs resulted in a loss of yardage.
Three of the Broncos' four longest runs belonged to a backup quarterback (Kevin Hogan's 24-yard touchdown run) and wide receivers (Sanders and Tim Patrick).
"We've got to block better and run better," Fangio said.
SPECIAL TEAMS A TROUBLE SPOT 
Fangio didn't mince words when asked about whether he had concerns about the performance of the special teams.
"Yeah, big-time concerns, because that's two weeks in a row our special teams has gotten whipped," Fangio said. "We're going to have to get it fixed."
A first-quarter kickoff sounded the alarm. San Francisco's Richie James Jr. shot past a diving Tim Patrick and into open space down the right side of the field. The Broncos didn't stop him until after he'd racked up 48 yards, setting San Francisco up at their 49-yard line. James added a 32-yard return in the second quarter.
Punter Colby Wadman had an up-and-down game. While he improved his hang time, averaging 4.31 seconds on his seven punts, he sent two of them into the end zone for touchbacks, dropping his net average to 41.4 yards.
Three Broncos — wide receivers River Cracraft, Nick Williams and Kelvin McKnight — took their shots on punt returns. Cracraft had two returns for 12 yards, while Williams recovered his own fumble after the football skipped off his face mask and McKnight was stopped for no gain on his return opportunity. None of them had much room to navigate.
"Obviously we don't have 53 guys ready to be picked on this team yet, and those last 10-15 spots have to be special-teams contributors and right now, it doesn't seem like they're playing well enough," Fangio said. 
"If it continues, we're going to have to put some starters out there to be on those units, because the last two weeks is unacceptable."
https://www.denverbroncos.com/news/49ers-24-broncos-15-observations