49ers Locker Room Provides Final Updates at the…
3 min read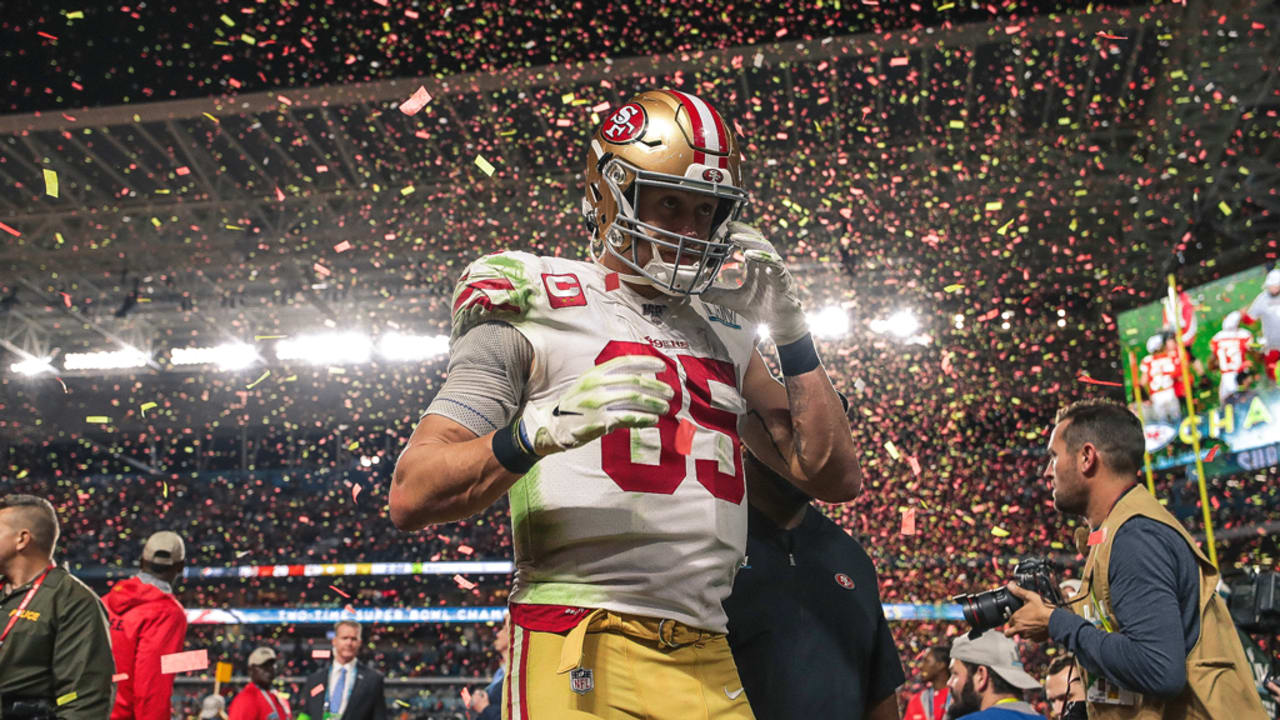 Will Emmanuel Sanders Return to the 49ers?
Arriving in a midseason trade with the Denver Broncos, Emmanuel Sanders was essentially a half-season rental for San Francisco as he is scheduled to become an unrestricted free agent this March.
Sanders appeared in 10 games and immediately gave San Francisco's offense a significant boost, hauling in 36 receptions for 502 yards and three touchdowns, while becoming the first player in NFL history to catch a pass in 17 regular season games.
Now entering into his 11th NFL season, Sanders remains unclear on his future in San Francisco.
"At some point, obviously, I got to switch my mind and think about what's to come and see what could happen," Sanders admitted. "But as of right now, I'm just a couple days away from losing the Super Bowl."
Despite the uncertainty of his future, Sanders remains confident that the 49ers are a team that has the potential to be back in contention in the coming years.
"We're different. This team is different. This organization is different," he added. "It doesn't start with the players. It starts with the general manager. From head coach. Those guys are special guys. They're going to get a group of guys around here. They're going to win a long time around here."
Jerick McKinnon Hopeful to Finally Take a Snap in San Francisco
After signing a four-year deal with the 49ers back in March of 2018, Jerick McKinnon has yet to play a live snap in San Francisco. McKinnon suffered a season-ending ACL injury ahead of Week 1 of his first year with the 49ers. Just a year later, McKinnon required additional surgery at the start of the 2019 season, causing him to miss his second-straight season in San Francisco.
McKinnon has been seen conditioning on the sidelines in recent weeks and hopes to make a full return in San Francisco next season.
"I'm willing to do whatever," McKinnon told ESPN's Nick Wagoner on Wednesday. "The organization knows I want to be a part of this team, so when that time comes there will be a talk between both parties."
Trent Taylor Health Update
It's been a rough year for the 49ers third year wideout. Trent Taylor was coming off a standout training camp before undergoing surgery to repair a stress fracture in his foot in early August. Four surgeries later, the receiver hopes to get medical clearance to being rehabbing for next season.
Taylor suffered several complications in his right foot which caused him to miss the entire 2019 season. He revealed that he is close to removing the walking boot and hopes to be "100 percent" by training camp this summer.
Jimmy G on the 49ers Fourth Quarter Collapse
Jimmy Garoppolo is taking ownership in the 49ers fourth quarter breakdown against the Chiefs. The quarterback, who was 17-of-20 passing in the first three quarters, completed just 3-of-11 passes in the final 15 minutes of Sunday's game.
"Yeah, it is what it is if you just look at the stats like that," Garoppolo said. "As an offense, as a team, we've been in that situation multiple times and we've answered the bell. It's tough when that one time you didn't. That's what people will remember."
Despite the shortcoming, the quarterback looks to use the Super Bowl loss as fuel going forward and expects to be a part of "a more productive offseason" now that Garoppolo is a full year removed from his season-ending ACL injury in 2018.
"You've just got to own up to it and be a man about it," Garoppolo added. "It will fuel us in the offseason. It will fuel me, especially, in this offseason just to come back better."
https://www.49ers.com/news/49ers-chiefs-super-bowl-garoppolo-kittle-sanders-armstead-free-agency