A look back through Jason Elam's Broncos career
3 min read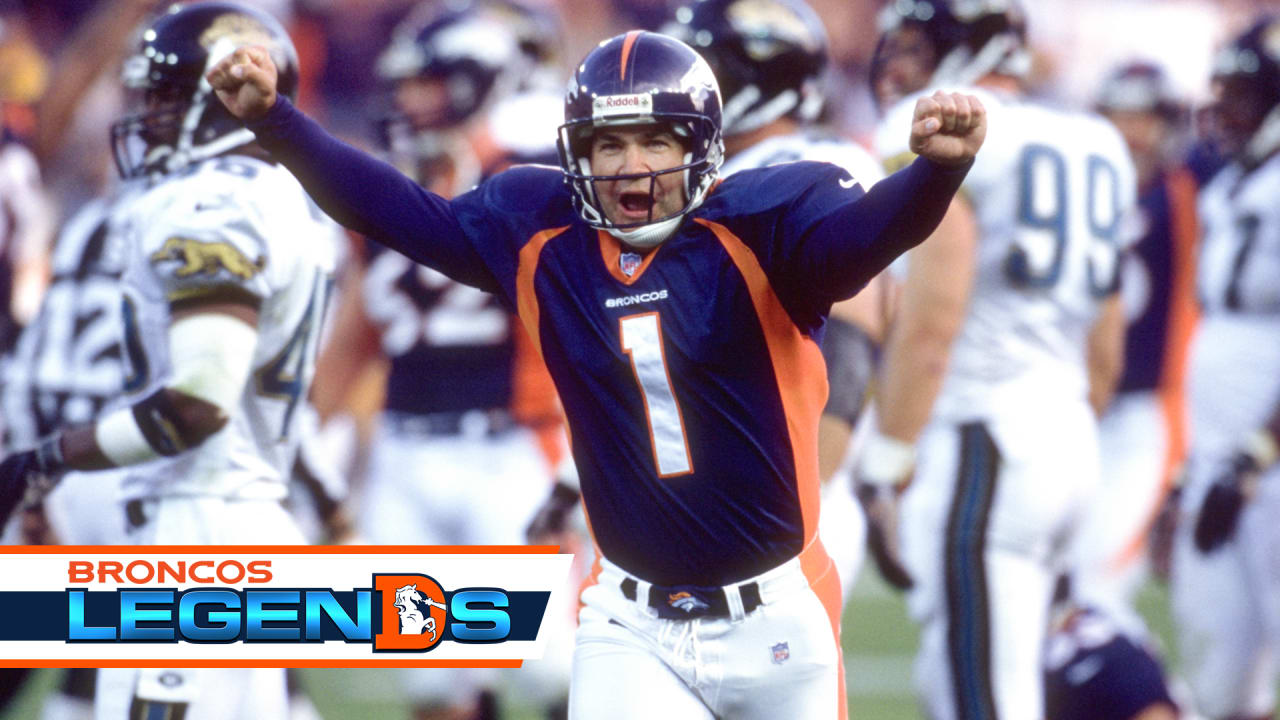 Stats to know
Regular-season Broncos stats: 236 games, 1,786 points scored, 395 made field goals, 80.6 field-goal percentage, 236 consecutive games scoring, 18 consecutive games with a field goal, a career long field goal of 63 yards
Postseason Broncos stats: 14 games, 84 points scored, 15 made field goals, 83.3 field-goal percentage
In his own words
"I know the kind [of kicker] I wanted to be. I wanted to be a good teammate, number one. I wanted to be a guy that not just on the field, but off the field, that they could count on me and I was a good friend. I wanted, on the field, for them to trust me. … And it made me feel great when they were already celebrating before a game-winner was even kicked. That was something that always made me feel great, that I had earned their trust, that they believed in me. I think that was probably the most important thing to me, is that I wanted the trust of my teammates."
Three games to remember
Week 9, 1997 season: Broncos 23, Bills 20
The day before this game, Elam probably couldn't envision that he'd even make it Buffalo, much less be the game's hero. On that Saturday, a blizzard engulfed the Denver area and stranded him on the side of the road for five hours until a group of fans rescued him and took him to the team's travel party. After an eight-and-a-half-hour delay, the team plane finally departed Denver, and the Broncos arrived in Buffalo 13 hours before kickoff. The Broncos still managed to build a 20-0 lead through the first three quarters, but Buffalo stormed back to tie the game. In overtime, Elam ended the game when he hit a 33-yard field goal, his third of the game.
"It was a fun closure to a crazy weekend," Elam said after the game. "It's definitely something I won't forget for a very long time."
Week 8, 1998 season: Broncos 37, Jaguars 24
Elam had proved himself worthy of a lengthy career with the Broncos in his first four seasons, but he etched his name into NFL and team record books on this day in 1998. With a minute left before halftime, the Broncos moved across midfield, but as they stalled at the Jacksonville 40-yard line, Elam prepared for a 58-yard attempt. But amid some confusion, the Broncos took a delay-of-game penalty and Elam attempted a 63-yarder instead. The kick just cleared the crossbar, tying a distance record set in 1970 by Tom Dempsey.
"I was watching it and gave a big cheer when it went through," Dempsey later said. "It was a great kick, a great effort. You have to admire it."
Week 15, 2003 season: Broncos 23, Browns 20
With three field goals, including one from 51 yards, Elam ensured the final home game of Shannon Sharpe's career would be a win. First, he split the uprights with six seconds left in regulation to send the game to overtime. Then he made a 25-yard chip shot to win the game. The effort, which pushed the Broncos to 9-5 on the season, also earned Elam AFC Special Teams Player of the Week honors.
https://www.denverbroncos.com/news/broncos-legends-a-look-back-through-jason-elam-s-broncos-career