A look back through WR Brandon Marshall's Broncos…
3 min read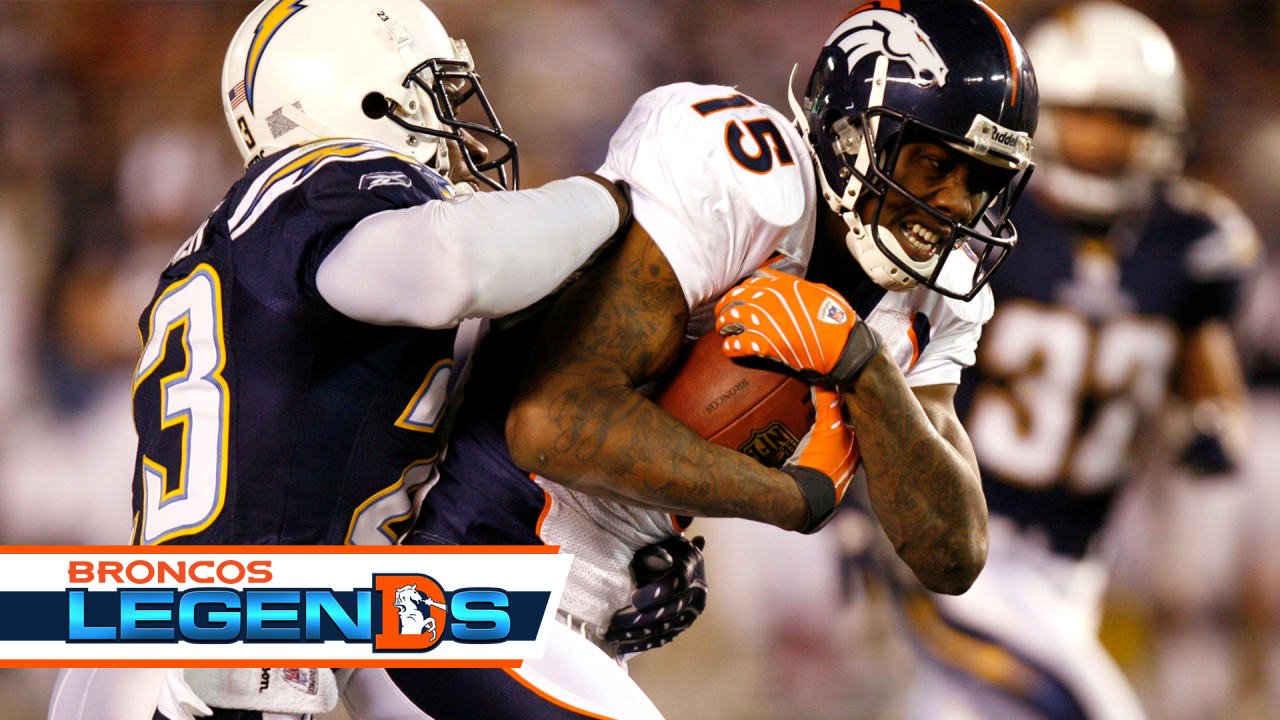 In our Broncos Legends series, we're revisiting the careers of some of the best players in franchise history with video highlights and rarely seen photos — and they'll join us to break down their favorite moments as a Bronco and more. Here's a refresher on wide receiver Brandon Marshall's time in Denver.
Career overview
It didn't take long for Brandon Marshall, a fourth-round pick by the Broncos in the 2006 NFL Draft, to draw interest for his potential. With a 6-foot-4, 222-pound frame as a rookie, Marshall had size and speed that made him a unique prospect.
Only a preseason knee injury prevented him from making an immediate impact. But as he progressed toward the end of that first season, it became apparent just what he could become. As Hall of Fame cornerback Champ Bailey said in a December 2006 Rocky Mountain News article, "[He] has the tools to be a Pro Bowl receiver."
Marshall himself was confident that even bigger things were on the horizon.
"These guys haven't seen nothing yet," he said. "Nothing at all."
Marshall proved those words true over the next three seasons as he totaled 3,710 receiving yards and 23 touchdowns on 307 receptions with two Pro Bowl selections.
In his second season, Marshall had what was then the third-most productive season by a Broncos wide receiver with 1,325 yards. He showcased tremendous consistency as he had just one game with fewer than 50 receiving yards and averaged 13 yards per catch.
Though Marshall missed a game to start the 2008 season, he improved upon his per-game yardage statistic as he made 104 receptions, then a career high for a single season. For his efforts, he earned his first trip to the Pro Bowl.
He backed that up with a second consecutive selection in 2009, when he had 1,120 yards and 10 touchdown receptions. He also set a career mark in catch percentage, as he snagged 65.6 percent of the 154 passes thrown his way. In a Dec. 13 game against the Colts, Marshall set a new NFL record for most receptions in a single game with 21. The Broncos lost to Peyton Manning's undefeated Colts, but Marshall was practically unstoppable with 200 yards and two touchdowns.
But Marshall, who had several issues off the field during his tenure in Denver, would be traded to Miami in March of 2010. A year later, Marshall announced that he had been diagnosed with borderline personality disorder. In the years since, Marshall has been an vocal proponent of mental health awareness.
After departing from Denver, Marshall continued to be a prolific receiver in the NFL. He had a seven-season run with at least 1,000 receiving yards, which is a streak that only trails ones made by Jerry Rice, Tim Brown, Cris Carter, Marvin Harrison and Torry Holt. He is also the first player in NFL history to record 1,000-yard receiving season with four different teams.
Career accolades
Six Pro Bowls, one first-team All-Pro, one second-team All-Pro, 2012 Pro Bowl MVP, three-time AFC Offensive Player of the Week, 2015 NFL receiving touchdowns co-leader, eight 1,000-yard receiving seasons, NFL record-holder for most receptions in a single game, No. 1 and No. 2 Broncos franchise marks for receptions in a single game, No. 8 in receiving yards in a single season in Broncos franchise history
https://www.denverbroncos.com/news/broncos-legends-wr-brandon-marshall-broncos-career-recap-timeline