After Candid Exchanges, 'All Love' Between Kyler…
3 min read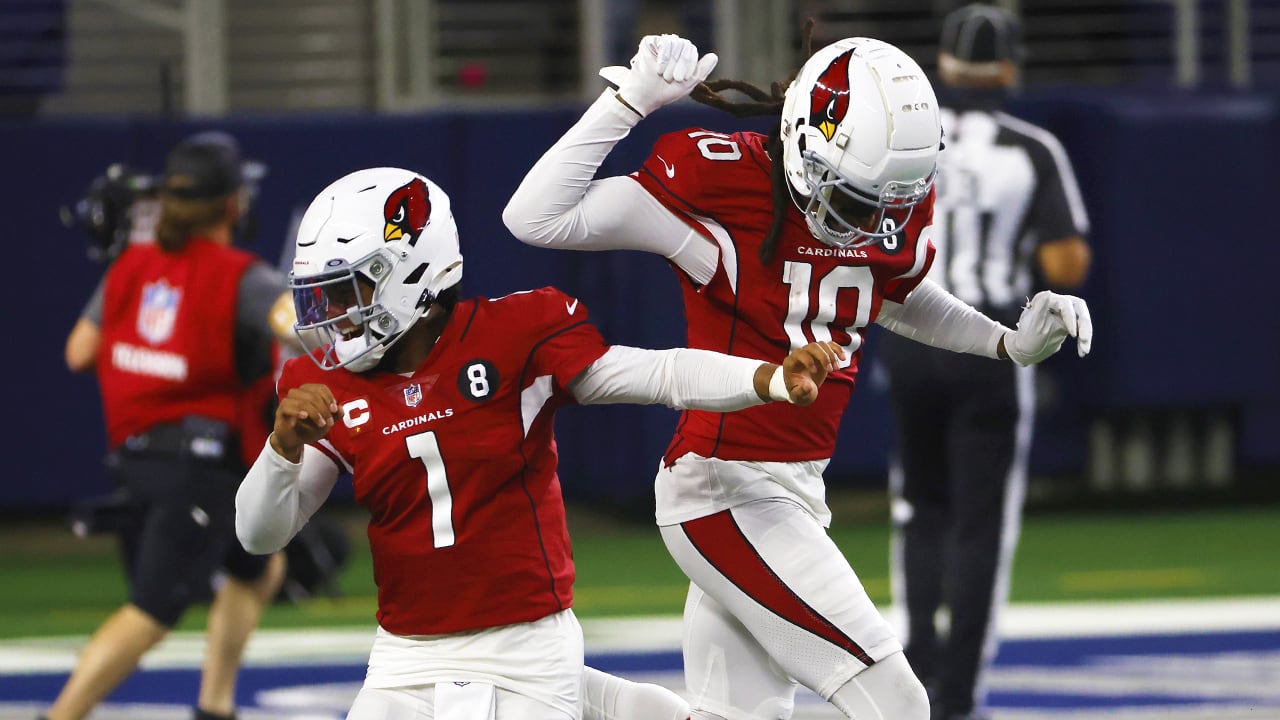 Hopkins only finished with two catches in the game, snapping a streak of 23 straight games with at least five receptions, but he accumulated 73 yards because the second was a 60-yard catch-and-run. It has been a fantastic six-game start to his Cardinals career, as Hopkins leads the NFL in catches (47) and receiving yards (601).
Coach Kliff Kingsbury said he has no problem with those types of interactions between Murray and Hopkins.
"They're both super competitive and both want to be great," Kingsbury said. "As a coach, you almost want to see some of that. You don't want to have it consistently, but they got to talk things out on their own and they get to figure it out by playing it out, and that's what they did the other night. They got back on the same page, had a big completion late, so I think it was good to have that type of candid conversation."
JAMAL ADAMS CLOSE TO RETURN FOR SEAHAWKS
The Cardinals weren't the only team in the NFC West that made a blockbuster trade this offseason, as the Seahawks followed Arizona's acquisition of Hopkins by grabbing All-Pro safety Jamal Adams from the Jets.
Adams had a dominant first two games but injured his groin in Week 3 against the Cowboys and has not played since. Coach Pete Carroll said in a conference call that Adams is making good progress, as it seems like a return against the Cardinals could happen. He did not practice on Wednesday.
"He's a great player, and it didn't take us very long to see that even on the practice field in camp," Carroll said. "Just so unique. He's working. I watched him work out today, and he's working out really hard. He's getting really close. It's getting real positive that he has chance to get back here soon."
Cornerback Quinton Dunbar (knee), guard Damien Lewis (ankle) and tackle Brandon Shell (illness) also did not practice for the Seahawks, while those limited were linebacker Jordyn Brooks (knee), tackle Duane Brown (knee), tight end Will Dissly (Achilles), guard Mike Iupati (back), running back Carlos Hyde (shoulder), defensive end Benson Mayowa (knee), defensive tackle Anthony Rush (knee), wide receiver Tyler Lockett (maintenance day) and wide receiver DK Metcalf (maintenance day).
The Cardinals did not practice on Wednesday. If they did, the team estimates Hopkins (ankle), right tackle Kelvin Beachum (ankle) and defensive tackle Jordan Phillips (foot) would not have participated, while linebacker Kylie Fitts (hamstring) and linebacker Dennis Gardeck (foot) would have been limited.
CARDINALS ADD REGGIE GILBERT TO PRACTICE SQUAD
Former University of Arizona standout Reggie Gilbert was signed to the practice squad. The four-year veteran will aim to get in the mix at outside linebacker, though the Cardinals got good performances there on Monday in the first game without Chandler Jones.
Walker, who had 24 tackles and a sack for the Titans last season, grew up in Laveen.
https://www.azcardinals.com/news/after-candid-exchanges-all-love-between-kyler-murray-deandre-hopkins