Anthony Barr & Cam Smith Eager for 'Fresh Starts'…
4 min read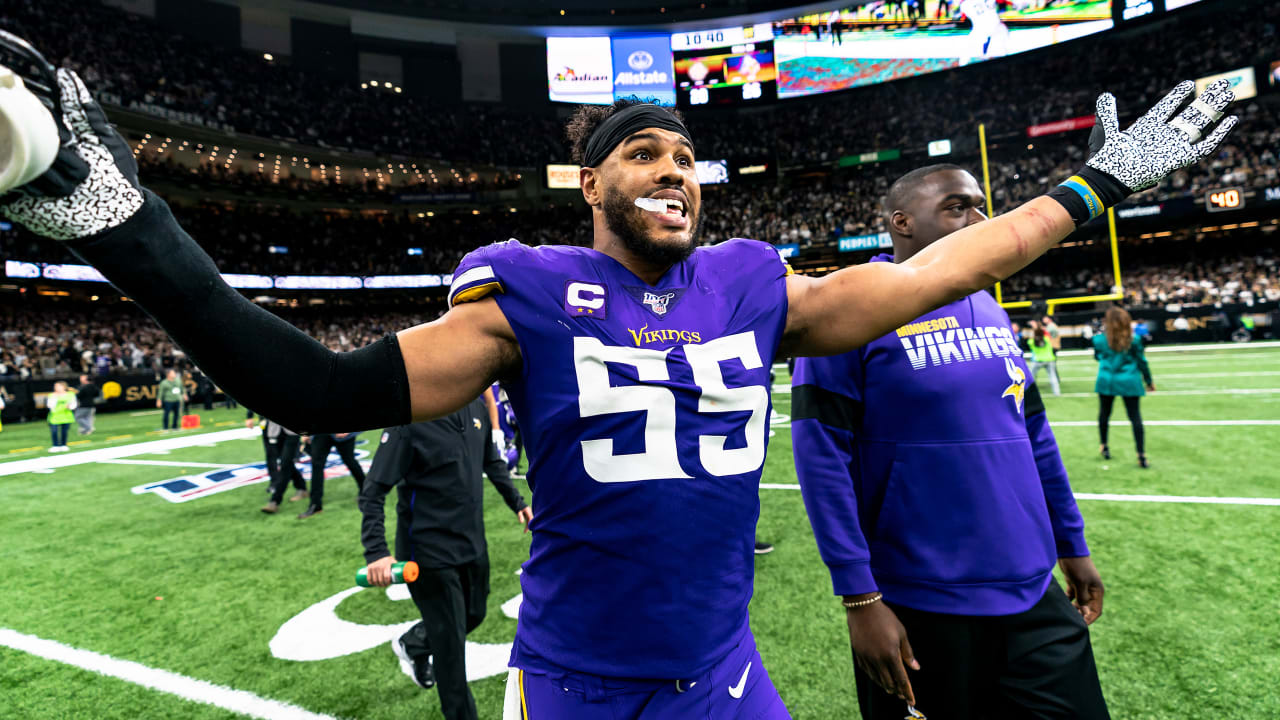 Smith, who wore 35 in college at Southern Cal, explained that he had reached out to Vikings longtime equipment manager Dennis Ryan to explain he needed a "fresh start" after such a trying year.
"And when they brought in the number rule [change], I just looked at the best number available, in my eyes; I felt like 32 was the one. It feels good," Smith said. "I just feel like this was the one for me, and I'm excited to wear something new.
"It just feels like a new me," Smith added. "I got a new heart, a new number, it's a brand new me. It's fun."
In addition to prepping for a return to action, Barr this season agreed to a contract restructure that helped the team navigate a tight salary cap situation.
There were a number of reasons, he noted, for making the decision, but he ultimately wanted to make every effort to stay in Purple.
"I didn't want to go out like that … [getting] hurt and then missing an entire year. I didn't want that to be my last memory as a Minnesota Viking, so that played a big factor in returning and taking the pay-cut to be back with this organization," Barr said.
During Wednesday's OTA practice that was open to media, Barr, Smith and Troy Dye filled the first-team roles in the base package of 7-on-7 team drills. Eric Kendricks, who missed the final five games of the 2020 season with an injury, was present at practice but did not participate in team drills.
It's no secret that Minnesota's defense struggled last season, and Barr feels strongly about getting the unit back on track.
And at 29 years old, Barr has suddenly become one of the Vikings eight oldest non-specialist players.
"I think the expectations remain the same. You want to do your job at a high level, come to work every day. 'Lead by example' has kind of always been my M.O., and having a lot of younger guys, they're kind of looking at you to see how things are done, so I'm going about things the right way," Barr said. "I don't think I'm doing any more differently, in terms of coming to work and making sure I'm at the right place at the right time, on time and not making the same mistake twice, all of that good stuff. I think it's important to — the culture here has always been pretty good. I kind of want to keep that the same. I think we have a good group of guys that are willing to buy-in and just go about the process the way that I've been taught how the Vikings organization expects."
Having gone through their respective health situations during the thick of the COVID-19 pandemic, Barr and Smith found themselves facing even more difficult environments than that of "typical" Injured Reserve experiences.
Barr used the time of increased isolation to refocus his priorities in life.
"I wasn't allowed to attend meetings. I wasn't allowed to attend games. I came in, did my rehab and went home. That was kind of the extent of my day for six months," Barr said. "I'm used to being in the locker room and on the field, joking with people and messing around. It was difficult, given that and the state of the world – with the senseless killings of unarmed Black people, to the coronavirus and just the isolation.
"I think all of that kind of took its toll, but I was able to reflect and realize I'm very blessed and still very fortunate to be in this situation," he continued. "And to take advantage of the time because it is precious and it is fleeting. I'm much more appreciative, I guess, of my situation."
Smith certainly shares Barr's level of gratitude.
The 24-year-old's heart condition would have been life-threatening had it not been caught – ironically, due to a positive COVID-19 diagnosis. But despite the severity of the defect and expected anxieties around open-heart surgery, Smith never gave up his plan of returning to the field.
"In my head, I believed I'd always be back. I think it's great to finally be here and to be on the field again," Smith said. "But I believed I was going to be here from the day the surgery was performed. I couldn't wait to be back."
The fact that Smith is back in the fold isn't a surprise to him, and it's also no shock to his Vikings teammates. That doesn't make it insignificant, though.
"We prayed for Cam so much, and he's back here now, and it's a miracle," running back Dalvin Cook said. "That's God, that he's out there with us running around. I'm happy for him."
The return of Barr and Smith is encouraging to Cook in more ways than one.
"[I've had] my trip-ups with injuries throughout my career. I know how you can be battle-tested with your mind," Cook said. "Just to see those guys not get discouraged, don't hang your head, keep that [mentality]. I was saying to AB last year, he'd come in like, 'What's up Dalvin?' Just being that same guy that he was every day. That's positive.
"I'm happy to see those guys back out there, because that's the position that gets me better each and every year," Cook added with a smile. "I'm looking forward to training camp with those guys and having fun."
https://www.vikings.com/news/anthony-barr-cam-smith-eager-for-fresh-starts-after-time-away-from-football