Bears' Braxton Jones hopes to build on momentum
3 min read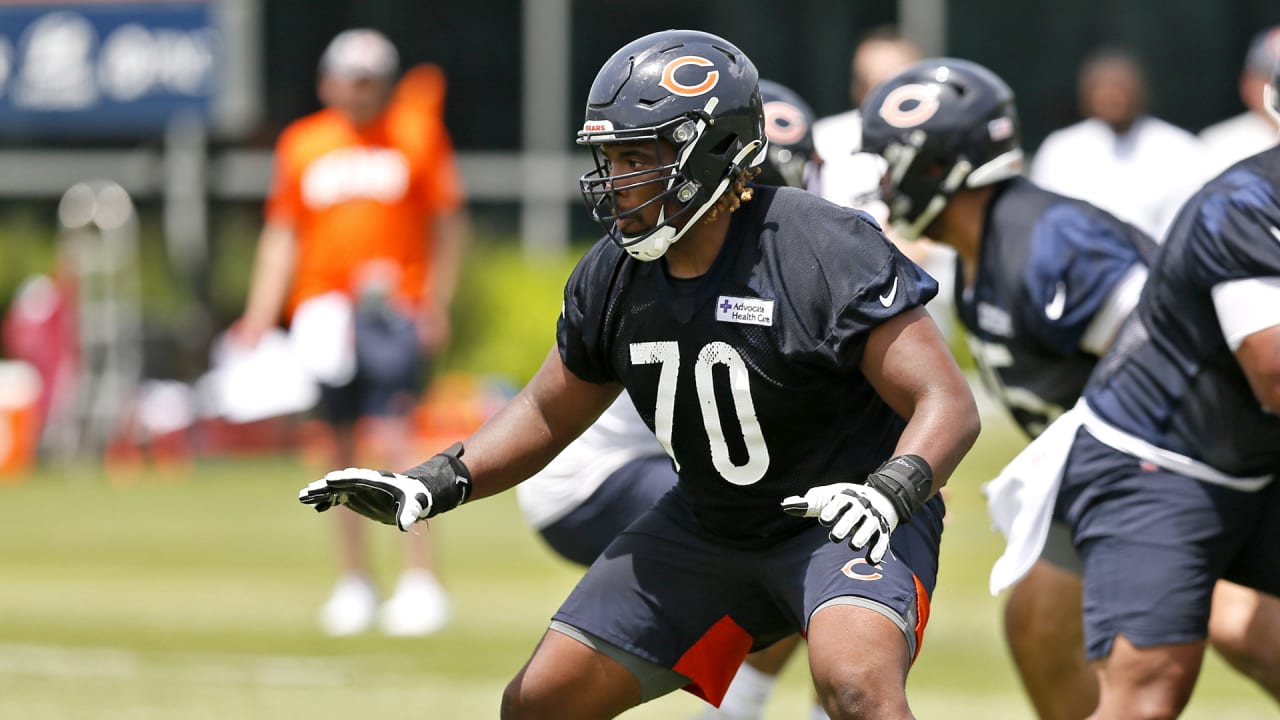 Jones joined the Bears after appearing in 34 games over five seasons at Southern Utah. The 6-5, 310-pounder was named first-team all-Big Sky in each of his final two seasons, starting all six games during the Thunderbirds' 2021 spring campaign and all 11 contests last fall.
The Bears spoke to Jones at the Senior Bowl and the NFL Combine and then requested a third meeting shortly before the draft. He obliged, working out for assistant offensive line coach Austin King in Utah.
The same athleticism and football intelligence that Jones demonstrated in that workout was evident throughout the offseason practices, earning the 23-year-old valuable reps with the No. 1 offense.
"I'll be honest with you, I was definitely a little bit surprised," Jones said about the opportunity. "[But] that surprise went away quick. It was thrown on me and it was time to go. It has been something that's really good for me to get that speed, the speed of going against guys like Roquan Smith.
"Getting [first-team reps] was super important to me because then you get a feel for what it's going to be like in training camp and preseason games. I've got to play a lot faster and think a lot faster, and that's all coming. The biggest thing for me is creating a pre-snap process, something that will benefit me being able to move faster."
Jones feels that the biggest improvement he made during the offseason was learning how to better use his hands.
"In college, I was really reserved with my hands and I didn't use my long arms to my advantage," he said. "That's one of the big [areas of improvement] and still to this day I would say I've still got to work on them. They're a big thing for me and they're going to help me be really good in this league. The biggest thing with them is being a little more consistent, but they've gotten better."
Jones credits Bears offensive line coach Chris Morgan with helping him improve that important aspect of his game.
"He's been a big influence on that, just throwing them babies, letting them go," Jones said. "He's harping on me, and I love it because it is a big thing. I notice when I punch them, get them off their spot, it's huge."
After participating in non-contact offseason practices, Jones is gearing up to put pads on for the first time as a professional in training camp.
"I assume it's going to be a lot different," he said. "Even though [in OTA and minicamp practices we got] a good look in terms of speed with linebackers, you're not necessarily getting a bull rush. You're not getting somebody right down your face. So, I think it'll change big time, and from now until I come back is going to be huge for me. I've got to gain ground on guys. I've got to get stronger."
https://www.chicagobears.com/news/bears-braxton-jones-hopes-to-build-on-momentum