Bears rookie DBs Kyler Gordon, Jaquan Brisker…
3 min read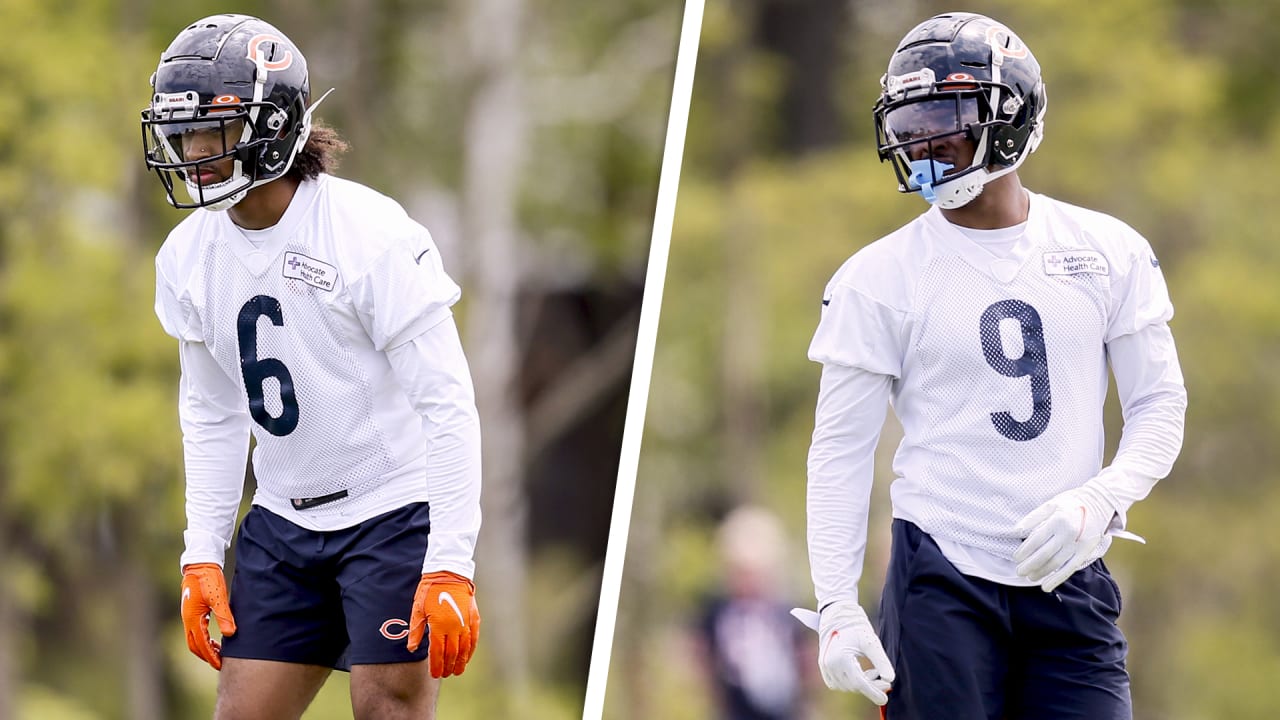 The Bears selected both players in the second round of the draft, choosing Gordon at No. 39 and Brisker at No. 48 with a pick that was acquired as part of a trade that sent outside linebacker Khalil Mack to the Los Angeles Chargers. It was the first time the Bears drafted defensive backs with their first two picks since 2006 when they selected safety Danieal Manning at No. 42 and cornerback Devin Hester at No. 57, also both in the second round.
On one play last week in practice, Gordon ran stride-for-stride with receiver Chris Finke, stopped on a dime, turned around and leaped high to intercept the pass.
"Kyler's been lighting it up the last two days, I'll just tell you that," Eberflus said at the time. "The guy's got tremendous ball skills. He's been playing defense the right way and we're very impressed with him."
Last year at Washington, Gordon registered two interceptions, seven pass breakups and one forced fumble. His knack to make plays on the ball reminds Rowe of a player he coached last season on a Colts defense that was coordinated by Eberflus—cornerback Kenny Moore.
"Sometimes guys just have a natural ability with that," Rowe said. "I thought Kenny Moore was a guy that had a natural ability with that. [Gordon] has good ball skills, and he finds himself in good position enough to be able to look back and locate the quarterback and locate the ball to be able to put himself in those positions and make those plays."
Brisker, meanwhile, has shown an ability to force fumbles in practice. On one occasion, he punched the ball loose from a receiver twice on the same play (the receiver recovered the first fumble).
"Maybe his punch is a little bit heavier than most cause we ask everybody to punch the ball on every play," Rowe said. "I probably would hate to get in a fight with him. He just has a knack for it right now, and it's something we all teach is the Peanut Punch. So, he's just got a specialty."
The Peanut Punch, of course, is named in honor of former Bears cornerback Charles "Peanut" Tillman, who turned forcing fumbles into an art form by punching the ball out of opponents' hands. Tillman, who forced 42 fumbles in 12 seasons with the Bears, was introduced to Brisker last month during a visit to rookie minicamp.
Safeties coach Andre Curtis has been impressed with how quickly Brisker has transformed what he's been taught in the classroom into production in practice.
"He's learning pretty good," Curtis said. "We've thrown a lot at this kid since he's been here and he's absorbed it and learned it. He's doing a good job so far of getting his hands on the football and getting the football out in practice. He's shown a knack for that and that's a good thing. Hopefully that continues."
https://www.chicagobears.com/news/rookie-dbs-generating-takeaways-in-practice-kyler-gordon-jaquan-brisker