Bears to self-scout during bye week
4 min read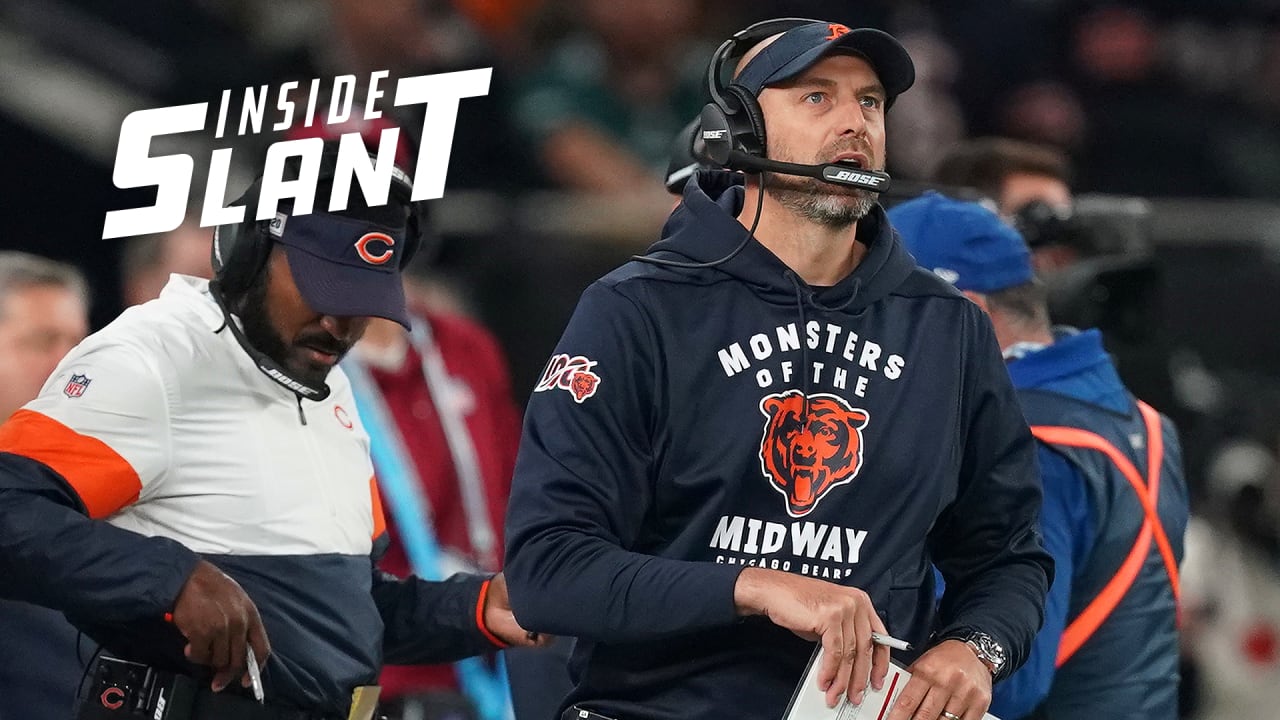 "My only experience as a head coach is pulling from last year and seeing that where we're at now is the same spot," Nagy said Monday in London.
"We have a winning record. We know that we've been in every game. I love the character of our guys, so that when you hit a little bit of adversity, we know that we'll pull together and be able to use these losses to make us better."
It's no secret that the offense is the one phase that has underperformed so far this season. The Bears entered Week 5 ranked 30th in total yards in the NFL (273.5 per game) and were tied for 28th in scoring (16.5 points).
"Offensively, the numbers show—and we all know, we all understand it—we're not playing where we need to be at," Nagy said. "We need to be more productive.
"It's inevitable that a defense that we've had the first four weeks of the season, there's going to be a time when there's a little struggle. [Sunday] happened to be that. That's credit to Oakland. But when is the offense going to step up and take over for that? That's what we're trying to get to, to where we're more balanced offense, defense, special teams."
The Bears entered Week 5 ranked 25th in the NFL in rushing and then were limited to 42 yards on 17 carries in Sunday's loss to the Raiders.
"The production right now in the run game isn't there," Nagy said. "I'm going to go back and I'm going to figure out the 'why' part.
"I think I know. Obviously, I'm not going to go back and tell everybody what I think it is at the end, but we'll talk as a staff and figure out. They're good people that care. If you have that, that matters. They care. We've just got to figure out why."
Nagy has conceded after multiple games this season that the offensive line needs to perform better.
"If you win your one-on-one battle, your chances of winning are going to be higher, a high percentage," said the Bears coach. "You've got to win your one-on-one battles and that's just not the offensive line, that's everybody.
"Whenever you have some places within your game that are struggling, that's immediately what you go to, and so there is a challenge there for all of us to be better. Win your 1-on-1 battle. You win your 1-on-1 battle, then good things should happen."
The offensive line's struggles are puzzling given that the unit has returned all five starters, though James Daniels moved from left guard to center during the offseason, flip-flopping with Cody Whitehair.
"Every year is a little bit different and this is the first year that they've done it together with these guys at specific positions," Nagy said. "So there is a communication process that goes on. They may have all done it by themselves at one point, but this is the first year that the five of them in these exact positions have done it together."
During their bye week, the Bears will not only self-scout by studying their own tendencies in various situations but also evaluate individual players.
"You go back and you can look at tendencies that you might have—offense, defense and special teams," Nagy said. "But to me it's not so much about that as it is now in self scout you're really able to self-scout in our position right now the players and how they're performing. That's what this one is probably more about with where we're at offensively right now."
Sunday's loss was a humbling one. But Nagy—who always remains positive—is vowing to use it as motivation like the Bears did last season with an overtime loss to the Dolphins in Miami.
"It's all right every now and then to have a little kick in the ass, and I'm OK with that," Nagy said. "They deserve that. We deserve that. This game reminds me a little bit last year of the feeling that we had after Miami. That was a point in our season where our guys, they rallied after that game and we ended up making a run later in the season. We have high-character guys who will figure this thing out."
https://www.chicagobears.com/news/inside-slant-bears-to-self-scout-during-bye-week