Broncos 20, Cardinals 7: Observations
3 min read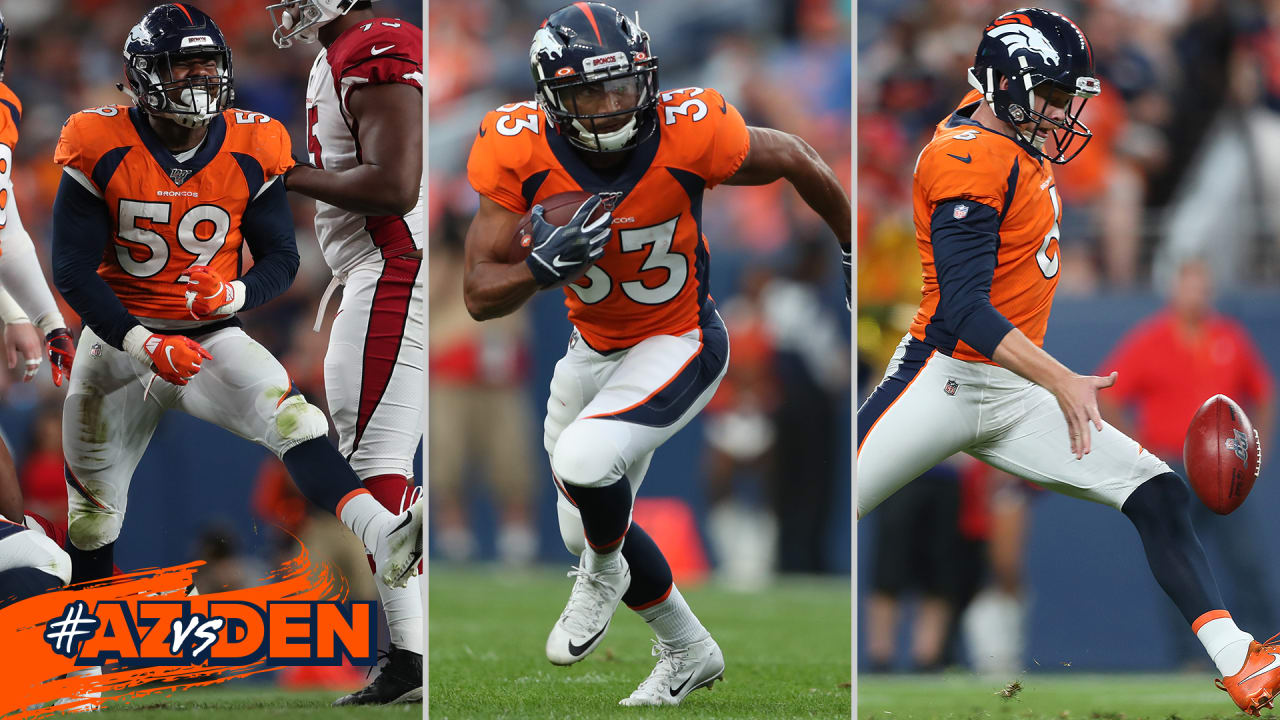 TAKING STOCK OF THE QUARTERBACKS
Kevin Hogan and Brett Rypien's performances were mixed as they divided the repetitions for the second consecutive game, with Hogan playing the first half and Rypien the second.
Both had interceptions on passes that were deflected, with Hogan also throwing an interception on a "Hail Mary" pass at the end of the first half. Hogan looked solid rolling out, most notably on a 14-yard pass to Troy Fumagalli during a drive that ended with a 6-yard, fade-route touchdown pass to Fred Brown. But Hogan also took a costly sack with the Broncos in third-and-8 at the Arizona 39-yard line with 20 seconds left in the first half, forcing the Broncos to settle for the end-of-half heave.
Rypien settled down and completed seven of his last eight passes after going 1-of-3 with an interception on his first series.
"I think they played OK," Head Coach Vic Fangio said. "Again, it's been a lot like they've played most of the preseason. I see some good plays, plays that you think you can win with and then some plays that were not so good." 
And that bore itself out in the overall offensive efficiency with each quarterback at the controls this month.
Hogan finished the preseason leading 23 non-kneeldown possessions. The offense averaged 20.6 net yards, 1.35 first downs and 1.26 net points per possession. Rypien led 12 possessions — including seven on Thursday — and the offense averaged 29.5 net yards, 1.83 first downs and 1.42 net points per series.
In 18 possessions with rookie Drew Lock, the offense averaged 21.2 net yards, 1.33 first downs and 0.83 net points per possession. With first-teamer Joe Flacco, the offense averaged 41.25 net yards, 1.75 first downs and 1.5 net points on four possessions during the second and third preseason games.
With his second punt late in the first quarter, Colby Wadman had a perfect opportunity to pin the Cardinals deep in their territory.
He did everything he could to make that possible.
Wadman's rugby-style punt was nearly perfect. It hit the grass at the Arizona 1-yard line and bounced up, staying out of the end zone. Safety Trey Marshall was in position to down the punt, but couldn't corral it, leading to a touchback.
When Wadman reflected on the punt after the game, he felt like he could have done better.
"I could bring it back just a little bit, maybe put a little bit more hang time on it or whatever," said Wadman, who kept the football in the air for 4.62 seconds.
In the fourth quarter, he was able to successfully pin the Cardinals back at their 8-yard line with a punt that spun back from near the goal line.
"It's luck and [whether] you get that backspin if it hits right," Wadman said. "But it's mostly if you get enough hang time to where it comes down straight, then you'll have a better chance of bouncing it back."
Wadman finished the game with a gross punting average of 47.3 yards, a net average of 41.3 yards and an average hang time of 4.67 seconds. Each of his punts stayed in the air for at least 4.62 seconds. The performance capped a preseason that saw him improve as the month progressed. 
"In the beginning, obviously, it was a little inconsistent," Wadman said. "There were definitely some punts I would like back. But as the last few weeks have gone on, I feel like I'm hitting the ball better and I feel like I'm really confident."
https://www.denverbroncos.com/news/broncos-20-cardinals-7-observations