Broncos family honors life and legacy of Demaryius…
3 min read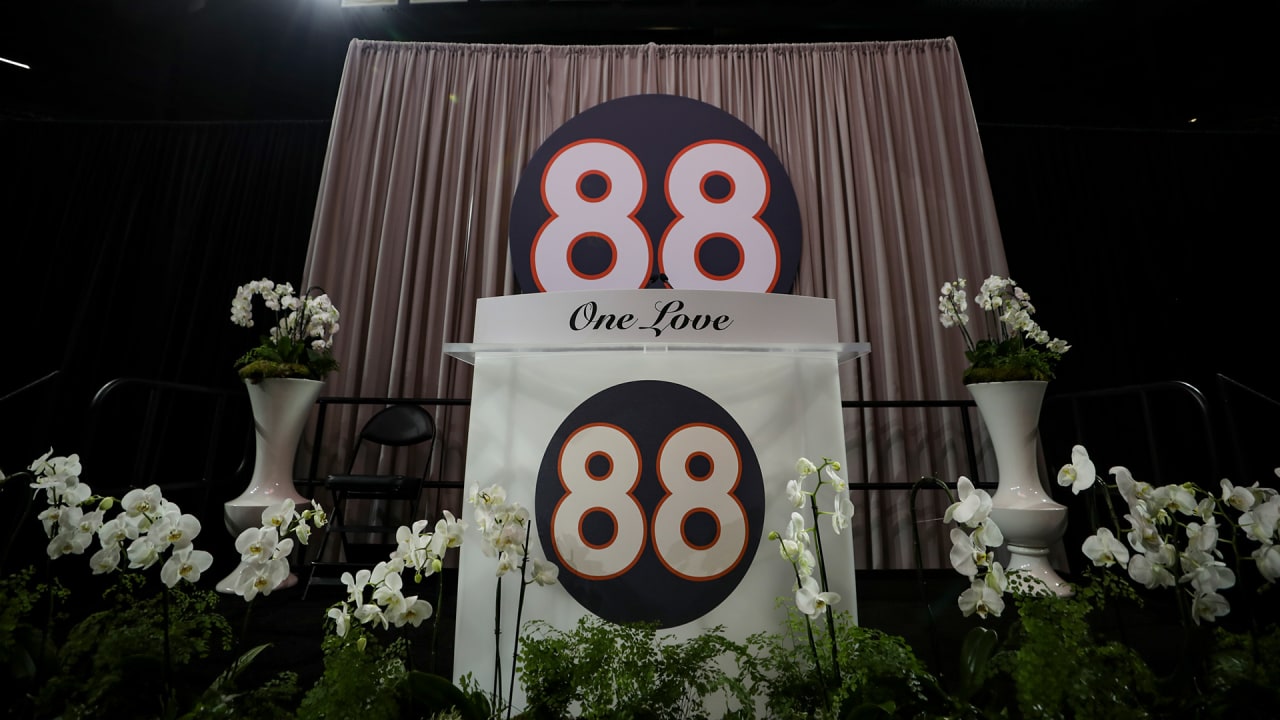 ATLANTA — More than 45 members of the Broncos family joined hundreds of others to celebrate the life of the late Demaryius Thomas on Monday.
Thomas, who tragically passed away at the age of 33 on Dec. 9, was honored in a 90-minute celebration of life that featured video tributes to his on-field and off-field accomplishments and four tributes from several of Thomas' close friends.
Seven current Broncos were in attendance at Georgia Tech's McCamish Pavilion, as Courtland Sutton, Bradley Chubb, Kareem Jackson, Garett Bolles, Justin Simmons, Shelby Harris and Brandon McManus all attended the celebration. Many of Thomas' other former Broncos teammates were there to honor his life and legacy. Champ Bailey, Eric Decker, Aqib Talib, Emmanuel Sanders, Bubba Caldwell, David Bruton Jr., Trevor Siemian, Jordan Norwood, Cody Latimer, T.J. Ward, Tyler Polumbus, Kayvon Webster, Joel Dreessen, Britton Colquitt, Jordan Taylor, Wesley Woodyard, Louis Vasquez, Jacob Tamme, Brandon Stokley and Matt Paradis were among those at the ceremony.
Former Broncos head coaches John Fox and Gary Kubiak were also in attendance.
President/CEO Joe Ellis, President of Football Operations John Elway, Senior VP of Strategy Brittany Bowlen, VP of Football Administration Rich Hurtado, Chief Communication Officer Patrick Smyth and former Director of Sports Medicine Steve "Greek" Antonopulos were among the more than three dozen Broncos employees who made the trip to celebrate Thomas.
Over a series of videos that highlighted Thomas' life and career, his impact on his friends and family and his community work, the Broncos legend was honored for his impact as a player and person. Peyton Manning and Tim Tebow were among those who spoke to Thomas' impact in the video tribute.
"He was the type of person that healed wounds with his smile, with his love, by caring if he could be there for you," pastor Carlos Jones said. "He was going to be there for you. He was the type of person that was going to take his own and be a blessing to you with it. D.T. didn't just pass by, he stopped and we're all here today because in some place in our life, he stopped."
Bailey, Decker, former college teammate Morgan Burnett and high school coach Paul Williams all offered tributes to Thomas.
"These past 10 days have been filled with a lot of emotions: sadness, regret, disbelief, happiness, laughter," Decker said. "And so many memories that we can all reflect on that we have with him."
Those in attendance were also able to peruse reminders of Thomas' stellar career, including more than a dozen game balls, framed photos and works of art.
"I just hope that D.T. understands that I have tremendous love for him," Bailey said. "And I hope he felt it, because I definitely felt the love he had for me. I was one of those people that he stopped and paid attention to. I don't know why he came into my life, but I'm sure glad he did. I'm going to miss him so dearly. We had a lot planned. We were talking about doing so many things together, and it was never forced. He is my man. I'll tell you what, there's nobody else like him. He's the best teammate I've ever had."
https://www.denverbroncos.com/news/broncos-family-honors-life-and-legacy-of-demaryius-thomas-at-celebration-of-life