Burning Questions: Broncos at Colts
2 min read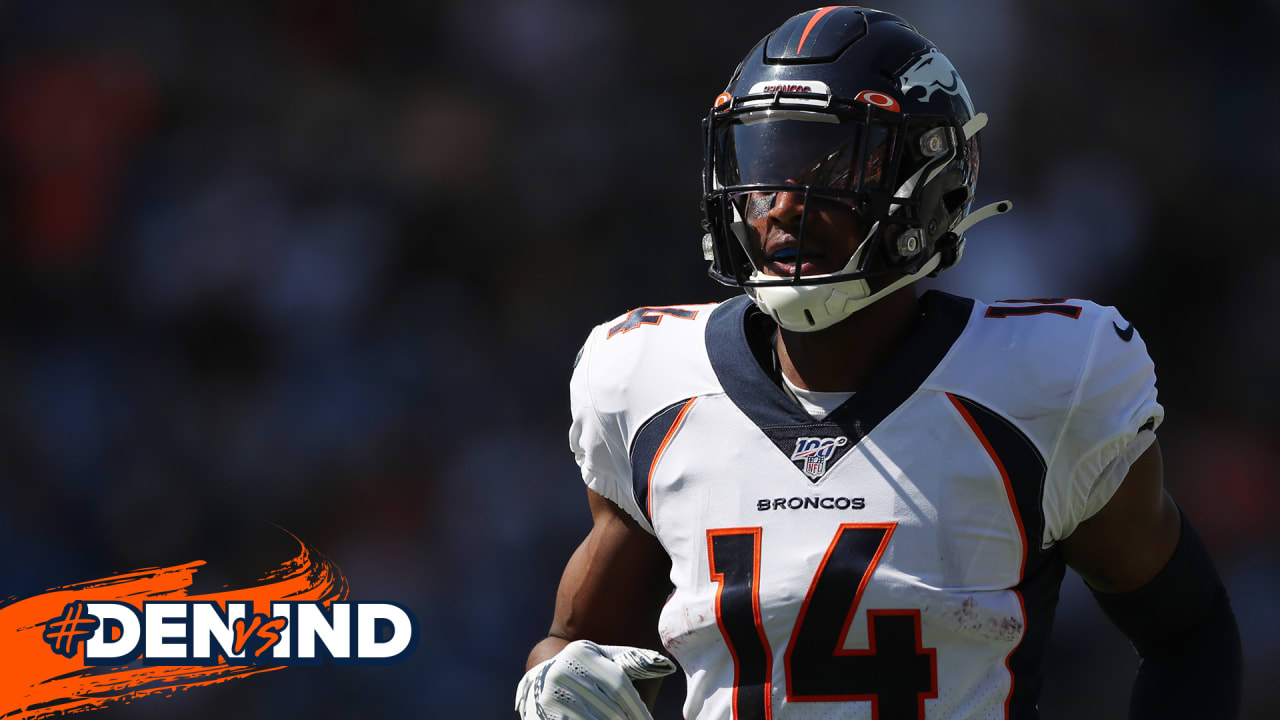 HOW WILL THE OFFENSE MOVE ON WITHOUT EMMANUEL SANDERS?
When Emmanuel Sanders tore his Achilles last December, the Broncos' offense sputtered in its final four games of the season. After breaking the 20-point mark in three consecutive wins in November, the Broncos averaged just 13.25 points per game in a four-game losing streak to conclude the year.
In Sanders' absence, then-rookie wide receiver Courtland Sutton saw his receiving numbers drop from his season averages. He recorded more than 40 receiving yards just twice and caught two or fewer passes on a pair of occasions.
After Sanders was traded to the 49ers on Tuesday, the Broncos will again adjust to an offense without the two-time Pro Bowler. This time, Denver will likely need more from Sutton, but they'll also hope for contributions from other players on the offense.
Sutton seems prepared to take on the challenge after taking a step forward in Year 2. He ranks sixth in the NFL in receiving yards through seven weeks and has nearly matched his touchdown total from his rookie season.
DaeSean Hamilton — a 2018 fourth-round pick — will be a part of a committee of receivers who will hopefully replace the rest of Sanders' production.
"I just [would] like to see a little more umph in his play," Head Coach Vic Fangio said Wednesday. "You know what I mean? Just a little more umph."
Hamilton has 11 catches for 106 yards this season.
Tight end Noah Fant, who expects to be available for Sunday's game after cutting his foot on Thursday, also factors into the situation. He has tallied 15 catches for 159 yards and a touchdown and will look to bounce back from a tough performance against Kansas City.
Of course, the offensive line also must cooperate. Ja'Wuan James is listed as questionable for Sunday's game, but it seems like a decent bet that he'll see his first playing time since Week 1. That should help the Broncos' line, which allowed eight sacks in Week 7. The blame, though, doesn't fall entirely on the offensive line.
"We have to block better, we have to get open, we have to make better reads and get the ball out quicker," Fangio said. "I know that sounds like a vanilla answer, but that's the truth."
If the Broncos are going to earn a win against the Colts, they'll need to adjust to life without Sanders more quickly and competently than they did during Sanders' last absence.
https://www.denverbroncos.com/news/burning-questions-broncos-at-colts