Cameron Dantzler Excited for New Number, New…
2 min read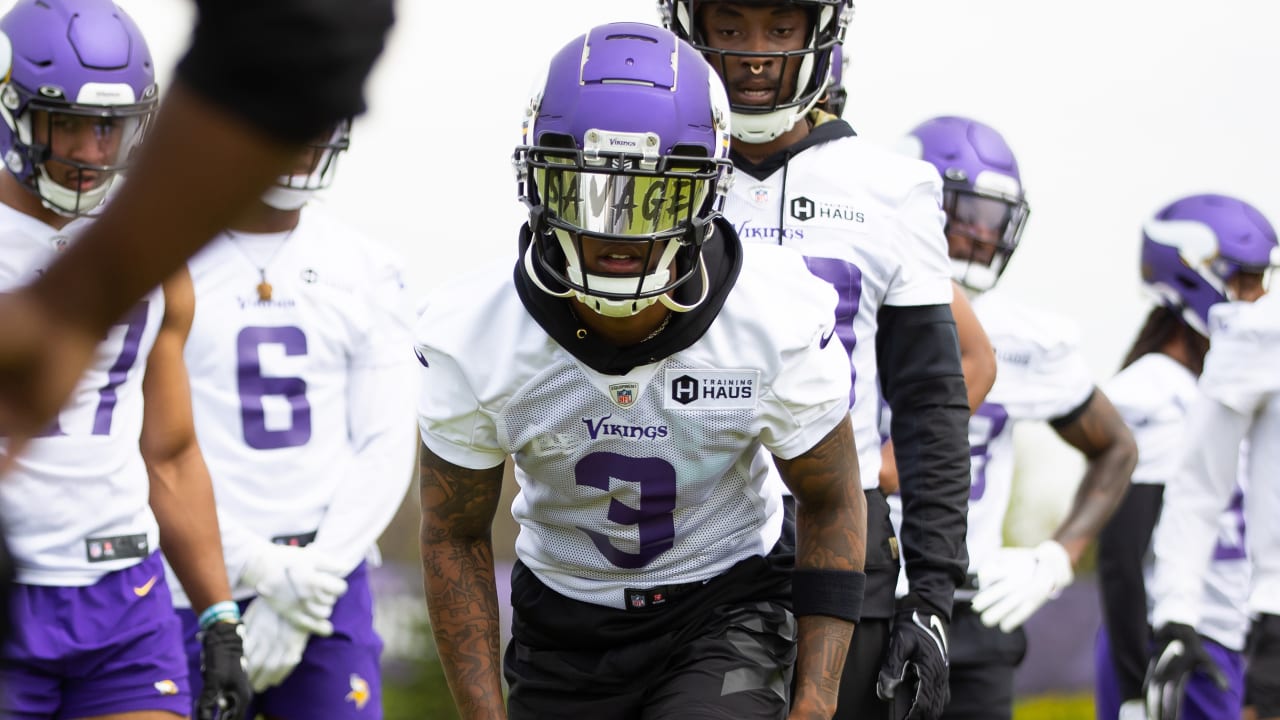 Vikings cornerback Cameron Dantzler has a new jersey number and is hoping to make a whole new impact on the field in 2022.
Dantzler, who switched from 27 to 3 in the wake of the NFL's rule changes regarding certain positions, recently spoke with Chris Tomasson of the Pioneer Press. Dantzler said he's "checked all the boxes" this offseason to be a better player and is determined to show that this season. Tomasson wrote:
Dantzler hopes his offseason work will get him back to being a regular starter. As a rookie in 2020, Dantzler, a third-round draft pick out of Mississippi State, started 10 of the 11 games he played but part of that was because of the Vikings' depleted secondary at the time.
Dantzler initially looked primed to stay in the lineup in 2021. But last June the Vikings signed veteran cornerback Bashaud Breeland to a one-year, $3 million deal, and he beat out Dantzler in training camp. […] As it turned out, Dantzler did start four of the first 13 games, replacing Patrick Peterson, who had a hamstring injury and then was on the Reserve/COVID-19 list. Then, after Breeland was released […] Dantzler was inserted into the lineup for the final four games. He said he was "ready when my name was called."
With Peterson's return for another season in Minnesota, Tomasson opined that Dantzler likely will compete with second-round draft pick Andrew Booth, Jr., for the other outside corner position.
"Last year was kind of a roller-coaster season, but I've gained my confidence back," Dantzler told Tomasson. "New staff. Fresh start. So I'm just ready to show what I can do this year.
"When we drafted [Booth], I was excited," Dantzler said. "I was glad to add some firepower in the secondary. Booth, he's a great player, and I'm going to love competing with him. "Whoever starts, it's whatever helps the team win at the end of the day. … But it's going to be a great battle."
And as far as the number change? Dantzler wanted to switch to 3 after wearing the single digit in college.
Punter Jordan Berry wore 3 last year but agreed to give it up for modest compensation. Berry, who switched to 16, said his only requirement was that Dantzler has to pay for 10 to 12 members of his family to get Vikings No. 16 jerseys with "Berry" on the back.
"I asked Jordan about it, and he's a great guy and he gave 3 to me to bring that swagger back that I had in college," Dantzler said.
https://www.vikings.com/news/lunchbreak-cameron-dantzler-excited-for-new-number-new-opportunities-in-2022