Cardinals blow out Titans in 2021 season-opener,…
2 min read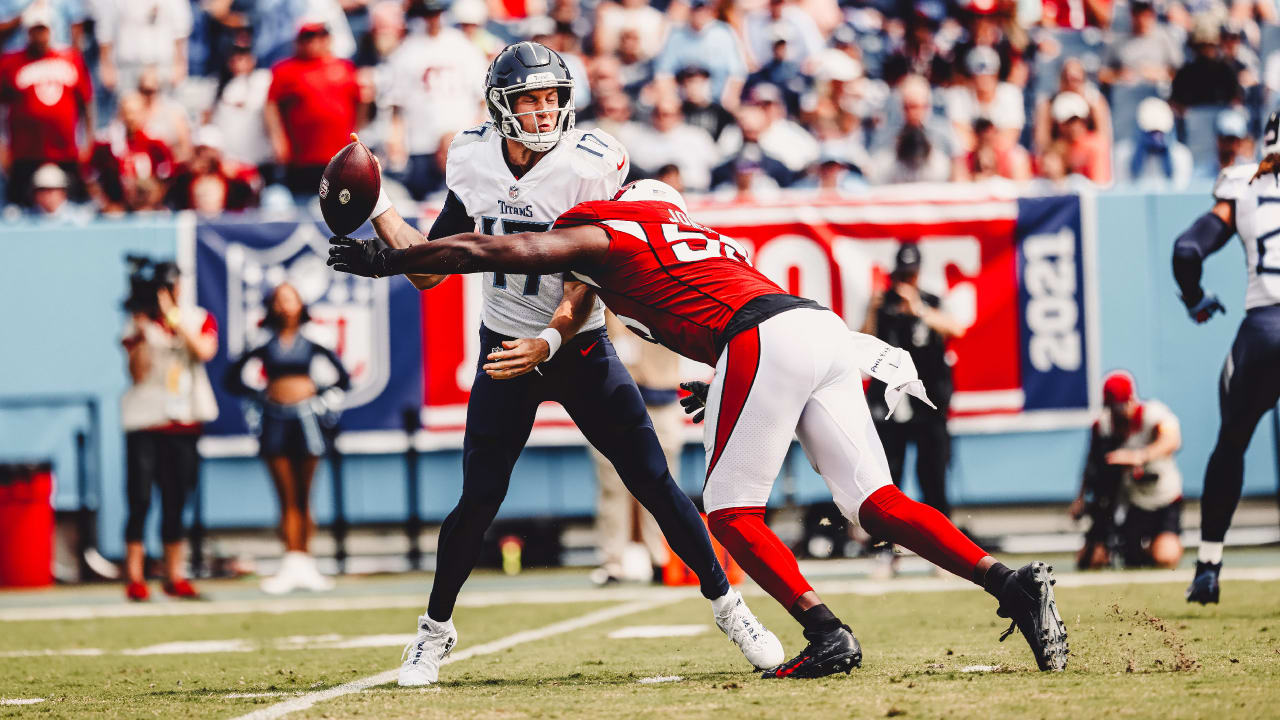 Not like Chandler Jones, who made life miserable for Titans quarterback Ryan Tannehill all day, including three sacks in the first quarter – the first player since sacks became an official stat in 1982 to have three sacks in the first quarter of the first day of the season.
Jones tied the franchise record for sacks in a game set by Haason Reddick last season against the Giants.
Jones may not have been available for comment, but his teammates – and even Titans left tackle Taylor Lewan – had something to say.
"Got my ass kicked today, no way around that," Lewan tweeted. "I let the team and the fans down. Thank you @chanjones55 for exposing me. It will only force me to get better."
Said coach Kliff Kingsbury, "I didn't know he'd have five, but I knew he'd have an impact"
The Cardinals built a 24-6 lead at halftime, in part because of Murray's wizardry. The third-year QB ran more than 43 yards on one behind-the-line scramble before finding Rondale Moore on an 18-yard gain, and his ability to buy time early in the game helped create the initial Hopkins score on a broken play.
Murray ended up completing 21-of-32 passes for 289 yards, and while he regretted the one interception he threw, both of the Kirk touchdowns were perfectly placed – the first, a 26-yarder, dropping right into Kirk's hands throwing off his back foot while the zero blitz was in his face.
"I'm just glad we handled business," Murray said, noting how much fun he had playing in front of a full stadium.
The game itself wasn't perfect. The Cardinals had eight penalties and six came early in the game, nearly derailing early scoring chances. "That can't happen," Kingsbury acknowledged, but after what the Cardinals did, it wasn't as big of a concern as it might normally be.
One game is just one game, however. Baker was asked about it being a statement game, being against a potential AFC contender.
"No statement at all," Baker said. "One and oh."
Kingsbury praised Vance Joseph's defensive plan. "We did exactly what we wanted to," Kingsbury added. Of course, the Cards got off to a good start last year too. Kirk noted the need to finish after 2020 – and the Cards did that.
The quarterback was thinking the same thing.
"We won't get complacent this year," Murray said.

https://www.azcardinals.com/news/for-starters-cardinals-look-excellent-against-titans