Cardinals Explode Offensively In Beating Jets, but…
3 min read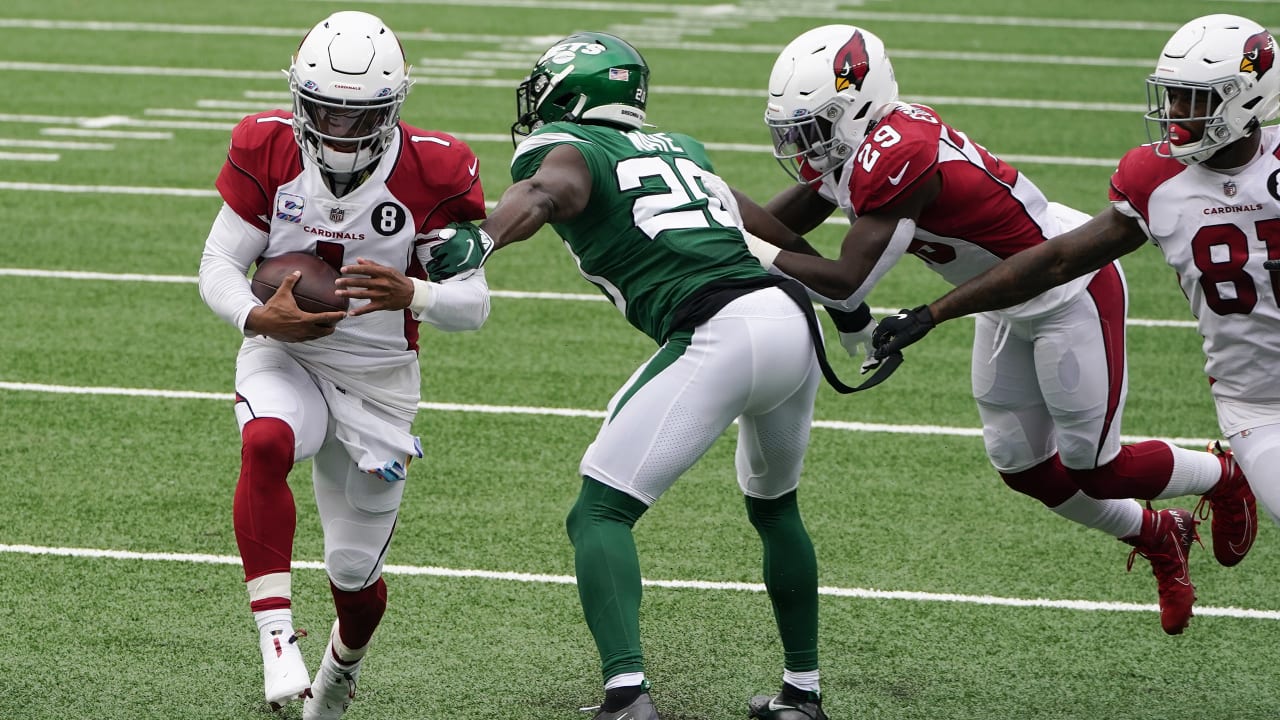 If the offense produces like it did Sunday, whatever the defense does might be mitigated. The Cardinals (3-2) piled up 496 yards of total offense, including a career-best 380 yards passing from Murray, and still Kingsbury said the unit couldn't find the rhythm he would prefer.
Edmonds was a key in the first half, making four catches and playing a big role in a last-second field-goal drive in the second quarter, aside from the 29-yard touchdown run to open the scoring. Kirk had his best game of the season with five catches for 78 yards. Fitzgerald had more yards on his first catch (12) than he had totaled in the previous two games combined.
"We definitely had an attitude, and an aggressive one, to play better," Kirk said.
Hopkins, meanwhile, quietly produced until he made a 45-yard catch on a fourth-quarter drive and then a fantastic 37-yard contested touchdown catch, boosting his final totals to six receptions and 131 yards.
Then there was Murray, who wasn't happy after the previous two games and who ended up throwing an interception early on a tipped pass Sunday. It didn't matter, as he settled into a 27-for-37 passing day, adding 31 yards rushing with a touchdown himself.
"To throw for that many yards, obviously I'm not the only one on the field," Murray said. For the offense, "overall, it was a decent day," he added.
Kingsbury said Murray was poised Sunday, and went through his progression well. Most of the game, the pass protection was good, although starting right guard J.R. Sweezy did leave with an elbow injury. Edmonds called it a "sneaky 380."
"You don't see him dropping back and throwing bombs, and that's sometimes what 380 looks like," Kirk said.
Murray was like his coach, seeing the places where the offense has to improve. The Cards had 127 rushing yards as well, with Edmonds chipping in 36 and Kenyan Drake leading the way with 60. Drake also had a rushing touchdown, and Edmonds called them a three-headed monster.
The Jones injury overshadowed a bit what the Cardinals did defensively, which was a 180 from how it looked in Carolina. Playing against a struggling Jets offense with backup quarterback Joe Flacco didn't hurt, the Cards held the Jets to 4-of-13 on third downs, kept the Jets (0-5 for the first time since 1996) to a field goal after the Murray interception gave New York the ball at the Arizona 10, and stoned the Jets on fourth-and-1 on another drive to stay in control.
Baker was excellent after missing one game with a thumb injury, getting a team-high 10 tackles and a sack.
But it was hard not to notice Gardeck, especially with the reality he was replacing the 2019 runner-up for Defensive Player of the Year.
The defensive work he did Sunday were the first defensive snaps he had taken in his NFL career. He quipped that he let the Jets know when he came on the field he was merely a special-teams player, and that they should take it easy on him. Two sacks later, he made his impression.
"It's mental warfare," Gardeck said.
Now the Cardinals have their own mental battle – to sustain Sunday's offensive success, and to maneuver through an injury to one of its best defensive players.
https://www.azcardinals.com/news/cardinals-explode-offensively-in-beat-jets-chandler-jones-injury