Cardinals Must Flip Script On Sean McVay, Rams
3 min read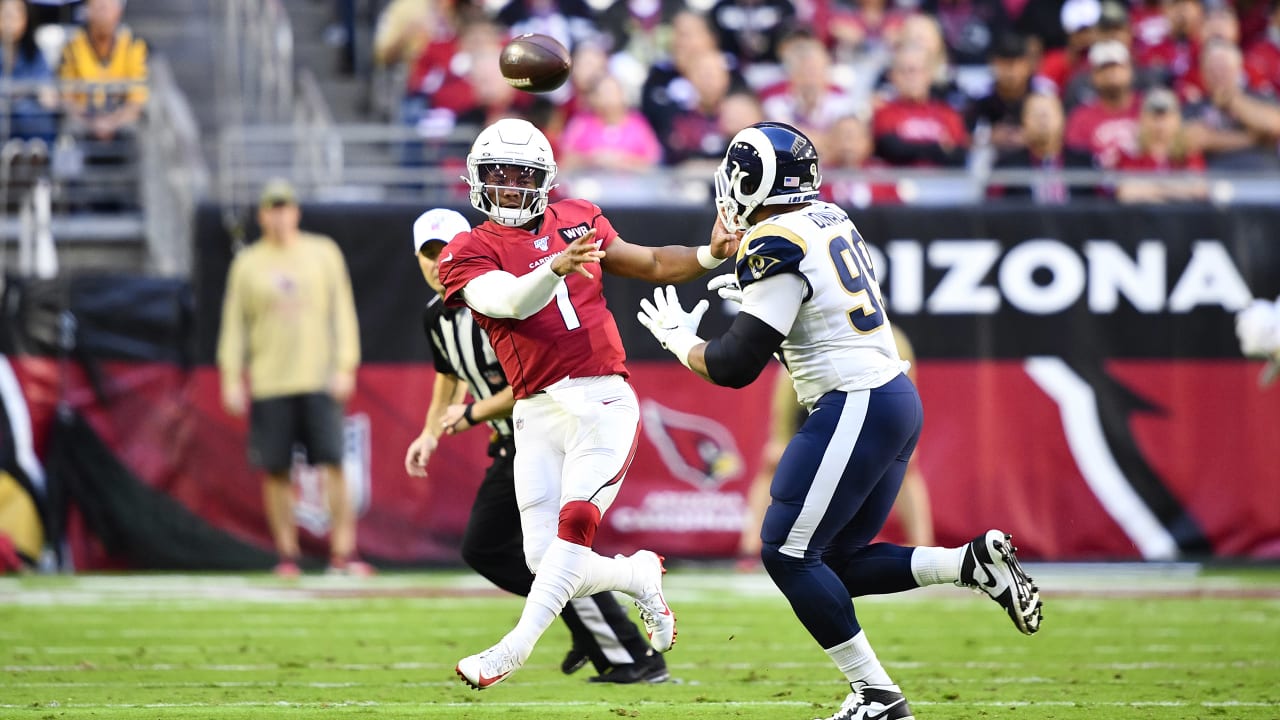 The Cardinals' offense has struggled the past two weeks, averaging only 19 points per game in losses to the Seahawks and Patriots. It has a tough task against a stout Rams defense that features two of the best players in the NFL: defensive tackle Aaron Donald and cornerback Jalen Ramsey.
Murray had only 10 carries for 46 yards combined against Seattle and New England, and his lack of rushing success has been a big topic this week.
The Cardinals are 6-1 when Murray has carried the ball eight times or more this season and 0-4 when he has not. Despite the disparity, the elite dual threat does not plan to force the issue on zone reads if the Rams are intent to stop him.
"If they want to take me away, that's fine as far as the run game goes," Murray said. "I'm going to hand the ball off to my guys. I've got faith in all of them, the O-line. We've just got to be better from top to bottom."
A hamstring injury kept Murray in the pocket in last season's season finale against the Rams, where he was 26-of-42 passing for 325 yards with two touchdowns and two interceptions.
"He was spraying it all over the field in the last game of the year," McVay said. "This guy is the real deal. I definitely believe that if he needs to, he can certainly make plays, but as he said, can they win, can they be a really good offense if he's not a runner? I absolutely agree with him."
The Cardinals' defense is coming off a dominant outing, holding Cam Newton to 9-of-18 passing for 84 yards with a pair of interceptions.
Rams quarterback Jared Goff has been inconsistent this season, but he torched the Cardinals a year ago. In Los Angeles' two victories, he threw for 743 yards and five touchdowns without an interception.
Cooper Kupp is the go-to receiver with 66 catches for 763 yards and two touchdowns this season, while Robert Woods has 61 catches for 679 yards and five scores.
"This quarterback is very accurate, he throws the ball with great timing, and he has two great targets he's throwing the ball to in Kupp and Woods," defensive coordinator Vance Joseph said. "It's going to be a challenge to keep those guys contained."
Despite the recent lull, the Cardinals still have a point-differential of plus-46 on the season, which is fifth-best in the NFC.
They have enough talent to make the playoffs, but must win their share of close games down the stretch to secure a berth. A different result against the Rams would be a crucial first step.
"The margin of error is very little for any team in the NFL because it's so close," Murray said. "Everybody is right there right now. We've just got to push over the hump."
https://www.azcardinals.com/news/cardinals-must-flip-script-on-sean-mcvay-rams