Cardinals Offensive Line Finds Its Footing
3 min read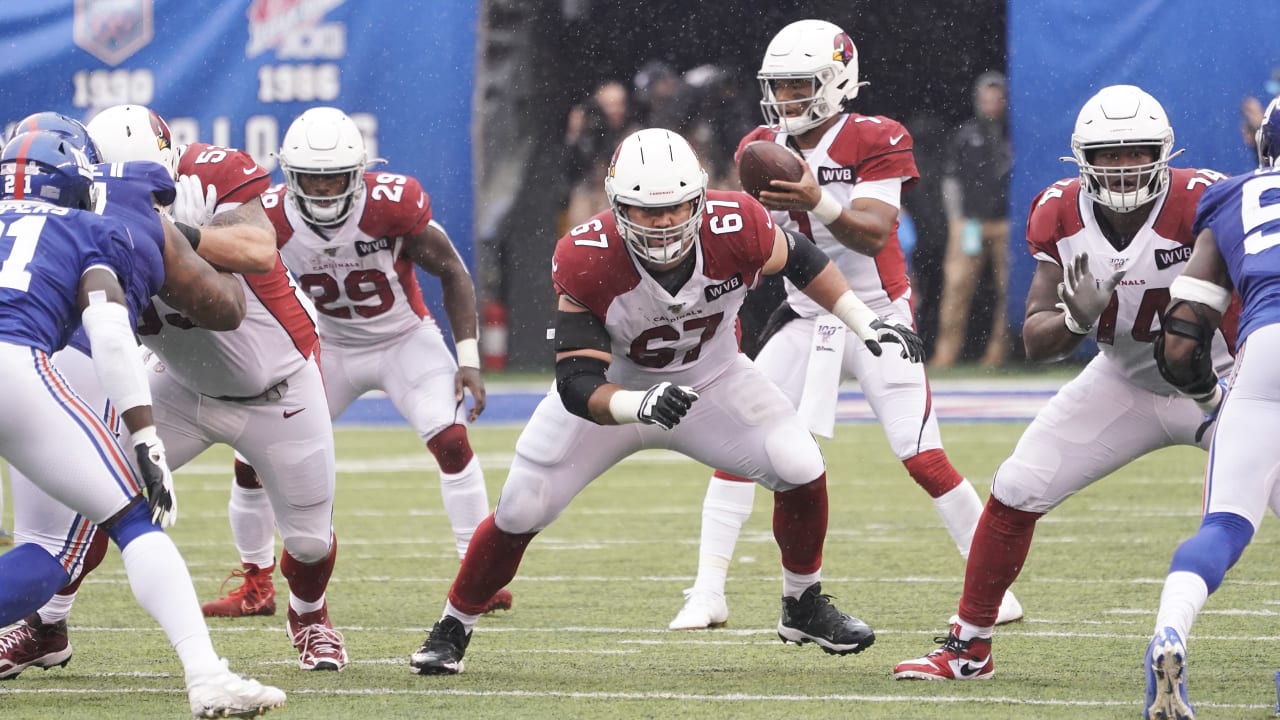 Offensive lines are usually a tight-knit bunch. Call it the nature of the position, call it an us-against-the-world situation that almost every line faces at some point. Call it the reality that, in everyone's mind, the five players are almost always considered as a group.
But Kugler said his current incarnation up front is as close as any he's ever coached, and to a man, the players agree.
"It's the perfect mix of dudes in our room," Humphries said.
Humphries is the loudest, holding court with colorful quotes and the one who has his own radio show – hosting the "Big Red Rage" every Thursday night. Pugh is the thoughtful one, as prone to advocate for players learning how to manage their finances or defending offensive linemen around the league as much as breaking down an opponent's defensive line. Sweezy is the defensive lineman-turned-offensive, laid back until postgame, when he politely asks reporters to let him calm down from the on-field battle he just went through before answering questions. Murray is the quiet one. Shipley is the sage veteran.
"The hardest thing the last couple of years, by week 12 you're on your fourth guard, your third tackle," Shipley said of the offensive line's revolving door. "This is one of the better groups I've been around. It's funny, we're five completely different people, but we all kind of get each other, laugh at everybody's differences and different jokes. That only helps you play better on Sunday. The closer you are off the field, the better you are on the field."
The chemistry was in cement with Gilbert, another veteran who bonded well up until his injury. That crushed Kugler, who was the coach in Pittsburgh when the Steelers drafted Gilbert and saw Gilbert excelling in Kingsbury's offense (Gilbert, rehabbing, still often is interacting with his teammates in the locker room.)
Murray, claimed off waivers from the Raiders, has managed to prove himself as a replacement.
"They welcomed me as soon as I got in the door," Murray said. "I kind to stick to myself. On game day, I'm laser-locked in. It's my first year getting this much playing time, so I'm trying to make the most of it."
Shipley said every once in a while, he'll catch Murray listening to one of Shipley's stories and laughing.
"I'm like, 'OK, I like this guy. He laughs at my jokes.' Doesn't say much, but when he laughs at my jokes, I like him," Shipley said.
The entire room of lineman is close, Sweezy said. That's a tell when it comes to success.
"We make it fun," Sweezy said. "We work our butts off, but we have fun doing it – in the meeting room, in the locker room, on the field. And when we're having fun, we're usually doing things right. That's when we know we're thriving."
https://www.azcardinals.com/news/path-to-redemption-cardinals-offensive-line-finds-its-footing