Cardinals Switch Focus To Seahawks Showdown
3 min read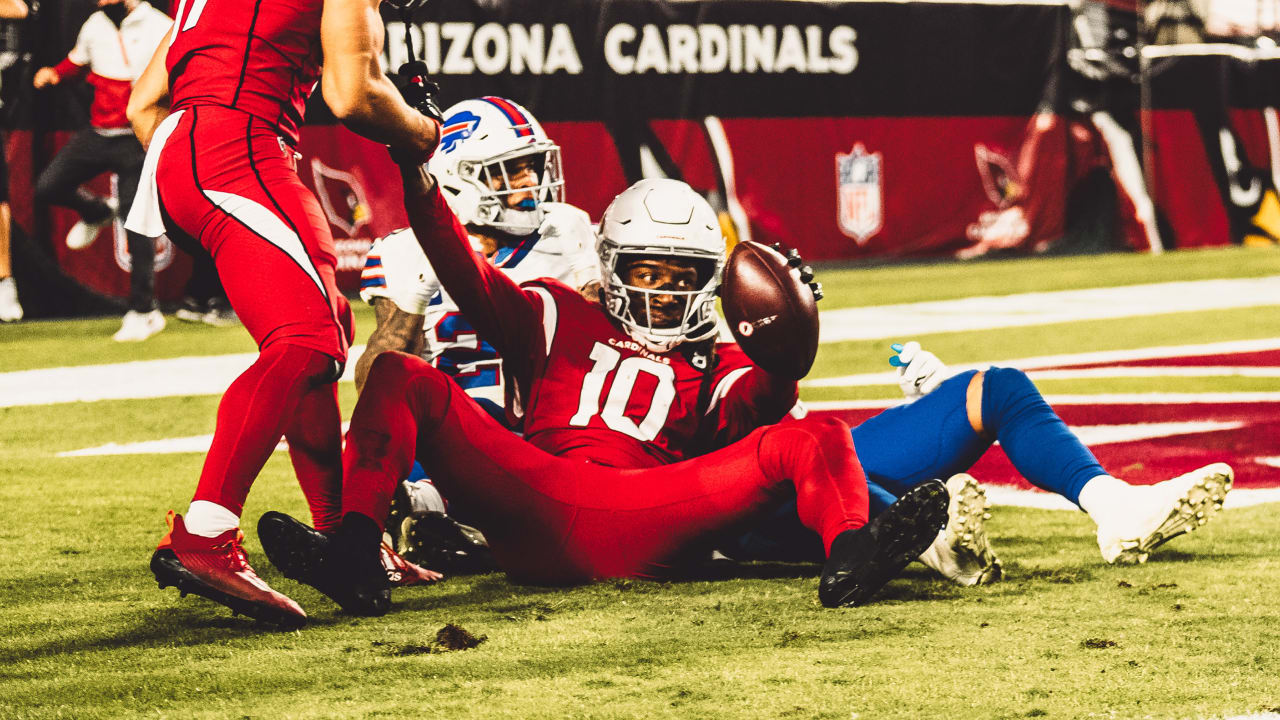 Russell Wilson has thrown seven interceptions in his past four games, beginning with a three-pick performance against the Cardinals. He roasted the Arizona defense in the first half of Week 7 but exotic blitz schemes kept Wilson off-balance after intermission.
"Our goal all year has been to make it look cloudy, give them different looks," cornerback Patrick Peterson said. "We know Russ is a great, great quarterback and has tremendous arm talent. We know he can make all the throws, and Russ is also a veteran. You don't want to give him looks that he knows the defense is in, because now he's able to shred you apart."
The Cardinals had seven of their 11 defensive starters listed on the injury report this week, but most of them will play, with defensive lineman Jordan Phillips (hamstring) the biggest question mark on an already-thin defensive line.
Outside linebacker Haason Reddick suffered a neck injury against the Bills but was able to return to the game and said he avoided anything serious.
"This is a gladiator sport," Reddick said. "Banged up, bruised up, if you can go, you gotta go. People talking about how we just played on Sunday and here again we have to play on Thursday with a short turnaround. I mean, that's what it is, and that's what it's going to be."
Hail Mary aside, the Cardinals' offense had some hiccups against Buffalo, especially through the air. Quarterback Kyler Murray was impressive against Seattle the first time around and will again be counted on to rev up the offense in a potentially high-scoring affair.
"I have to play well in order for us to win," Murray said. "As an offense, we have to play well, we have to execute. We have to play good complementary football. Otherwise, we can be beat."
The Cardinals often save their most memorable game of the season for Seattle, as they have won there five times in the past seven meetings, including last season despite a Murray injury.
While the ending against the Bills won't be topped, a win over the Seahawks would add another chapter to the Cardinals' CenturyLink lore.
Peterson said this game — about midway through the season with huge NFC West ramifications hanging in the balance — reminds him of the 2015 "Sunday Night Football" showdown which the Cardinals won to legitimize themselves as contenders.
"We've been here before," said Peterson, until realizing there are only a few players remaining from that team. "Well, I've been here before. Only a couple of guys on this team have been there before, like Junk (Markus Golden) and Larry (Fitzgerald).
"For the older guys that have been in this situation before, we have to let these young guys understand you have to relish the moment. You have to make the best of these moments, because this could really set us apart from everybody else in the division. It's a huge game."
https://www.azcardinals.com/news/back-to-reality-cardinals-switch-focus-to-seahawks-showdown