Cardinals WR Antoine Wesley has earned the trust…
3 min read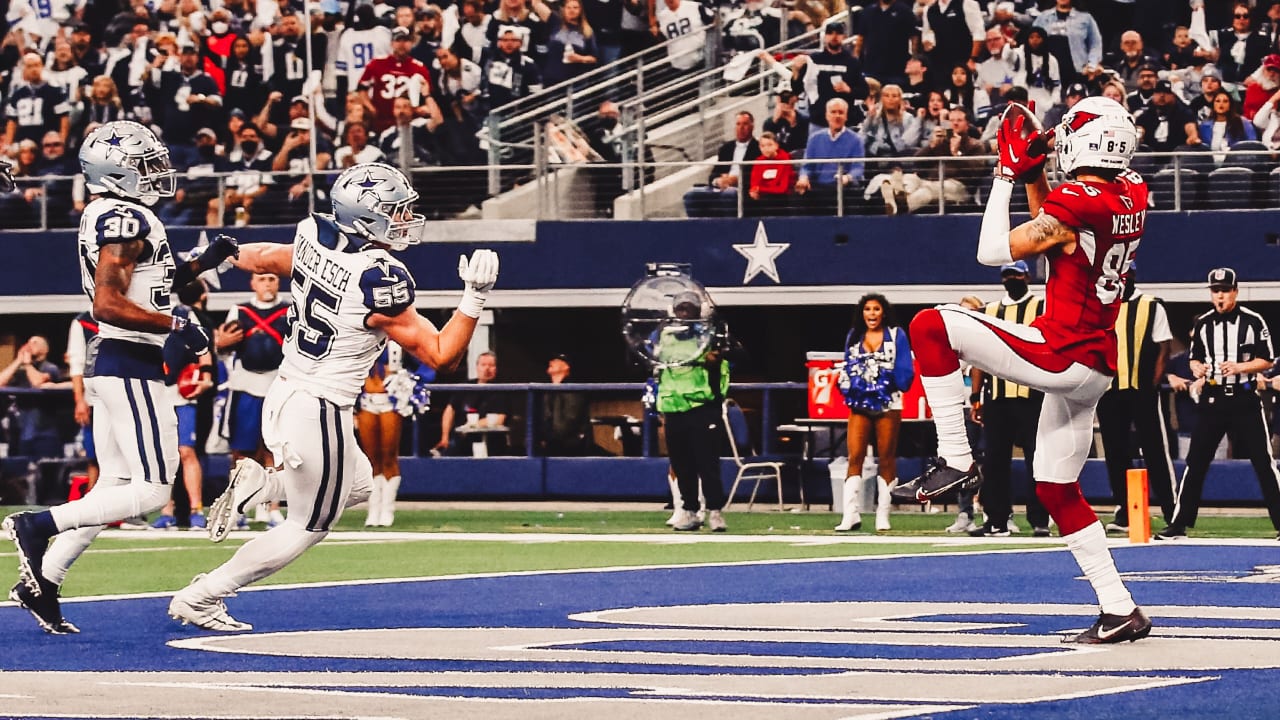 After going undrafted and then being released by the Ravens, Wesley admitted he broke down into tears when his agent called to tell him the Cardinals were signing him. More than just another chance to play in the NFL, it was the chance to reunite with Kingsbury.
"I dreamt of it, I ain't going to lie to you," Wesley said. "I love playing for that man."
With a crowded wide receivers room, it was unlikely Wesley was going to play much. After all, he was behind Hopkins on the depth chart, and as A.J. Green noted early in the season, "Hop don't miss games."
Except Hop has. A lot. There was first the hamstring injury, during which Wesley made a big catch in San Francisco on a pass from fellow wide receiver Christian Kirk to set up a touchdown. Then Hopkins suffered his season-ending knee injury.
Wesley, with what he had shown, was always going to be the in-house replacement.
"I know what type of player he is," Murray said. "I know he's accountable, I know he's going to be where he's supposed to be and he's going to make those plays if I give him the opportunities. At the same time, he hasn't had that period of time to where he can get accustomed to the speed of the game. It kind of happen quickly for him."
Wesley made an impressive TD grab against the Colts with a defender hanging on him for his first NFL score. Then came a moment in Dallas in which Wesley was open down the sideline for a deep jump ball. Murray made the throw. Wesley couldn't hold on, and Murray acknowledged later he thought Wesley should've caught it – and told Wesley so on the sideline.
"As you saw me tell him, 'We got to make those plays,' I know he can make those plays," Murray said. He's just got to do it now. There's no time to mess around. He had a great game, and like I said, I'm confident in his skills."
He caught two touchdowns later against the Cowboys, including a highlight-level 19-yard leap on the side of the end zone – Hopkins-esque.
Wesley is the first to say he isn't Hopkins. He's just Tweezy.
"I have fun, love life," said Wesley, who has 17 catches for 191 yards. "Football is my passion, and I get paid a lot of money for it. Who can be mad about that?"
For Wesley, he had trust too – in the process, one that led him to Arizona, to become a key part of the playoff-bound Cardinals.
"Having my team come up to me and say, 'We trust you, we've got your back,' (then) when the ball is in the air, they know I'm going to go get it for them," Wesley said.
https://www.azcardinals.com/news/emergence-of-antoine-wesley-was-a-matter-of-trust