Cardinals WR Christian Kirk, WR Andy Isabella grow…
3 min read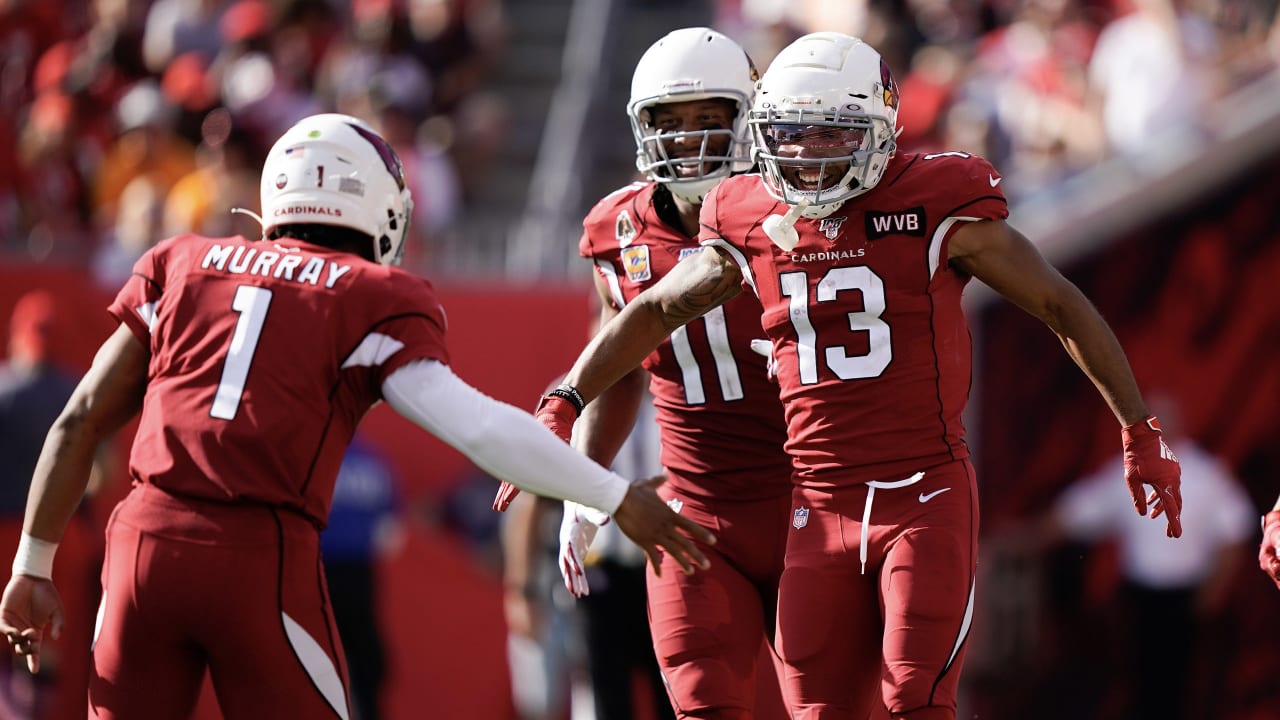 "They're finally getting me in there a little and letting me run some routes and it's fun," Isabella said.
The Cardinals haven't gone completely young. Fitzgerald had a team-high eight receptions in Tampa, and his one-handed fourth-down grab re-emphasized his importance in the passing game. A guy like Johnson, who came out of training camp as essentially the third receiver before seeing his playing time shrink, did get four targets Sunday although he couldn't connect with Murray on any.
"With Kyler, it's all about us growing together," Johnson said. "For him being a young guy, I feel like he's doing a great job. The process can be frustrating at times, but you've got to stick with it."
The collective growth actually helps guys like Isabella and Johnson the most, Murray said, because they aren't getting buried in a veteran-laden offense.
"I think for all of us, it's (about) confidence," Murray said. "We are all young and if we build this thing for years to come, we should be good."
Kirk was always going to be the linchpin, the bridge between what Fitzgerald had left to give and what the green receivers had to learn. His relationship with Murray was important – they played together as college freshmen – and Kirk's talent was crucial.
If that wasn't apparent when Kirk missed three games with a badly sprained ankle, his six-reception, 138-yard, three-touchdown day against the Buccaneers made it clear.
Murray said Kirk is the kind of player who needs the ball – and wants the ball – but is going to insist on working within the framework of the offense. At 5-foot-11, he may not be the ideal height for a No. 1 receiver, but Kingsbury thinks he can absolutely reach that status.
"You look at Antonio Brown, Steve Smith, guys like that, he just has that type of juice," Kingsbury said. "I'm not saying he's going to get to where they're at, but he has that type of ability, in my opinion, to be able to go inside, outside and be a mismatch wherever he goes."
Given Kingsbury's offensive plans, searching for another receiver – young or otherwise – in the offseason wouldn't be a surprise (analysts predict this to be the deepest draft in quality receivers in many years.)
But with Kirk in the lead and Murray playing like he is, the Cardinals also like the idea of their current room reaching full bloom.
"We're just scratching the surface right now," Kirk said. "It gives us a lot of confidence making the strides we are making. Each week we continue to ascend and it's kind of comforting to feel like we will keep growing for years to come."
https://www.azcardinals.com/news/christian-kirk-kyler-murray-andy-isabella-grow-together-in-passing-game