Chicago Bears announce plans for Andy Dalton,…
3 min read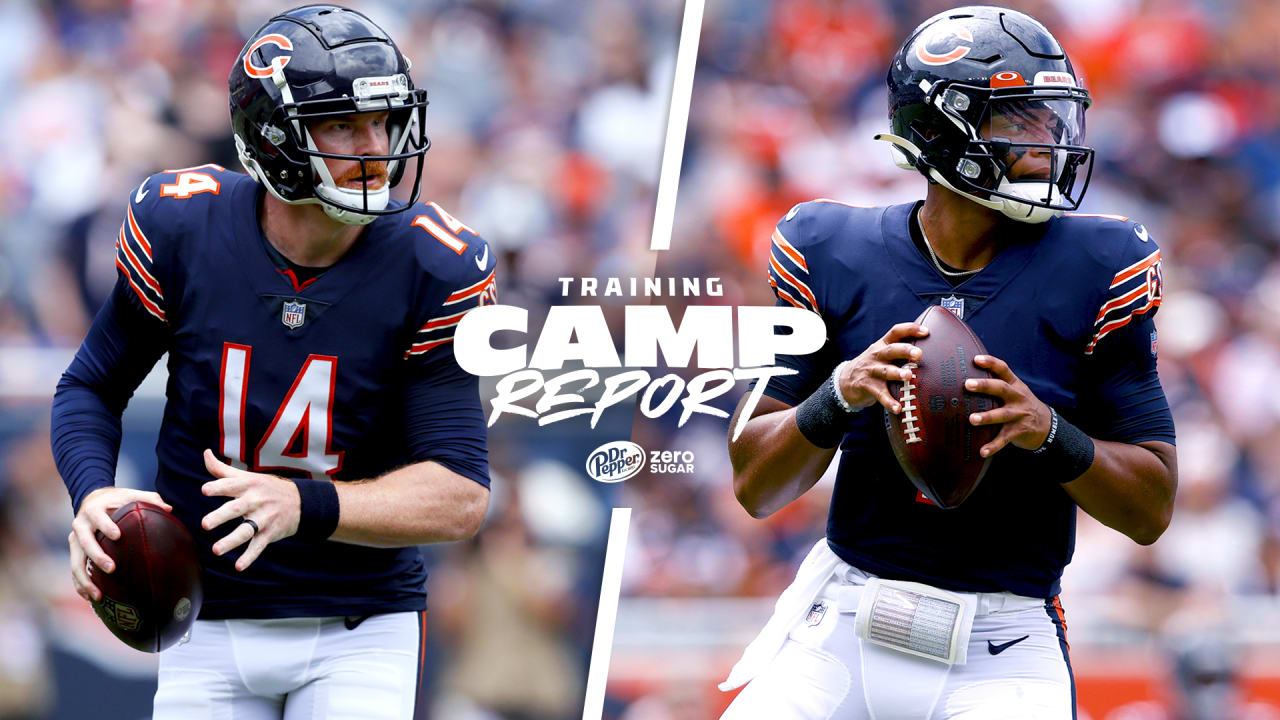 "We've got to be able to see where some of those guys are at at the tackle position just getting back into things," Nagy said, "so we'll keep an eye on that."
The Bears aren't viewing Fields' start in Tennessee as an audition for the No. 1 job. Nagy reiterated Tuesday for the umpteenth time that Dalton will start the season opener against the Rams.
"For us, it's all about [Fields] just getting better," Nagy said. "We just want to see him play hard and play well. All I want to see from him is just play a good game of football at the quarterback position and keep the big picture in mind for all of us."
Fields is excited about the opportunity, but his mentality remains unchanged.
"I'm going to approach this game like I've approached the last two games," Fields said, "getting in the ballgame, moving the ball down the field and trying to score a touchdown every drive. I'm going to approach it the same way and just go out there and play my hardest."
Relieving Dalton in the first two preseason games, Fields has completed 23 of 39 passes for 222 yards with one touchdown and an 83.5 passer rating. The first-round pick also leads the Bears in rushing with 79 yards and one TD on nine carries.
"We feel really good with where he's at," Nagy said. "I would say for sure that for his level of where a lot of rookies are at this point in time, he's passed that test, so that's a good thing. We know that. But now it's just growth for every one of these quarterbacks, Justin included.
"The only thing we can do is worry about having those guys just continue to just fight every day and just be awesome in practice; mentally be smart and be productive and always be prepared. And that's one thing with those three guys; they will always be prepared. That's how we look at it."
Down the road, a change at quarterback or any other position will be based on performance.
"Big picture, when we talked about this from the very start, we said whoever is going to be best for the Chicago Bears [will start], and that's going to obviously deal with production and wins," Nagy said.
"We're evaluating every one of these players every day, every game, not just Andy. It gets magnified because of the quarterback position and because of Justin, but it's the same thing at every position.
"Andy knows that we want to win, we want to score a lot of points, we want to be smart with the football. He's a leader and he's done that and he's worked hard throughout this whole OTAs and training camp to get to this point right now."
Nagy is confident in Dalton, Fields and third-stringer Nick Foles—a one-time Super Bowl MVP—and is pleased with how they support each other.
"We just feel really good about our quarterback room right now," Nagy said. "We feel really good, and that's a credit to these players that are in that room, it's a credit to our coaches that are coaching them, and now when we get an opportunity Week 1, as a unit, as a team, all three phases, we've got to put it together and go play Chicago Bear football."
https://www.chicagobears.com/news/nagy-announces-plan-for-qbs-in-preseason-finale-andy-dalton-justin-fields-titans