Chicago Bears boast NFL's No.1 red-zone defense
3 min read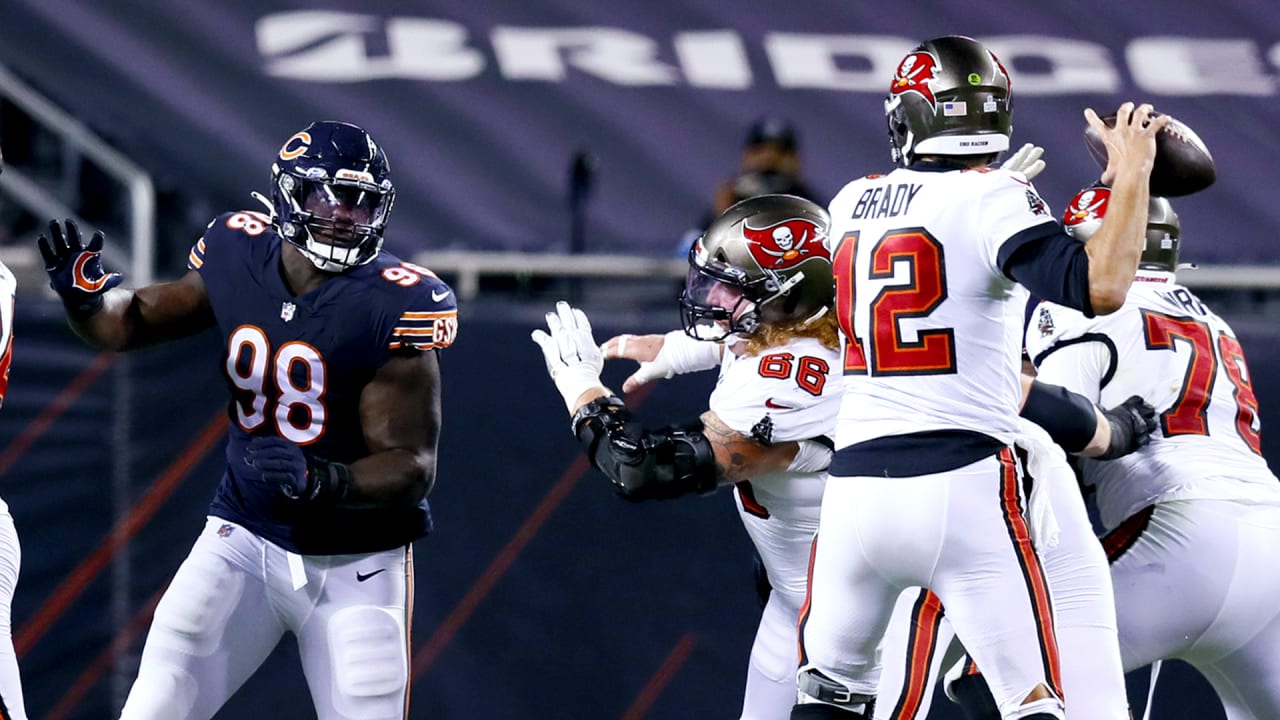 The defense has been especially stingy in its last two games. In last Thursday night's 20-19 win over the Buccaneers, the Bears allowed just one TD on three red-zone possessions, twice forcing Tampa Bay to settle for field goals.
Five days earlier, the defense kept the Bears in an eventual 19-11 loss to the Colts, permitting only one TD on four trips inside their 20. Indianapolis settled for three field goals after reaching the Bears' 3, 8 and 10. Key third-down stops came via a Brent Urban sack and a Roquan Smith tackle-for-loss on a running play.
"[With] coach Chuck [Pagano] and coach [Matt Nagy] and all the way down, there's a big emphasis on keeping people out of the end zone," said safeties coach Sean Desai. "It comes down to a pride factor. We do simple better. We have our red-zone calls and coach [Pagano] has been sticking to those and the guys know how to play them and execute them, and they work well off of each other. And then when the guys have that confidence, it shows on tape that way."
A pivotal moment against the Buccaneers came midway through the second quarter. With Tampa Bay threatening to increase its lead from 10-0 to 17-0, defensive tackle Bilal Nichols pressured star quarterback Tom Brady into throwing an incomplete pass on third-and-seven from the Chicago 17.
The Buccaneers settled for a field goal, widening the margin to 13-0. But the Bears responded late in the second quarter with two touchdowns in a 1:12 span to take a 14-13 lead.
"Anytime they get into plus territory, you know that the percentages scoring for them are higher," Desai said. "The first thing is you want to get a takeaway, but if you [force them to settle for a field goal], that's huge—and especially versus a guy like Tom Brady and that offense that coach [Bruce] Arians and those guys have that's so explosive.
"Points are valuable. You saw at the end of the game with the final score (20-19). So all those things matter."
That's been the case throughout the season for the Bears, whose four wins have come by a total of 13 points. In four-point victories over the Lions and Giants the first two weeks of the year, rookie cornerback Jaylon Johnson broke up key third-down passes on red-zone possessions, forcing both opponents to settle for field goals.
Secondary coach Deshea Townsend believes that the defense's red-zone success stems from its preparation.
"I think it goes a lot into studying the opponent," said Townsend, who played 13 NFL seasons as a defensive back with the Steelers (1998-2009) and Colts (2010). "Those guys do a great job of preparing each week mentally for their opponent. They understand how the teams are going to attack them. And then we understand what we're going to do, and I think that's a big thing."
https://www.chicagobears.com/news/bears-boast-nfl-s-no-1-red-zone-defense