Chicago Bears' condensed schedule fuels sense of…
4 min read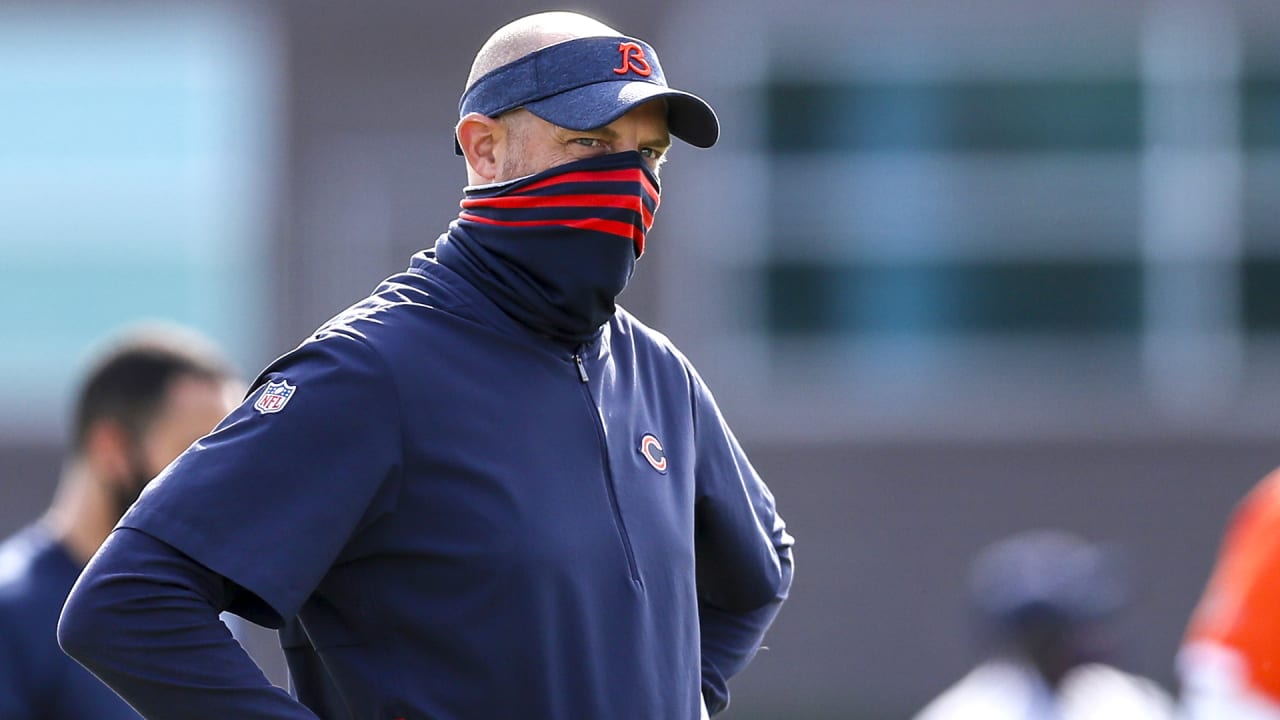 The Bears released their training camp schedule to the media Tuesday. They're slated to work out without pads Friday and Sunday before conducting their first padded practice Monday. NFL teams are allowed to hold 14 padded practices through Sept. 6.
With very specific protocols that must be followed due to COVID-19, formulating the training camp schedule was not an easy task.
"This schedule can be at times a little bit consuming because you want to get it right," Nagy said. "What they give you, you want to be able to use as much as you can and make it make sense. There are transition times involved. You're trying to please everybody, whether it's the coaches, the players, walking back and forth across the practice fields from the Walter Payton Center to Halas [Hall].
"This has never been done before. There's not one NFL coach that you're going to sit here and ask the question, 'Have you ever done this schedule before?' Because the answer is no. Not one person has done this schedule."
Nagy has informed players and coaches to expect constant changes with the schedule, something that occurred Wednesday.
"There's flexibility, there's creativity, people have to adapt and I think for us, just understanding that and being cool with that," Nagy said. "It's been difficult. But we feel pretty good with it … Every single day we wake up and come to practice, I always have the ability to change the schedule because we're learning. Hopefully you all can take that to an understanding and not get angry when we make a quick [change] like we did today."
Since veterans reported to Halas Hall last Tuesday, they've been limited to strength and conditioning work and walk-though sessions. On Wednesday, quarterbacks were allowed to throw to receivers for the first time. But the offense won't be permitted to face the defense in 7-on-7, 9-on-7 or 11-on-11 drills until Friday.
"We've had a lot of Zoom meetings, we've had a lot of discussions," Nagy said. "We can talk about it; it sounds good through this computer. But today was the first time our entire team—and I'm speaking offensively—[was] able to throw routes from these quarterbacks to the wide receivers, tight ends and running backs, for the first time since last year.
"I think the league and the players association did a great job at doing this ramp-up deal and knowing that you can't go out there and just play football without having these little intricacies of practice and timing on both sides of the ball. You need to have that first. So today was Day 1 of that."
"We just can't go against each other. We're still kind of in that beginning stage. These guys are going to be really excited to actually go against somebody else on the other side and compete for the first time in a long time."
With quarterbacks Mitchell Trubisky and Nick Foles still not having faced a defense since last year, Nagy conceded that it was premature to begin assessing their performances or handicap their highly-anticipated competition for the starting job.
"When we start getting into competitive periods and the defense is on the other side, I'll be able to better answer that question for you," Nagy said. "These guys are out here throwing the football, they're getting their timing down, they're understanding what they need to do with ballhandling. We're looking at that, but again, the evaluation process that we're all trying to watch and look for and search for really isn't going to start until you put some people on the other side."
Nagy revealed that there's no timeline to determine a starting quarterback.
"That for us is going to be fluid," said the Bears coach. "And when I say that, we've got to be able to see, 'OK, if we need to sneak more competitive periods in' because we feel like we're not getting enough, where things are gray, we'll do that. As far as the timeline of that, we'll get together offensively as coaches, we'll talk through everything, and we'll decide what we think is best in regard to communication to the quarterbacks and then communication as to how we want to handle it with our team.
"It's just as important for everybody to understand that. We're not exactly there yet because we don't know how it's going to go here in the next several weeks. But once we get to that point, we'll keep that stuff private with us, and I promise you when we feel the time is right, you guys will be the first to know—after the quarterbacks."
https://www.chicagobears.com/news/bears-condensed-schedule-fuels-sense-of-urgency