Competitions Abound & Eyes on Return Games
2 min read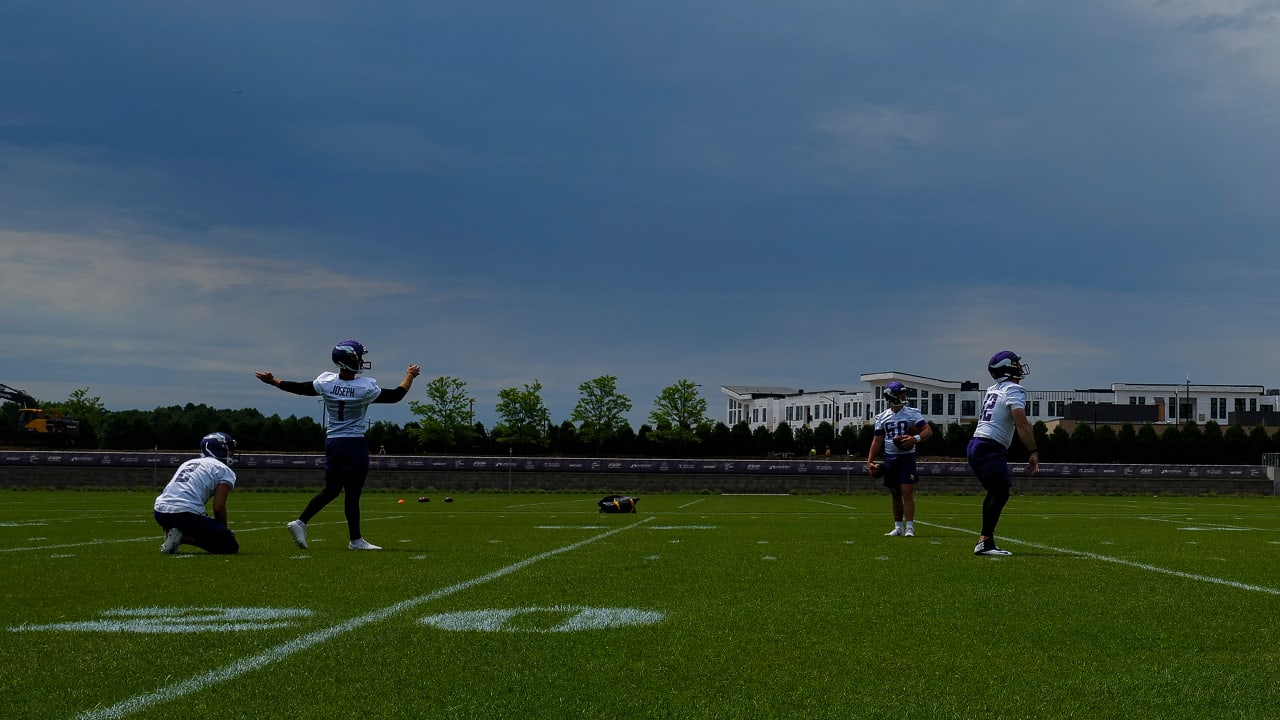 DePaola joined Minnesota for the final seven games of 2020 after erratic snaps forced the Vikings to part ways with Austin Cutting. When DePaola hit the field on Nov. 22 against Dallas, it was his first regular-season action since Sept. 10, 2018, with Oakland. He spent the rest of that season on Injured Reserve and did not play in 2019. DePaola, who will turn 34 on Wednesday, has appeared in 72 career games since 2014.
Bernard, who will turn 23 on Aug. 14, appeared in 51 games for San Diego State, including four in 2016 before receiving a medical redshirt (torn ACL). He twice earned prep all-state honors in Arizona and was chosen to long snap in the Under Armour All-America Game.
Joseph, who will turn 27 on Aug. 4, was a member of the Tampa Bay practice squad in 2020 during the Buccaneers run to winning Super Bowl LV. The Bucs "protected" Joseph from being signed to another team's active roster as an insurance policy in case Ryan Succop ran into any hiccups. Succop, however, was good all year long, going 28-for-31 on field goals and making 52 of 57 extra points.
Joseph has appeared in 16 regular-season games with Cleveland (14 in 2018) and Tennessee (two in 2019, interestingly in filling in for Succop). He is 17-for-20 on field goals and has made 34 of 38 extra points. Born in South Africa, Joseph also has three playoff games to his credit, helping Tennessee advance to the AFC Championship Game after the 2019 season. He made all nine extra points and his lone field goal attempt in that postseason.
Patterson racked up 432 career points, which ranks second in school history, in 51 games at Memphis. He netted 240 of 246 extra points and made 64 of 82 field goals, which was highlighted by a 47-yard, game-winning field goal against Houston on Dec. 12, 2020. The Illinois native will turn 23 in September.
Ficken described the approach to evaluating competitions.
"You want to make it as fair as possible so they're getting the same reps, because each day's different," Ficken said. "We have windy days on certain days and not on others, so you want to keep it as fair as possible, but at the end of the day it all works out. … Competition's a beautiful thing, and we've just got to make sure we're working to get better each day."
https://www.vikings.com/news/britton-colquitt-greg-joseph-riley-patterson-2021-training-camp