D.J. Humphries Proving Worthy Of Pro Bowl…
3 min read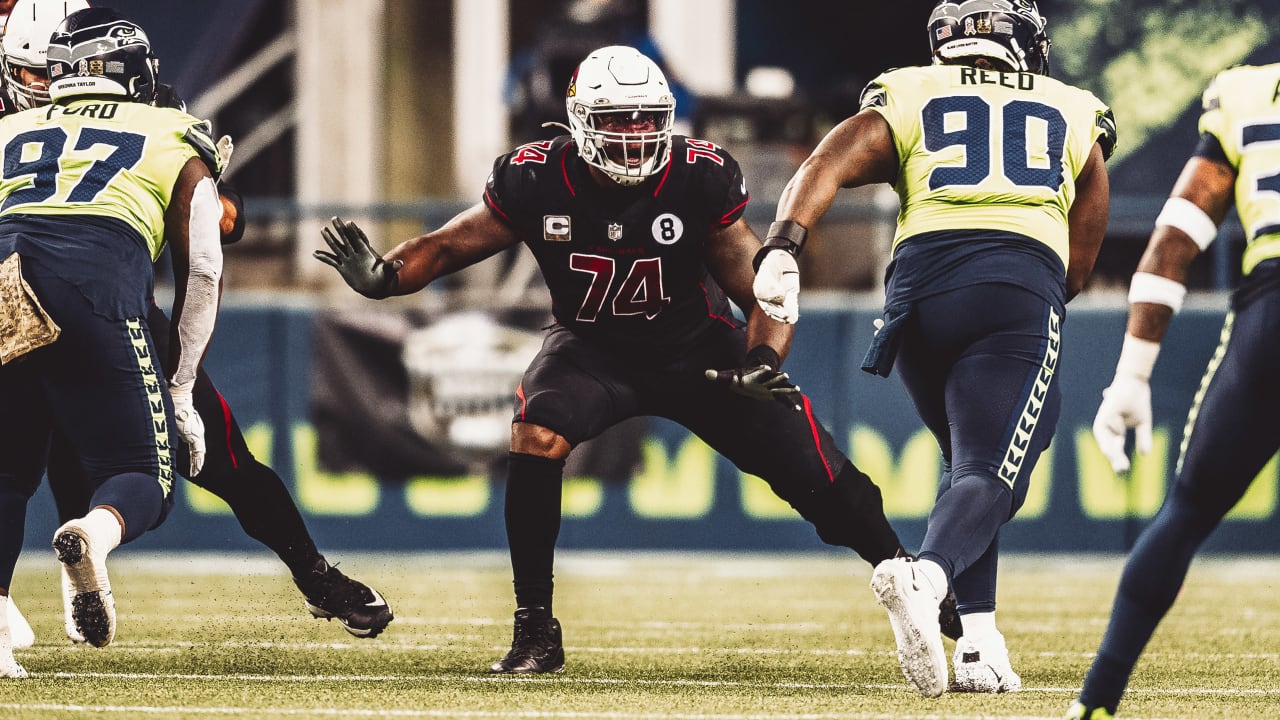 Humphries hasn't allowed a sack since Week 4 – he has given up two this season, per PFF – and has a stellar run-blocking grade. He's also been durable, playing all but one snap this season.
Right tackle Kelvin Beachum said Humphries has fully tapped into his natural athleticism.
"D.J. moves with a level of suddenness and a level of smoothness that you're not able to coach," Beachum said. "He has that 'It' factor that people look for out of a tackle."
Beachum and Humphries have trained together for years in the offseason. When things weren't going so well for Humphries earlier in his career, Beachum watched him continue to grind.
"Every athlete at some stage deals with injuries, deals with adversity," Beachum said. "I really do think that it's all about how you handle it. Hump was around a number of guys from across the league that found a way to get it done, found a way to play the game at a high level. I wouldn't say that I took him under my wing and that we sat down and had a heart-to-heart. No. He watched me work and I watched him work. When you have that ability, iron sharpens iron. You realize what you've got to do to make your game better."
Humphries is known as a jokester, but Kingsbury said his work ethic has become top-notch.
"Between him and Beach, two real pros out there that handle their business," Kingsbury said. "In between reps, they're over there getting extra work. After practice, they're getting extra work."
The Cardinals have not had a Pro Bowl offensive lineman since guard Mike Iupati made it in 2015. They haven't had a tackle make it since way back in 1996, when Lomas Brown earned the honor.
Despite the production, it could be an uphill battle for Humphries because he does not have the same name recognition of other blindside protectors. But at age-26, Humphries seems to have thrust himself into the conversation.
"That's one of those tags that all those guys have, and obviously I want that," Humphries said. "But I won't act like I'm out here trying to be an (All-Pro). All I'm thinking about is getting Ws and doing my job to make sure we get that. In my mind, if you do that at a high level, that's what comes along with it. Hopefully that will be something I can take on to my name, All-Pro and Pro Bowler, at some point. It's not for me to decide, though. All I can do is go out there and put out good film and let the people decide what it's going to be."
https://www.azcardinals.com/news/d-j-humphries-proving-worthy-of-pro-bowl-consideration