Ed Block luncheon returns after two-year hiatus
3 min read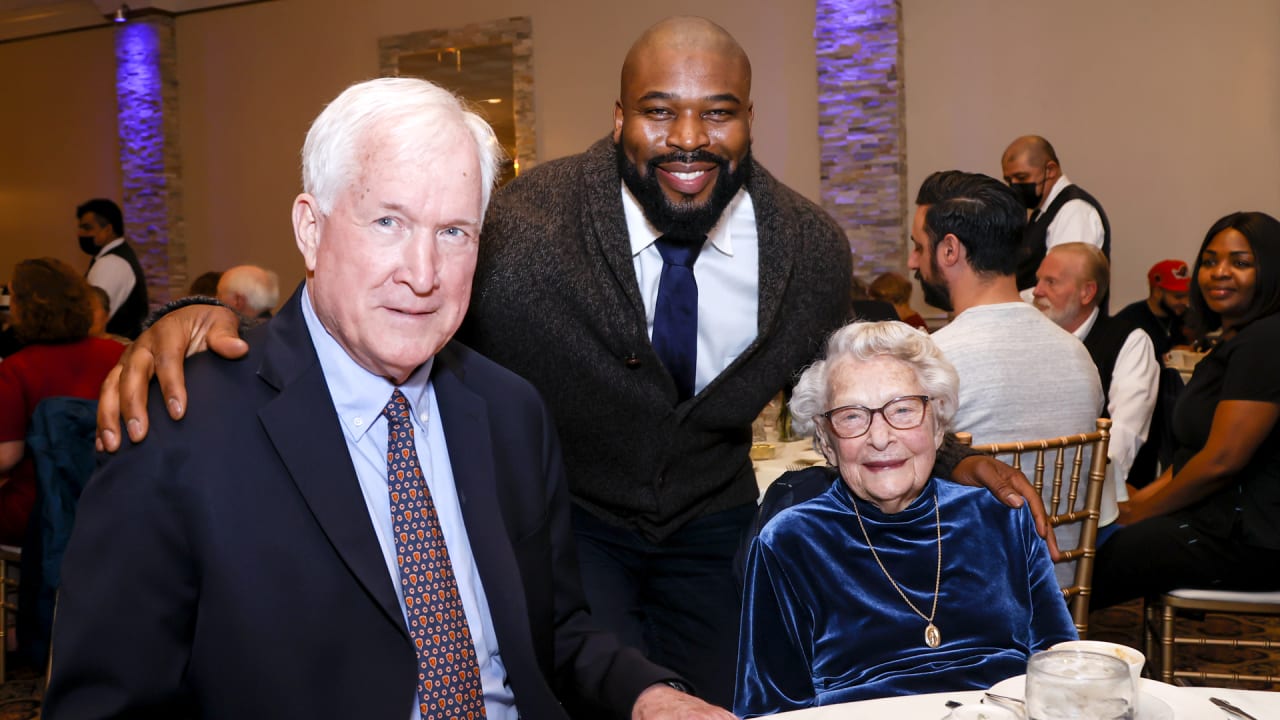 After being cancelled the last two years due to COVID-19, the Ed Block Courage Award luncheon was held once again April 5 at Manzo's Banquets in Des Plaines.
The annual event honors the Bears' winner of the prestigious award, which is presented to one player on all 32 NFL teams who best exemplifies a commitment to sportsmanship and courage and serves as an inspiration in the locker room. The award recipients, who are voted for by their teammates, symbolize professionalism, great strength and dedication, and they are considered community role models.
Ed Block was a long-time head trainer with the Baltimore Colts who was a pioneer in his field. The Ed Block Courage Award Foundation, which is based in Baltimore, promotes the prevention of child abuse by raising awareness of the epidemic and assisting agencies that provide for the care and treatment of abused children throughout its Courage House National Support Network for Kids.
Each NFL team participating in the Ed Block Courage Award Foundation program selects a "Courage House" that supports victims of abuse, violence and neglect. The Bears' designated Courage House is Maryville Academy's Crisis Nursery in Des Plaines. Maryville is a social service agency which sponsors programs for children and families. Maryville's Crisis Nursery provides temporary emergency childcare for families in crisis.
Block and his wife dedicated their lives to helping children in distress as foster parents and advisers. There are presently 23 Courage Houses connected with NFL teams, and this is the 44th year the awards have been presented.
The Bears were represented at the luncheon by owner Virginia McCaskey and one of her sons, team vice president Patrick McCaskey, along with other staff members.
The luncheon also honors the late Ed McCaskey, Virginia's husband, by raising money for a fund in his name that provides high school, college and vocational scholarships to the children of Maryville. During his tenure with the Bears—first as vice president and treasurer and later as chairman and chairman emeritus—McCaskey was known for his generosity to Maryville.
The Bears' recipient of the Ed Block Courage Award, running back Tarik Cohen, was not in attendance. But former Bears defensive lineman Israel Idonije—who won the award in 2009—was on hand and spoke to a large crowd.
"It's an army of people that were committed to supporting the kids and after-school programs and it's pretty special to see that all these years later, there's still an army of people committed to giving and impacting lives," Idonije told ChicagoBears.com. "And a special kudos to the McCaskey family and to Maryville Academy. Service is not easy. But they continue to put in that work and really do it as a team. It's special."
https://www.chicagobears.com/news/ed-block-luncheon-returns-after-two-year-hiatus-2022