Emotional fundraiser held to support Chicago Bears…
3 min read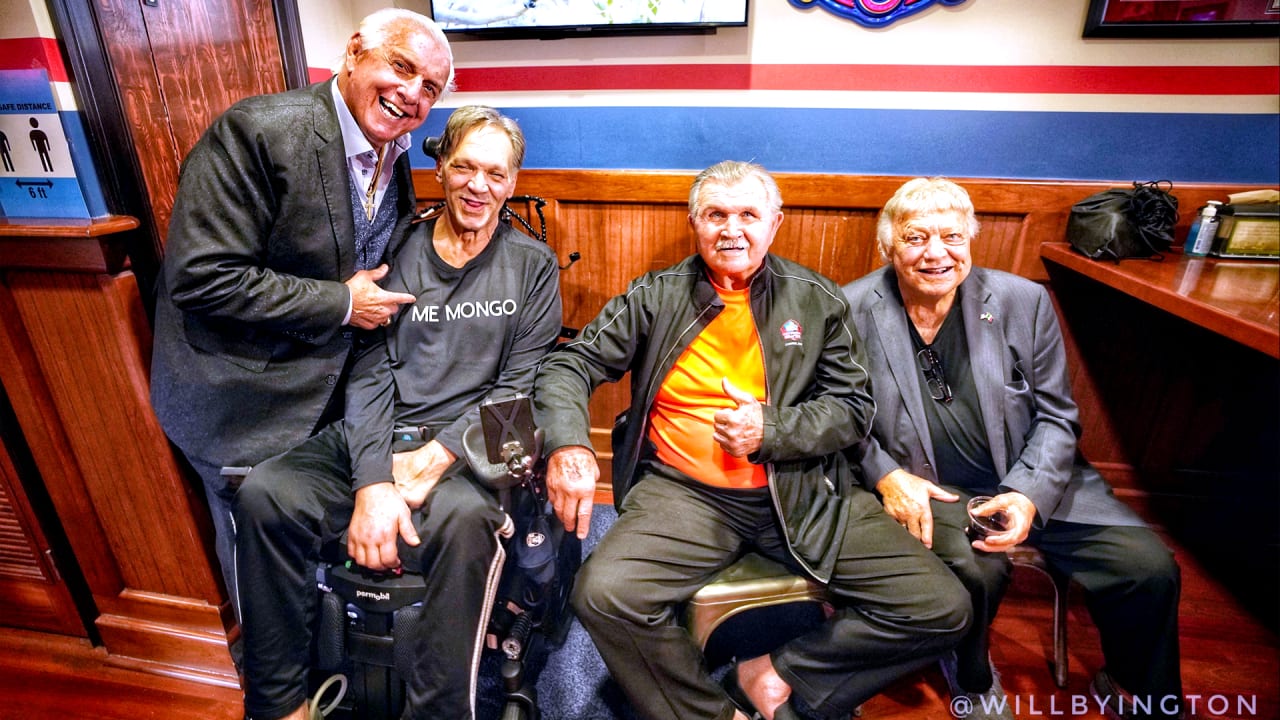 Hugs, laughter and tears were in abundance Monday night as friends and former teammates gathered for a fundraiser to support beloved Bears all-time great Steve McMichael.
The charismatic Texas native affectionately referred to as "Mongo" revealed April 23 that he's suffering from ALS (Amyotrophic Lateral Sclerosis), also known as Lou Gehrig's Disease. McMichael, 63, was diagnosed following visits to the Mayo Clinic in Minnesota last September and Rush University Medical Center in Chicago in early January.
ALS is a neurodegenerative neuromuscular disease that results in the progressive loss of motor neurons that control voluntary muscles. The affected muscles are responsible for chewing food, speaking and walking. Motor neuron loss continues until the ability to eat, speak, move and finally breathe is lost.
Unfortunately, McMichael's condition has deteriorated; he's lost the use of his arms and hands and his legs are weakened, confining him to a wheelchair.
Monday night's fundraiser was held at Wrigley View Rooftop, located at 1050 Waveland Avenue, across the street from Wrigley Field, while the Cubs battled the Washington Nationals. The iconic ballpark was also the Bears' home for 50 seasons from 1921-70.
The funds raised will help defray the mounting costs of McMichael's daily care and medical needs and hopefully will enable McMichael, his wife Misty and their 13-year-old daughter Macy to move into an accessible home.
At Monday night's event, McMichael was presented with the Grid Iron Horse Award by the ALS Association.
McMichael was a warrior on the field for the Bears, a tough-as-nails defensive tackle who played in a franchise-record 191 consecutive games in 13 seasons from 1981-93. He ranks second in Bears history behind Hall of Famer Richard Dent with 92.5 career sacks, an impressive total for a defensive tackle. McMichael helped the Bears win six division titles and was an instrumental part of the 1985 Super Bowl championship defense that many consider to be the best in NFL history.
Individually, McMichael was a two-time first-team All-Pro, a three-time second-team All-Pro and a two-time Pro Bowler. He was named the 19th best player in Bears history in 2019 by writers Don Pierson and Dan Pompei in the Chicago Bears Centennial Scrapbook—the second highest slot for a non-Hall of Famer.
Members of the famed '85 Bears who attended Monday night's fundraiser were coach Mike Ditka and players Dent, Kevin Butler, Jimbo Covert, Gary Fencik, Willie Gault, Dan Hampton, Mike Hartenstine, Jay Hilgenberg, Jim McMahon, Jim Morrissey, Matt Suhey, Tom Thayer and Otis Wilson.
"Mongo is part of our team, a teammate for a long time," said Gault, who flew in from California for the event. "He's an '85 Bear. Whatever I can do to help him, ease his pain, I want to do that. Anytime you know someone who's going through something like this, it's really sad. It hits home because it's so close. All we can do is support him, pray for him and do what we can to help him and his wife."
"It's a very difficult situation, and I think he's handling it incredibly well, and [Misty] is as well," said Covert, who traveled from Florida to attend the fundraiser. "We're just trying to support him any way we can, both financially and emotionally."
https://www.chicagobears.com/news/emotional-fundraiser-held-to-support-mcmichael