Experts Grade 49ers First Round Pick, Trey Lance
3 min read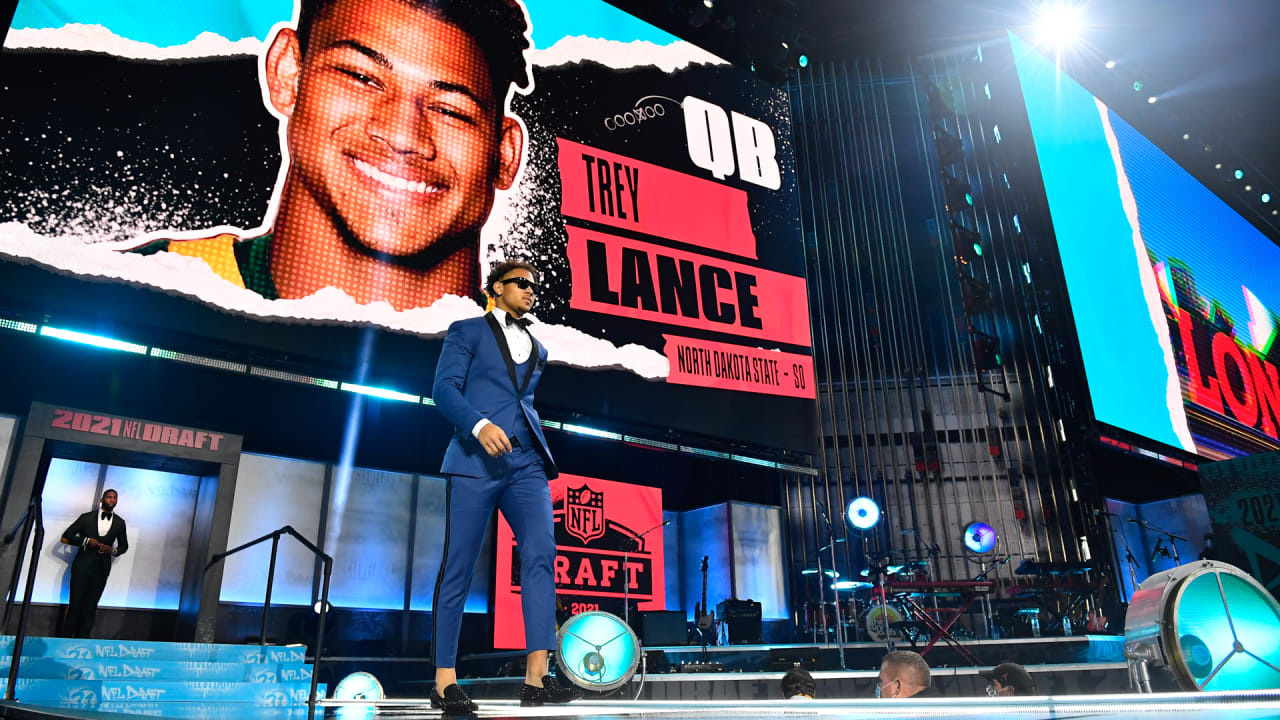 "Trey Lance is simultaneously the draft class' biggest enigma and its most polished quarterback prospect.
"From an evaluation standpoint, Lance is only 20 years old with one full year of starting experience. He attempted 318 passes. For comparison, Alabama's Mac Jones is the next lowest among projected first-round quarterbacks with 556 career passes.
"To be fair, Lance fully capitalized on his 17 starts. During that span, the Bison didn't lose a game and won a national championship, while he posted a 30-to-1 touchdown-to-interception ratio and earned the distinction of being the FCS' best player by winning the Walter Payton Award.
"As an athlete, Lance has a thickly built lower half. He creates significant power through his thighs and hips. As such, he generates significant velocity on his throws while simultaneously being capable of running by or through defenders. He is a significant threat as a passer and runner (1,325 career rushing yards and 18 touchdowns).
"The bonus of Lance playing for the Bison program is he's a true pro-style quarterback. He already understands pre- and post-snap reads. He was consistently asked to make all of the necessary drops and rely heavily on play action. The class' youngest quarterback shouldn't be overwhelmed by an NFL playbook.
"While Lance doesn't have the experience at the highest level everyone prefers, he's the most ready prospect to take over San Francisco's offense. North Dakota State's attack lends well to what head coach Kyle Shanahan wants to accomplish.
"Lance worked extensively from under center, played in a heavy play-action scheme and will add a completely different dynamic to the offense.
"When San Francisco traded up, many immediately looked toward Alabama's Mac Jones as the likely selection. But Jones never made sense because he would have been a cog in the machine. Lance adds so much more from an athletic perspective.
"'On film, you don't realize how big he is because he is so athletic,' a coach told The Athletic's Bruce Feldman. "He was much bigger than we thought he was. That size, athleticism and arm are so rare at this level.
"Once Lance is ready to take over the offense, the 49ers will feature the most unstoppable unit."
"The 49ers pulled off a mild shocker by going with the high-ceiling prospect vs. the high floor of Mac Jones. Lance is also a highly intelligent passer capable of making all the throws and offers a special brand of athleticism Jones can't. Lance needs some development to hone his skills, but he gets into a great passer-friendly system and inherits a loaded supporting cast to boost him under Kyle Shanahan. Look for Lance to start sooner rather than later and take a top offense to an unprecedented level."
https://www.49ers.com/news/49ers-trey-lance-quarterback-nfl-draft-grades-analysis-shanahan