Fant sets career bests, franchise rookie marks as…
3 min read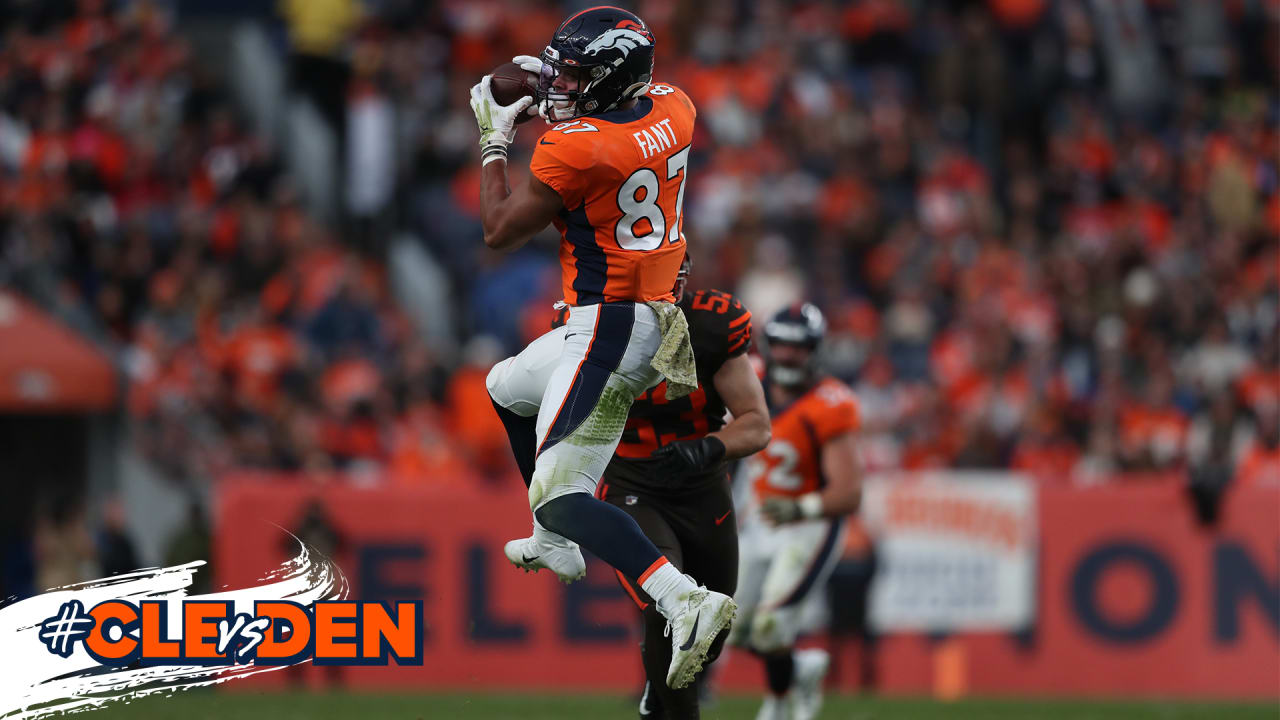 "I'm my biggest critic," Fant said. "I hold myself to a very high standard and it's nice to have that rookie record, but I'm trying to attain a lot bigger goals and try to do a lot better. It's always good to attain certain milestones like that, but I'm looking to keep pushing forward."
Fant quite literally pushed his way to his second touchdown of the season.
With the Broncos leading 7-3 early in the second quarter at their 25-yard line, quarterback Brandon Allen found Fant, who then took off and shouldered his way through one Browns defender, ducked another and powered past a third.
"Noah, what an incredible play by him just to catch that ball and take it the distance," Allen said. "It was incredible."
Fant's excitement was apparent when he celebrated his touchdown with front-row Broncos fans and his teammates.
"It was a special play and seeing [wide receiver] Courtland [Sutton] coming down and blocking for me — he picked up a great block," Fant said of the play. "And I was able to crease up on the sideline. It was something pretty special. … That's kind of our whole offense though. Everybody did a great job of playing as a team and [I] want success for everybody." 
Dubbed by Scangarello last month as the "most difficult position" to play outside of quarterback, tight ends are asked to block in the run game, run routes and play pass protection.
The required versatility proved to be a tall ask of Fant, whose previous career-high in receiving yards came in Week 3 when he recorded 37 yards but also had a costly fumble.
But Fant kept grinding, stayed positive and drew strength from his college experience and the belief from Broncos' teammates and coaches, who were equally excited about his big game.
"I think that Noah deserved that," guard Dalton Risner said. "He works extremely hard. … It was a night for Noah Fant, right there." 
Fant's night fueled the Broncos to their third win of the season and second win at home. And, though the Broncos will take Week 10 off, Fant is ready to repeat his and the team's success.
"For me, it's one of those things where I'm happy about the game, but I'm definitely looking forward to not just having one great game and then fizzle off after that," Fant said. "So, like I was saying before, it's all about building blocks and stacking bricks on top of each other. That's what I'm looking forward to — to keep building, and [I'm] just happy overall for our team."
https://www.denverbroncos.com/news/fant-sets-career-bests-franchise-rookie-marks-as-he-helps-key-broncos-to-win