Five of our favorite moments from the 'No-Fly…
5 min read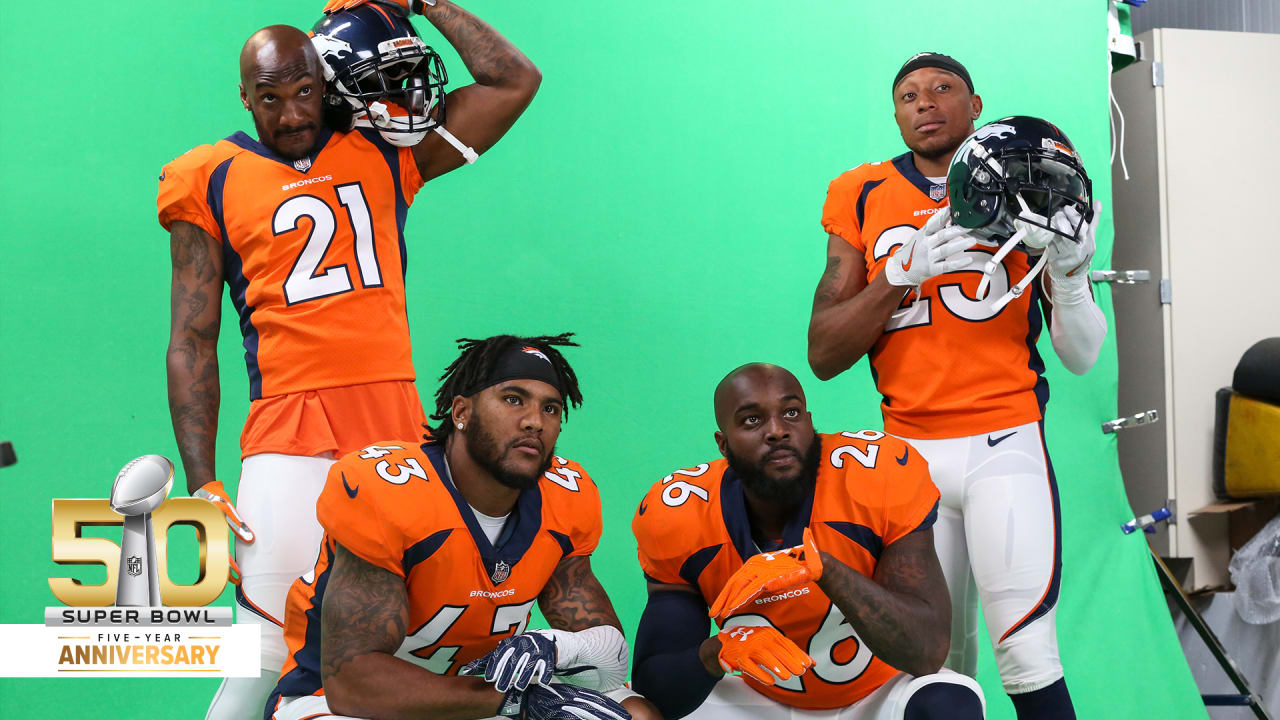 The wide-ranging interview feels like a conversation in the locker room with a unique group of players who accomplished a rare feat as one of the best units in NFL history. The language can get PG-13 for younger listeners, but most adult Broncos fans will probably find it an enjoyable and, at times, hilarious experience.
The impact of seeing the Broncos' previous Super Bowl champs at practices and games
One thing that happened to have a remarkable impact on the team was being around former Broncos who had won championships previously in Super Bowls XXXII and XXXIII.
"I grew up watching those guys and that era with [John] Elway, [Steve] Atwater, Rod Smith," Ward said. "And seeing those guys around the building, they got their 'chip, and that's what we came to Denver for as free agents — me, Stew and 'Lib. … In no way were they trying to rub it in our faces, but it's like, They got their 'chip. We've got to get ours. We want to be walking around the building someday with that same kind of We got a 'chip attitude, you know? That's an attitude. It's an arrogance. It's an aura. It's an energy. It's a vibe. That's definitely what we wanted. But they always motivated us."
Looking to the future, Talib said he looked forward to playing that same role when they could return to UCHealth Training Center.
"We're gonna have that same vibe that Shannon Sharpe and them had," Talib said. "When we go back to Denver, in however many years, we're going to have that same vibe. And you know that the fun, the laughs, the camaraderie, it's going to start with us like it always did."
Was the game vs. Green Bay their best performance?
As the group looked back on some of the wild finishes and key games from that season, a discussion emerged about which game may have been the unit's best performance. Though they never came to a consensus, the team's Week 8 game against the previously undefeated Packers received some love — even from the one member of the group who didn't play as much as he normally did.
"That Green Bay game, I probably had 12 snaps that game, because we played a single package where we kept three corners on the field and one safety," Stewart said. "Roby played the majority of the game in, like, my position, but we was running straight man [coverage], and that right there changed the game. Rush eight and them boys cover."
The defense gave QB Aaron Rodgers fits all day, as he completed just 14-of-22 passes for 77 yards with no touchdowns. He also was sacked three times, including one strip-sack by DeMarcus Ware.
"To this day, I've never seen Aaron Rodgers done like that," Ward said. "Not one time."
The immediate reaction after Super Bowl 50 ended
Asked what went through their minds when the confetti was falling after they shut down the Panthers, each former Bronco had something different running through their head.
Harris thought about the legacy he and his teammates had just secured: "That they were going to have to say that we were one of the greatest defenses ever to do it. Just the route that it took for us to get there. I think we faced the No. 1, 2 and 3 offenses on the way there, so we faced the best to get there. I just thought they would have to say now that we were one of the best defenses ever."
Roby, then still quite early into his career, was solely in the moment. He hadn't spent almost a decade chasing this like most of the secondary had.
"To me just being in my second year in the league, I wasn't thinking," Roby said. "I was like, Hell yeah, we won!"
Why the Legion of Boom can't measure up to them
When asked how the "No-Fly Zone" compares with the Seahawks secondary of the early 2010s that also was considered the league's best during their time, several members of the group were adamant that there was little conversation to be had.
"We was playing man [coverage]," Roby said. "I ain't trying to hear it.
Even Talib, who gave them their due respect, drew a line between the two groups.
"It's the way we did it," Talib said. "We both probably was the number one defense, we both probably was the number one pass D, we both probably had a lot of [defensive] touchdowns. I don't know they numbers. We both won a 'chip. But I don't know. I just felt like it was the way we did it. Like my dog 'Rob' said, we're out here strappin'. We're playin' man, we're on the line with it. Across the board you see Chris on the line in the slot, 'Rob' on that side, 'Lib on his left. Across the board, you know what time it is, you know what I'm saying? And then we was smart, too. We'd mix it up on you, make you think you're getting that and then we'd get a pick, go to the crib. I just think the way we did it, we just were a little bit sexier than the way they did it."
Putting their everlasting bond into words
Wrapping up the show, each member of the group discussed their appreciation for one another and the things they were able to accomplish. We'll highlight Ward's words here, as he put it quite well:
"It's a blessing to be a part of this group, man," Ward said. "Y'all, honestly, are some of my best friends. And the things we did on that football field, it can't be duplicated. This type of group don't come together all the time, and the competitiveness is where it started. … Like, we're all individually competitive. We might come in to a meeting Monday morning trying to see who got a leg up, who knows more about the team than the other person. And that's just something that made us all better, because we're going to suggest things that we should do, even before [former defensive coordinator] Wade [Phillips] get into it. … It was a blessing to even have coaches that would take that suggestion from their players and implement it, because a lot of coaches don't do that at all. It's more than a group of guys who played together. It's family. This relationship is going go from here on out. … It was an honor and privilege, and we got that thing done."
https://www.denverbroncos.com/news/five-of-our-favorite-moments-from-the-no-fly-zone-reunion-on-aqib-talib-s-call-t