Folktales: Nine More
2 min read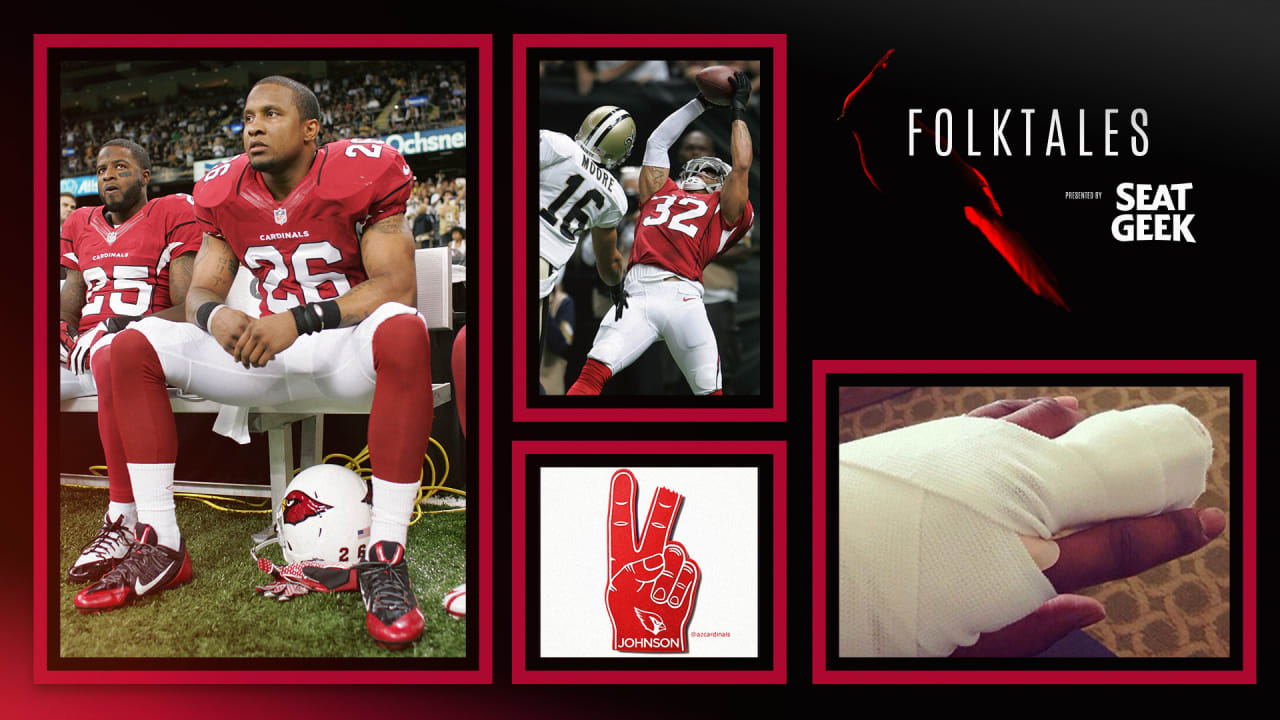 When Johnson holds up his left hand, the middle finger is roughly the same length as the index and the ring.
Time has helped heal the wound, but surprisingly, Johnson wasn't fazed much in its immediate aftermath. He had designs of getting the finger protected enough to play the next week against the Buccaneers, but the training staff wisely held him out.
But just three weeks after the injury, Johnson was back on the field in a Week 6 matchup against the 49ers, and even came up with a catchphrase to downplay the injury.
"'Nine more' is a mindset," Johnson said. "The question was asked, 'Hey, man, you lost a portion of your finger. What are you going to do? I'm like, 'I got nine more.'"
Jerraud Powers, Johnson's close friend and former teammate with the Cardinals, laughs at the way the situation was handled.
"The guy made t-shirts saying that he's got nine more fingers," Powers said. "Everybody wore it under their shoulder pads for the rest of the year."
The Cardinals' marketing team played its part.
After the contest, Orlando Avila, the team's director of marketing and broadcast services, opened Photoshop and created a foam hand that was flashing a peace sign – and then cut off the top of the index finger.
"The first thing that came to my mind was the fact that he's not ever going to be able to put a peace sign up without it looking a lot different," Avila said. "It's horrible to think that, but from there, I thought about the foam finger."
Avila jokingly sent the image to the team's beat writer, Darren Urban, never planning for it to see the light of day.
"I thought it was hilarious," Urban said. "I thought it was Orlando being Orlando, but then we started talking about it a little bit like, 'Do you think we can put that out there without essentially offending anybody, including Rashad?' This was kind of a serious injury. You don't want to goof around with it too much. But the more we talked about it, the more we thought about, you know, Rashad is the kind of guy that would maybe appreciate it."
The Cardinals sent a text message to Johnson, who found it similarly humorous and approved its appearance on social media. The Tweet was picked up by several national outlets, including SportsCenter.
"That's when it hit me, that, wow, this got out there," Avila said. "It started as an inside joke, and to see it grow to what it did was funny. Some people did think we were going to actually make these."
https://www.azcardinals.com/news/longform/folktales-nine-more-rashad-johnson-loses-finger-against-saints