Handing out midseason awards during Denver's bye…
5 min read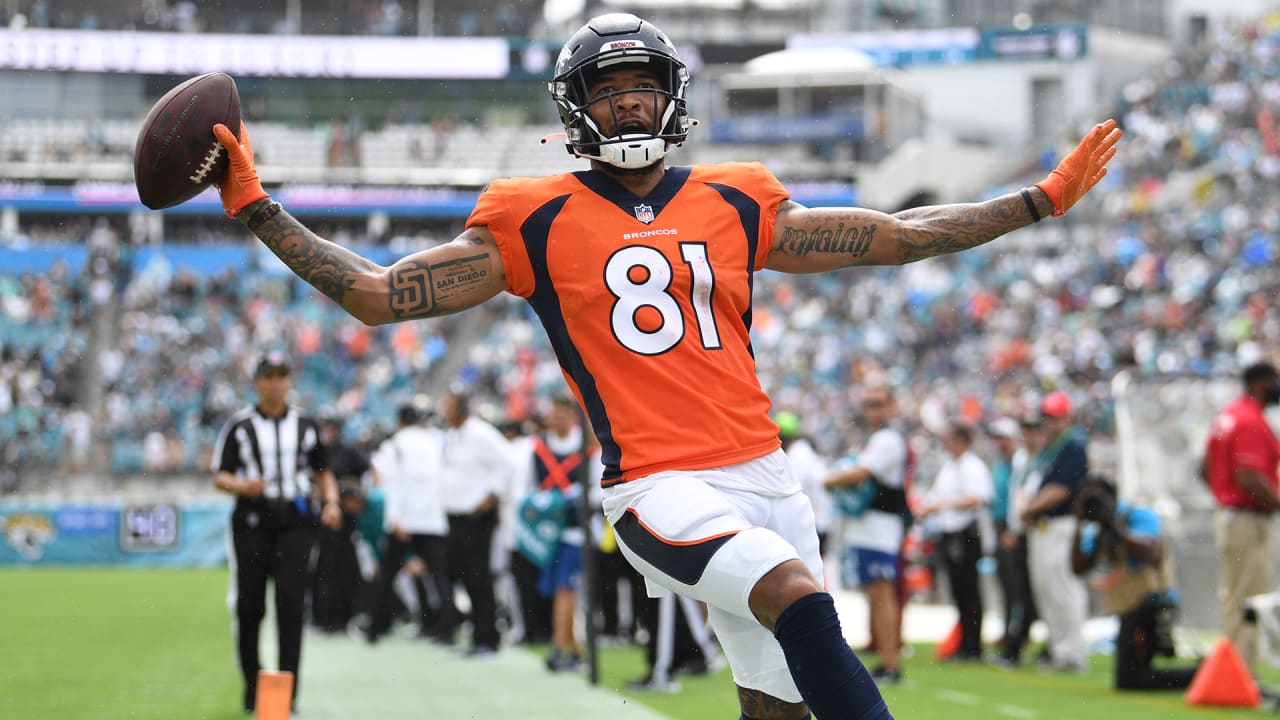 A year ago, Kendall Hinton was the Broncos' best story for less glamorous reasons. After the Broncos' quarterbacks were all ruled out for the team's game against the Saints, the practice squad wide receiver — who was on the verge of seeing his NFL career end — became Denver's last-minute fill-in at the position. He completed just one pass, but he endeared himself to the Broncos' fan base for his unselfishness. This offseason, Hinton's chances to make the team seemed slim. He worked briefly at defensive back before switching back to receiver, and he ultimately was waived as the team cut its roster before the regular season, though he re-signed to the practice squad.
Hinton received another chance, though, following injuries to Jeudy and KJ Hamler — and he took advantage. He scored his first career touchdown against the Steelers, caught five passes vs. Las Vegas and helped ice the game with a 40-yard reception vs. Dallas.
"He can actually call himself an NFL wide receiver, and not somebody that was an ex-quarterback or ex-something trying to play receiver," Head Coach Vic Fangio said in October. "He is a receiver."
Surtain has lived up to every expectation as the Broncos' first-round pick, and he already ranks fifth among Denver rookies in pass breakups since 1999. Williams, though, has been a human highlight reel. He was sent a literal scepter by "Good Morning Football" after his Angry Run vs. the Ravens, during which he broke a slew of tackles and carried a defender on his back for 20 yards.
Williams then earned Rookie of the Week honors in Week 9 after he posted his first career 100-yard game. In that win over the Cowboys, Williams posted three runs of at least 17 yards, including a 30-yarder in which he and Quinn Meinerz pushed a pile of Cowboys defenders for a big gain.
Through 10 weeks, Williams ranks third among rookies in rushing yards. He is just 132 yards shy of Najee Harris' rookie-leading total despite having 73 fewer carries than Harris. Williams' 4.99 yards per carry is first among rookie running backs with at least 35 carries.
Williams runs hard, and he's capable of breaking free at any moment.
COMEBACK PLAYER OF THE YEAR
The Broncos' Pro Bowl wide receiver has had quite the return to the field following his season-ending ACL injury in 2020. He reset his career marks in just his second game back from injury, recording nine catches and 159 yards in a win over the Jaguars in Week 2. He nearly sparked a double-digit comeback over the Steelers with a seven-catch, 120-yard, one-touchdown performance, and he added eight more catches for 94 yards and a touchdown against the Raiders.
Through 10 games, Sutton's 617 receiving yards rank 10th in the AFC, and he is on pace for his second 1,000-yard receiving season.
Sutton set the tone this offseason in the training room for all of the team's injured players, and he's returned to find success in 2021.
OFFENSIVE PLAYER OF THE YEAR
Fangio put it best earlier this season after the Broncos' 26-0 win over the New York Jets.
"Tim's a damn-good NFL receiver," Fangio said.
Patrick caught five passes for 98 yards in that game, and he's been a consistent threat for the Broncos all season. He again leads the team in touchdown receptions, and he has 10 scores since the start of the 2020 season.
The former undrafted player continues to build his resume, and he's made some of the biggest plays for the Broncos in the early part of the season. The Broncos' offense has been balanced through the first 10 weeks, and it was a toss up between Patrick, Sutton and Gordon for this honor. Patrick's touchdown totals and lack of costly mistakes give him the edge.
DEFENSIVE PLAYER OF THE YEAR
Through the first seven weeks of the season, the Broncos' Pro Bowl safety had just one interception. That pick came late against the Jets, in a game that the Broncos already controlled. As the Broncos aimed to break free of a four-game losing streak, Simmons was honest about the need for him to play better.
Over the last three games, Simmons has pushed his interception total to four on the season, and they've all been meaningful. He picked off an end-of-half Hail Mary attempt against Washington and then snagged another one in the end zone as the Football Team tried for a last-minute comeback. Against the Eagles, Simmons intercepted a Jalen Hurts throw and gave his team possession near midfield. Trailing by seven, it could have been a game-altering play if not for the ensuing offensive fumble and theEagles' defensive score.
Simmons ranks second on the team in tackles, is tied for first in passes defensed and recorded a crucial fourth-down stop against Dallas. His 2020 season was impressive, and he's currently on pace to better those numbers.
The Broncos' quarterback faced considerable backlash for — and owned up to — his role in the Eagles' defensive score that essentially sealed Denver's Week 10 loss, but it's hard to argue that any player has been more valuable.
Bridgewater ranks third in completion percentage among qualifying quarterbacks, sits just outside the top 10 in yards per attempt, is tied for 14th in touchdown passes (14) and has just five interceptions. He is currently on pace to complete 69.2 percent of his passes for 4,061 passing yards, nearly 24 touchdowns and less than nine interceptions for the season. Compare that to a year ago, when Denver's quarterbacks combined to complete 57 percent of their passes for 3,673 yards, 21 touchdowns and 23 interceptions.
The veteran player has largely avoided game-changing turnovers — three of his interceptions came in a loss to the Raiders — but he's also made his share of big plays. Bridgwater, a team captain, has also been one of the Broncos' key leaders.
Denver surely hopes its record would be better than 5-5 heading into the bye, but it remains the team's best record at this point in the season in several years — and Bridgewater is perhaps the biggest reason the Broncos remain in the playoff chase.
https://www.denverbroncos.com/news/best-of-the-broncos-handing-out-midseason-awards-during-denver-s-bye-week