HC Vic Fangio expects to see improved Von Miller…
3 min read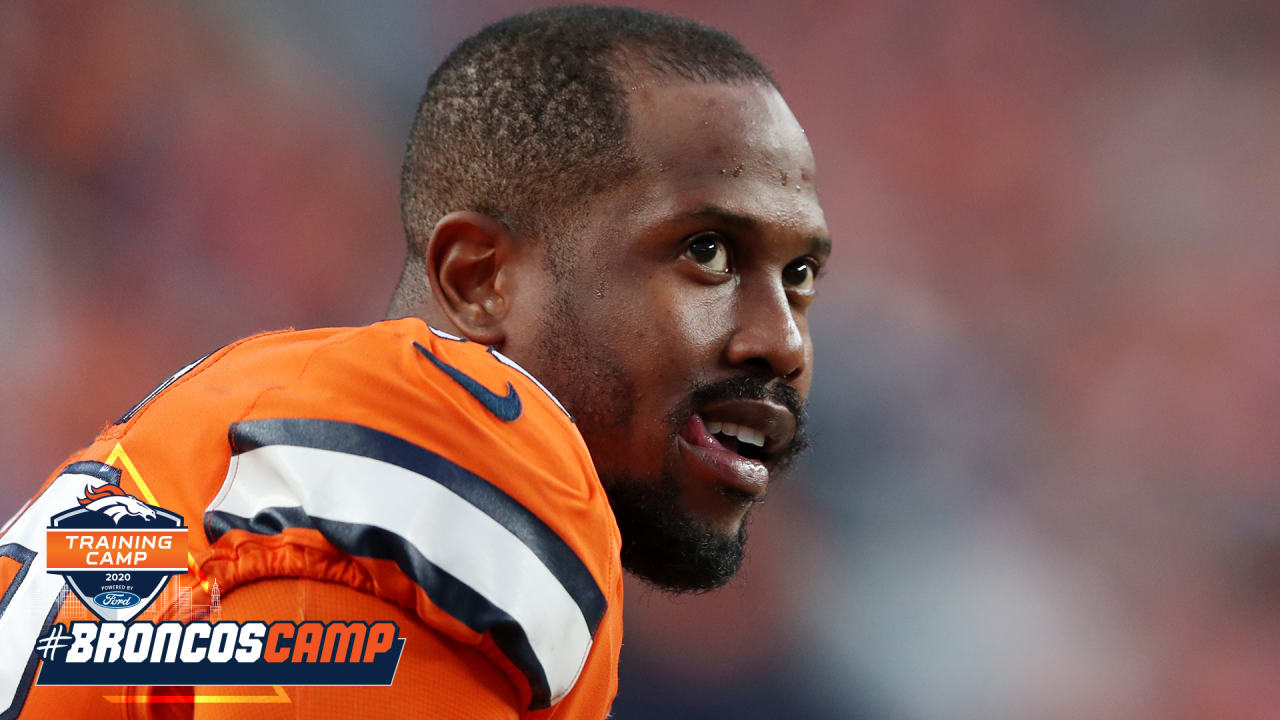 ENGLEWOOD, Colo. — Von Miller has been no slouch in the years since Super Bowl 50.
In those four seasons, Miller has posted three double-digit sacks campaigns, four Pro Bowl nods and a first-team All-Pro appearance. As recently as 2018, Miller recorded 14.5 sacks, which is the second-highest season total of his career.
But after four playoff-less seasons for the Broncos, Head Coach Vic Fangio sees a different Miller than the one he's seen on film and in person in recent years.
"He and I have kept in contact through the offseason," Fangio said Tuesday. "He has sent me some videos and pictures. I do think — again I haven't seen it with my own eyes — from everything I hear and know, I do think he's had a hell of an offseason. We all know he had COVID there for a little bit. I don't think he was affected much by it. It really didn't slow him down much. I'm anxious to see him. He's put on some weight. I know he's worked extremely hard.
"I do sense that he's got a hunger to his game and to his attitude that I don't think he's had the last few years in the league."
Miller posted just eight sacks in 2019 as he dealt with a nagging injury and teams focused their attention on him in Bradley Chubb's absence. The eight-sack total was Miller's lowest since 2013, when he played just nine games.
This offseason, though, Miller has seemingly transformed his frame to add upper-body strength. That change — coupled with Chubb's return to the field — could help Miller return to a double-digit sack total.
CHUBB 'DAMN CLOSE' TO 100 PERCENT
After months of rehab on a partially torn ACL, third-year player Bradley Chubb is healthy enough to begin practicing with the team and will avoid the Physically Unable to Perform (PUP) list.
"He's done well in his rehab," Fangio said. "He's one of the few guys for us that we've had here the entire offseason. Every team had a handful of guys that they were able to rehab during the pandemic. He was one of them for us. Once we were allowed back in the building, I saw him a lot. He's doing very well. The key for him too is he's doing well mentally. He never let the grind and the ups and downs of rehab get to him. He fought through it. I don't think we can say he's 100 percent right now. We'll watch him. We anticipate him being out there and … practicing and not being on PUP early on. We'll monitor him. He's not 100 percent, but he's pretty damn close and I think he's had a hell of a rehab."
BOLLES ENTERS CAMP IN 'BEST SPOT' OF HIS CAREER
While Elijah Wilkinson will begin training camp on the PUP list, Garett Bolles enters the year in the "best spot" he's been in during his young career, Fangio said.
"I do think Garett — I saw him the other day — has had a very good offseason," Fangio said. "I think he feels he's in his best spot both physically, mentally and emotionally than he's ever been in during his career. I think he feels good coming back with the same offensive line coach for the first time I think in his career. He's had me as the head coach now for two years. I think the arrow is up as far as it goes for Garett. That's easy to say here as we sit late July. We'll see how it unfolds. I think he's in a good spot as it relates to everything as much as he can be."
Fangio said neither Bolles nor Wilkinson has the current advantage as the team prepares for an open competition at left tackle.
https://www.denverbroncos.com/news/he-s-got-a-hunger-to-his-game-hc-vic-fangio-expects-to-see-improved-von-miller-i