Here's why Trevor Siemian was convinced to join…
3 min read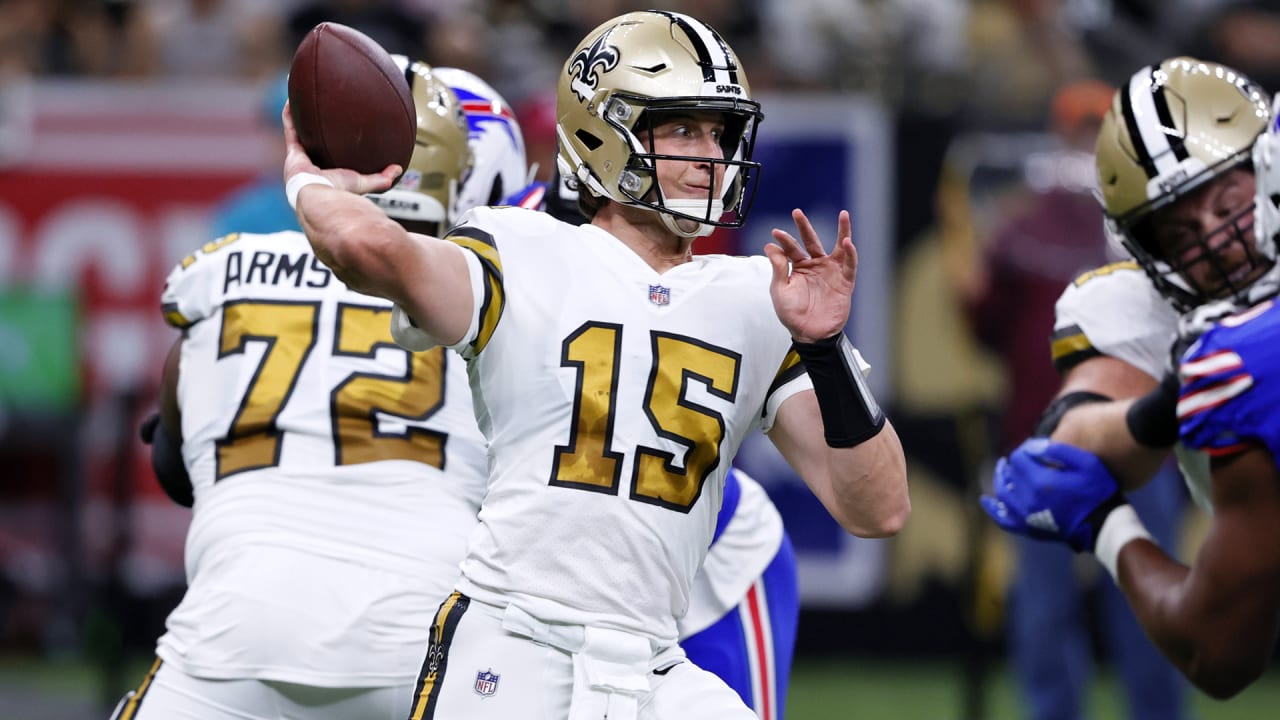 Siemian, 30, joins the Bears after spending the past two seasons with the Saints. Last year he made four starts, completing 57.4 percent of his passes for 1,154 yards with 11 touchdowns, three interceptions and an 88.4 passer rating.
The Orlando, Fla., native was selected by the Broncos in the seventh round of the 2015 draft. As a rookie, he played just one snap—taking a knee at the end of the first half in a game against the Steelers—but won a Super Bowl ring as Denver defeated the Panthers 24-10 in Super Bowl 50.
Following the retirement of Peyton Manning, Siemian won a training camp competition for the No. 1 job in 2016. In the process, he became the first quarterback in league history to start a season opener for a defending Super Bowl champion without having thrown an NFL pass.
Siemian opened 14 games in 2016 and 10 contests in 2017 for the Broncos, connecting on 59.3 percent of his passes for 5,686 yards with 30 TDs, 24 interceptions and a 79.9 passer rating.
The 6-3, 220-pounder was traded to the Vikings in 2018, but he didn't see any playing time while backing up Kirk Cousins.
Siemian signed with the Jets in 2019 and made one start in place of Sam Darnold, who was sidelined with mononucleosis. But after throwing just six passes, Siemian sustained a season-ending ankle injury.
Siemian joined the Titans in 2020, opening the season on Tennessee's practice squad. He was signed by the Saints later in the year following an injury to Drew Brees and remained with New Orleans last season.
Siemian has benefitted from the rare opportunity to back up two of the greatest quarterbacks in NFL history in Manning and Brees.
"You try to learn so much and it can be overwhelming," Siemian said. "But to me it's exciting because you can bite off as much as you can in this game and there's always things you can learn from different players. I've been around Peyton and Drew, but I've also been around some other really good players that I try to pick things up from … Certainly with those two guys, I know what it looks like to play at that Hall of Fame type level. And each guy does it differently. I think that was cool to see."
It was also cool for Siemian to see the presence and influence Manning and Brees had with their respective organizations.
"Their leadership was obviously there," Siemian said. "They set the thermostat for the building. To just see that accountability that the whole building operates with when you have a guy like that in the building is cool. It obviously takes a lot of time and success."
With the Bears, Siemian is eager to help Fields make a big leap in the 2021 first-round pick's second NFL season.
"That's kind of been my role the last several years is backup quarterback, kind of figuring out and identifying what the starter needs," Siemian said.
"For Justin, I can give him a little bit of perspective. I don't want to act like I have all the answers and he's certainly going to get plenty of coaching. But being a young starter—cause I was [one] several years ago—you need kind of a foxhole guy. Or a guy on some days to talk football with, and on some days to talk about movies or whatever else and shoot the breeze with. Justin's got so much potential, so I'm looking to do whatever I can to help him hopefully make a jump here."
https://www.chicagobears.com/news/belief-in-coaches-swayed-siemian-to-join-bears-justin-fields-quarterback