How Assistant GM Darren Mougey became an…
5 min read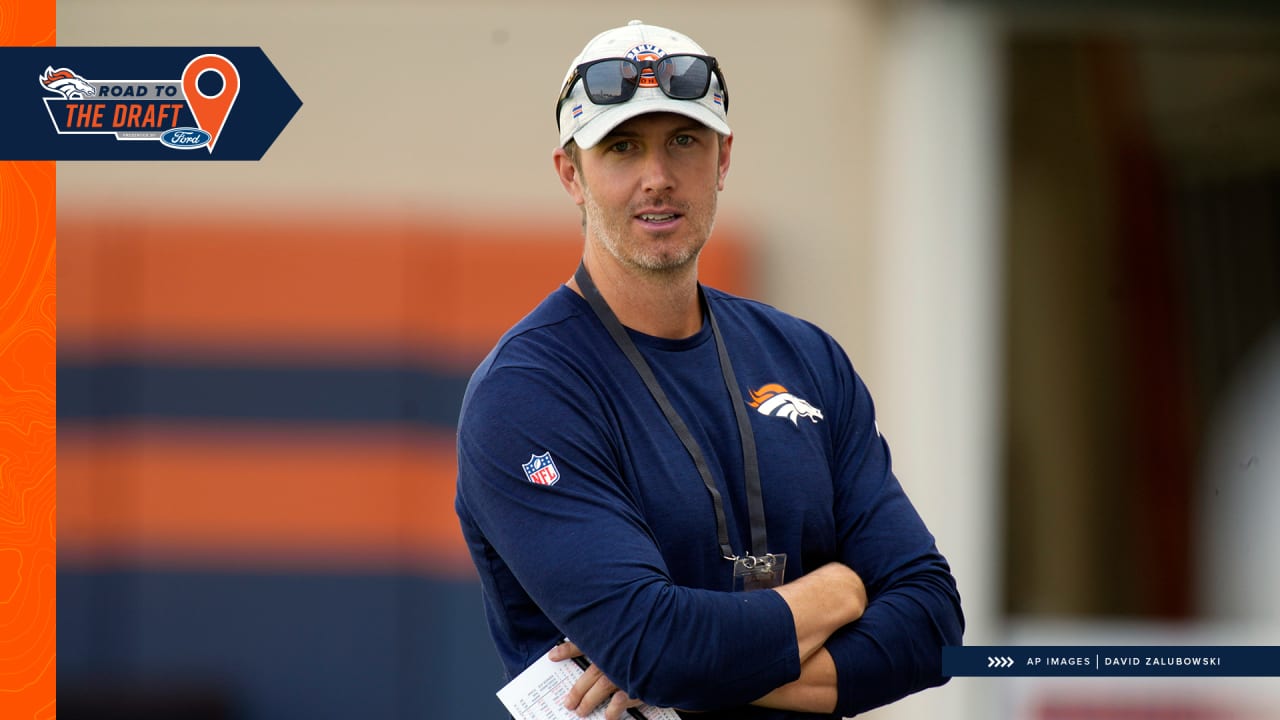 With his foot in the door in Denver, Mougey quickly climbed the ranks.
He became a personnel and scouting assistant in 2013, was promoted a year later to a role as a college and pro personnel scout and then made the jump to area scout in 2015. Mougey credits Ziegler, Russell and new Raiders assistant GM Champ Kelly for helping him learn the scouting ropes, and he says his time on the road in his early years with the team has given him an enhanced perspective for his current role.
"Having come up in the building as an intern, having done pro scouting and then getting on the road as an area scout and then over the top scout and really growing through the college ranks, I definitely have an appreciation and a different perspective now in the seat that I'm at for those college guys, having gone through that," Mougey says. "I have a lot of respect for the hours and the work that those guys put in and really I still enjoy that side of it. Sometimes I actually miss it. It is a grind, and when you're in it in those shoes, it's kind of like overwhelming or can get to a point where it becomes a little bit of a drag, but now being in the office, I often find myself almost missing that road life a little bit. I just have an appreciation and respect for the work those guys do, no doubt."
Mougey came off the road after five seasons in 2020, when he earned a promotion to assistant director of college scouting. A year later, when Paton began his tenure as general manager, Mougey made another leap. Paton named Mougey the team's director of player personnel and tabbed him to oversee the day-to-day operations of the pro and college scouting departments. Mougey also began to work directly with Paton on all personnel decisions.
Paton didn't know Mougey when he arrived in Denver, but he quickly learned he wanted him on his side.
"I didn't know Darren or many of the staff members when I got here, and he quickly shined," Paton told DenverBroncos.com at the Senior Bowl. "His organizational skills, his detail, his ability to manage people. He had a great feel, obviously, for the draft. He was on the college side. I thought he was one of the better evaluators I've been around. And so he shined quickly. I thought we had a really good staff when I got here, but he stood out."
"I knew he was going to be a fast riser, and so I promoted him after the draft to director of player personnel. And then I delegated a lot to him, being a first-time GM, and he grabbed the bull by the horns and oversaw the pro and college scouting departments, did a great job of communicating with both sides, the college and pro, and then obviously managing the fall and everything that we had to go through on the pro side, in terms of COVID. I don't know how many transactions we made, but probably one of the most in the league in terms of bringing in players. And so he kind of knows how I roll. He's really adjusted."
Mougey, meanwhile, got a firsthand look at Paton's processes and ability to run a front office. Mougey said he "learned a ton" as he processed Paton's scouting scale, and he further understood the magnitude and importance that lays with each front-office decision.
"Whether it's a practice squad guy we may sign or may cut or even if it's just a guy we're going to peek at as a possible option, every decision is very important and has a thorough process," Mougey said. "That's one thing I've taken from him — that every decision matters and a thorough process goes into every single decision, even some that seem small to others."
The quick transition from area scout to director of player personnel could have seemed daunting, but Mougey said Paton helped ease the transition. As Mougey assumed a larger role in the decision-making process, it felt seamless — and didn't feel all that different from his previous role.
"George did such a good job of making everyone feel comfortable, making it all collaborative, that I never felt like, 'Oh, wow, now this [opinion] carries more weight,'" Mougey said. "I felt like everything I said from my very first year till now carried weight. I wasn't going to say something unless I felt it and really believed it. I think our opinions were always heard and valued. I still feel that way now listening to our scouts. If they say it, I expect them to believe it and have done the work."
In Paton and Co.'s first offseason in Denver, they assembled a draft class that ranks among the league's best with pieces like Pat Surtain II, Javonte Williams and a host of other contributors. And away from the scouting process, Mougey also continued to provide value to Paton and the Broncos.
As the 2022 offseason began, Paton knew he didn't want Mougey to join another team's scouting staff, and he promoted Mougey to assistant general manager.
"With this coaching search, just his ability to add, discuss, articulate with these candidates, and that's not easy," Paton said. "I just thought he's ready to be an assistant GM. He's earned it. He's shined in all aspects — pro, college, coach search, transactions, dealing with agents. … So the whole part of the scouting process, but it's just not football when you're in the front office. You really have to manage people, and he does a really good job of that. … So I think he's got the whole package. He's only going to get better, and so I didn't want to lose him, and I think it's a great win for the Broncos."
https://www.denverbroncos.com/news/he-certainly-will-be-a-gm-down-the-road-how-assistant-gm-darren-mougey-became-an