Hunter's Health, Darrisaw's Readiness & Secondary…
3 min read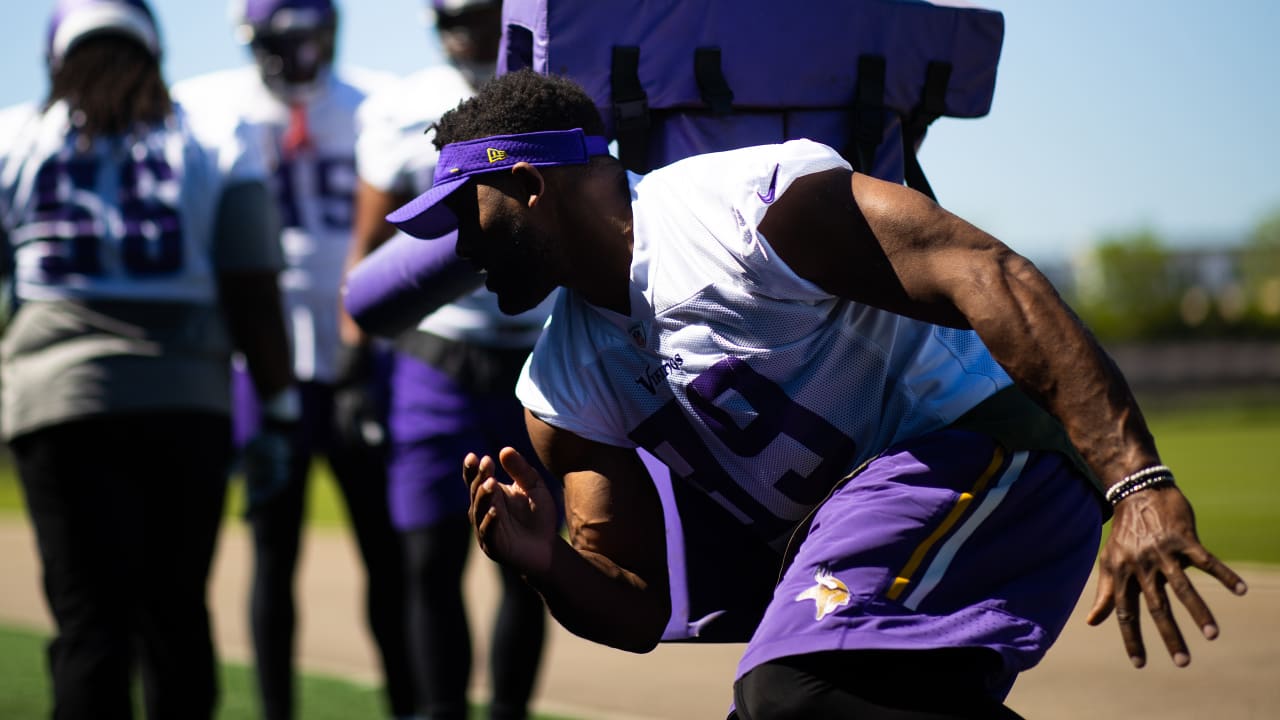 ESPN tabs Ezra Cleveland among 15 '2nd-year breakout candidates'
Which players will take a big jump from Year 1 to Year 2?
Seth Galina of Pro Football Focus offered answers to that question Thursday in a piece on ESPN.com when he ranked the NFL's "second-year breakout candidates." He listed 15 players with the best chance to "become stars" and placed Vikings guard Ezra Cleveland at No. 3. Galina wrote:
The former left tackle at Boise State was moved to guard immediately after being drafted by the Vikings, and although there were some rocky moments, he did enough to warrant a spot on this list.
From Week 6 – the beginning of his tenure as a starter – to Week 10, Cleveland was the 52nd-highest-graded player at the position (57.2) among 70 guards who played at least 100 snaps. From then on, everything started to click. His grade rose to 71.5 over his last five games, which put him 17th among guards to close out the season. He graded out better as a run blocker over the course of the season, which makes sense given the intricacies of switching from tackle to guard in pass protection, as he was tasked with taking on bigger bodies inside.
Cleveland's second half of the 2020 season provides hope that he can become a top player at the position for Minnesota as early as this season.
Coming in at No. 1 and 2 on the list, respectively, were Bengals QB Joe Burrow and Broncos WR Jerry Jeudy.
The Vikings could meet Burrow in Week 1 when they kick off the 2021 regular season in Cincinnati if the 2020 No. 1 overall pick is healthy.
Before Burrow was lost for the season in November with a left knee injury, he put together an elite season when throwing 20 yards or fewer – and an abysmal one when throwing deep. He was the sixth-highest-graded quarterback on throws of 20 yards or fewer, earning a 90.1 passing mark. He ranked just 34th(61.5) on deep passes.
There are arm strength concerns, but it felt like Burrow just had a run of bad luck. And those deep-ball issues, which were not all his fault, could either be addressed or naturally regress to the mean. If Burrow keeps up his accuracy and decision-making under 20 yards and the rest of his game irons out, he could be a strong contender for a Pro Bowl spot in 2021.
Lions CB Jeff Okudah was the only other NFC North player included on Galina's list. Minnesota is slated to play Detroit in Weeks 5 and 13 this season. Okudah, the third overall draft selection in 2020, struggled greatly as a rookie. But Galina is optimistic that a new defensive system will set the youngster up for more success.
Vikings Executive Honored by 'Minneapolis-St. Paul Business Journal'
Vikings Executive Vice President & Chief Legal Officer Karin Nelsen has been recognized by the Minneapolis-St. Paul Business Journal.
Nelsen was named in the "third group of 2021 Women in Business honorees, including executives from professional sports, banking, the nonprofit sector and more."
MSPBJ's Kim Johnson wrote:
We're recognizing 51 women, plus one Career Achievement honoree, for their professional achievements and contributions to the Twin Cities community. They're in professional sports, health care, economic development, insurance, banking and finance.
Nelsen was recognized Wednesday along with 10 other female professionals in the Twin Cities.
https://www.vikings.com/news/danielle-hunter-christian-darrisaw-2021-nfl-season