If Drew Lock plays, how effective will he be?
3 min read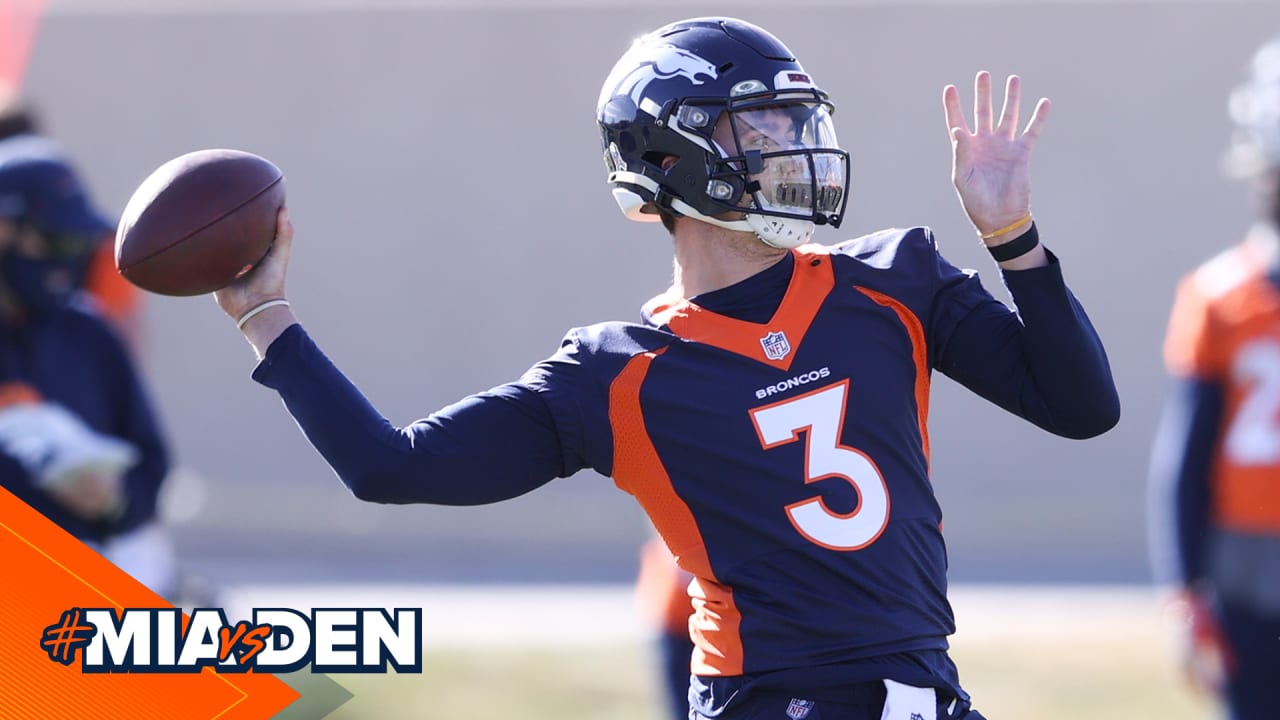 CAN THE BRONCOS PREVENT A BIG PLAY ON SPECIAL TEAMS?
Against the Raiders, the Broncos allowed a pair of long punt returns — including one for a touchdown — but were bailed out by Las Vegas penalties on each of the returns. The task will be even tougher this week as Denver faces Miami's Jakeem Grant Sr., who averages nearly 15 yards per punt return and took a punt back 88 yards for a score earlier this season.
"We have to stop No. 19 and we have to tackle," Special Teams Coordinator Tom McMahon said Friday. "He's a difference-maker and they have great core players. They went out and got some really, really good players this year from a core standpoint. They are blocking well for him. We have to get off of blocks and tackle him, but then we have to keep the ball away from them. We have to do a good job of hitting the sidelines. We can't put balls down the middle in any part of the punt game. From a kickoff return standpoint, it's the same thing. We have to make him run to the edges. We have to use that 12th man and get him on the ground. They've done a great job, return-wise, blocking for him — he's special. He doesn't fair catch, it doesn't matter if he catches it from the three, five or the seven[-yard line]. They are going to try and return every single ball."
The Broncos also must be better in their decision-making. Denver started with poor field position on many of their first-half possessions, and two were a direct result of poor decisions. First, Diontae Specer decided to double back on a kick return, which resulted in him being tackled at the 5-yard line. A penalty on P.J. Locke pushed the Broncos back to the 3-yard line to begin the drive. Two drives later, Davontae Harris ran into Spencer on a punt return, which allowed the ball to bounce back to the 7-yard line. Against the Dolphins, the Broncos simply can't lose these sorts of yards in the margins.
WILL DENVER FORCE TUA INTO MISTAKES?
Tua Tagovailoa, the fifth-overall pick in this year's NFL Draft, has a perfect record through the first three starts of his career. His best performance came two weeks ago against the Cardinals as he completed 20-of-28 passes for 248 yards, two touchdowns and no interceptions, but his stats may not tell the extent of how well he's played. 
"I think he has good command of what they're doing offensively," Fangio said Thursday. "I think one of the reasons his numbers aren't so high is they've had a lot of short fields. They got way ahead of the Rams quickly. They've had some unusual games in that regard where they weren't throwing it a whole lot. He's got a really quick release, he's accurate, obviously he's got the athletic ability and he can be a scrambler. He's elusive in the pocket, but I think the one thing is that he's running their offense very, very efficiently."
Tagovailoa could be the first rookie quarterback to start his career with four consecutive wins since Ben Roethlisberger did so in 2004, and the Broncos will need to pressure Tagovailoa to prevent him from accomplishing the feat. 
Fangio does have a history of success against first-year quarterbacks, as he's 17-8 against rookie quarterbacks as either a defensive coordinator or head coach. The Broncos are 1-0 against rookie quarterbacks this season, and if they can force Tagovailoa to throw his first interception of his career, perhaps they can earn another.
https://www.denverbroncos.com/news/miavsden-s-burning-questions-if-drew-lock-plays-how-effective-will-he-be