In Kyler Murray-Tua Tagovailoa Battle, Cardinals…
3 min read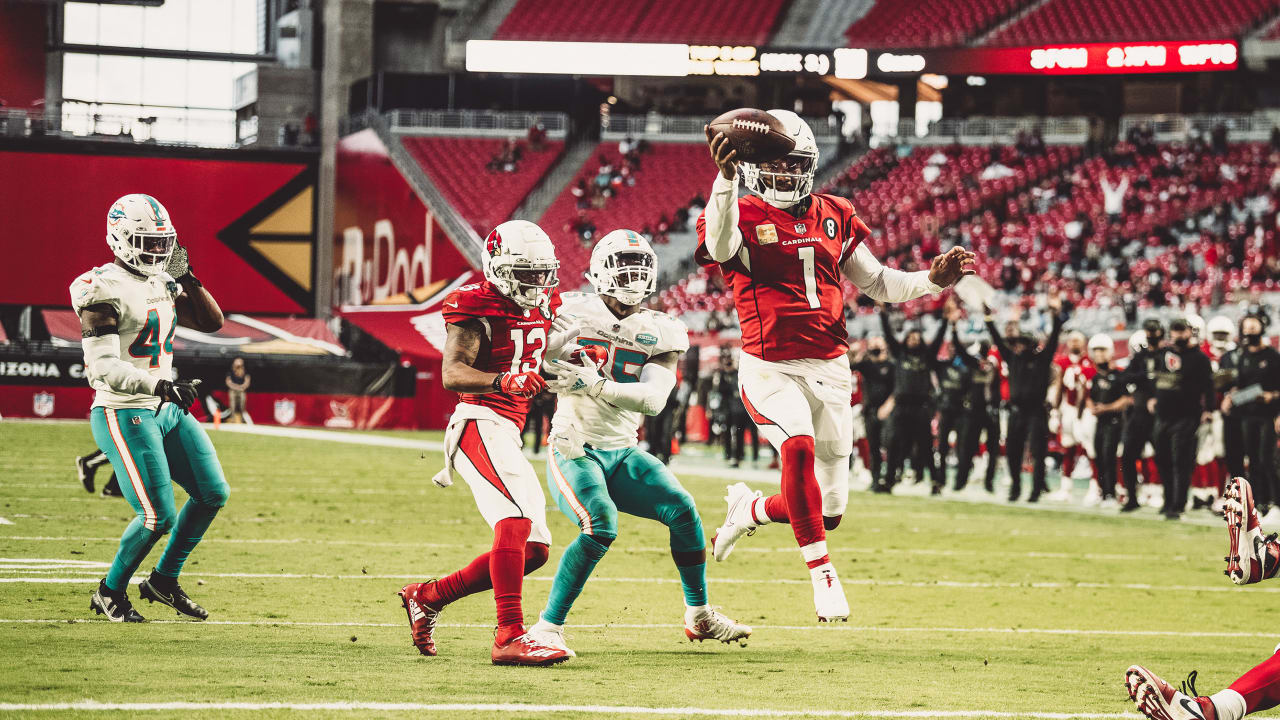 So even with the Cardinals outgaining the Dolphins, 442 yards to 312, rushing for nearly double the yards (178-91), and scoring 31 points on the NFL's top scoring defense (18.6 points a game coming in), they were left with a painful loss – especially after the Seahawks (6-2) lost in Buffalo earlier in the day, meaning a Cardinals' win would've put the Cardinals in first place.
"I wasn't really worried about first place in the division," Murray said. "I don't think anybody should be worried about that."
­The Cardinals seemed like they might take control after getting to a 31-24 lead after Murray's 12-yard TD run. But Tagovailoa engineered a drive buoyed by a missed sack by linebacker De'Vondre Campbell and a questionable leading-with-the-helmet penalty by safety Budda Baker.
The Cards still had the chance to take the lead, but after one Murray run gained four on a fourth-and-1 play, a second fourth-and-1 failed when running back Chase Edmonds was stoned for no gain – and the Dolphins turned around to go on their final field-goal drive.
"I had some bad calls late on the fourth-and-1 and third-and-1," Kingsbury said.
Kirk, who caught a 56-yard touchdown among his five receptions for 123 yards, said the Cardinals knew they were going to have to score a lot of points. They knew it coming in, with starting defenders Devon Kennard, Byron Murphy and Dre Kirkpatrick all sitting out and another starter, Jordan Phillips, limited to 12 snaps with a hamstring injury.
And they knew it when Murray was stripped for a fumble early in the game, with Miami linebacker Shaq Lawson scooping it up and running it in for the first score of the game.
The Cardinals never could get the lead that might have made Tagovailoa uncomfortable, although he might not have anyway. Other than one intentional grounding penalty that looked like a rookie mistake, Tagovailoa didn't look like a rookie.­­­­­­­
"(Tua) stayed alive when he had to and he made plays when he had to," linebacker Jordan Hicks said.
It was not how Kingsbury wanted the second bite at the post-bye apple to go. The numbers were better from last season. The ultimate result wasn't, and so Kingsbury couldn't see the improvement.
"No. No," Kingsbury said. "We wanted to win the game and we didn't play good enough. That's the bottom line."
The Cardinals, who now must play the 7-2 Bills – at home – next week, now must find a way to regroup quickly and not let the season slide away.
"Guys have every right to be as mad as they are," Kirk said. "We all know how talented and how good we can be and it's tough and it's frustrating when we don't do it."
https://www.azcardinals.com/news/in-kyler-murray-tua-tagovailoa-battle-cardinals-come-up-short