In Loss To 49ers, Cardinals May Have Also Lost…
3 min read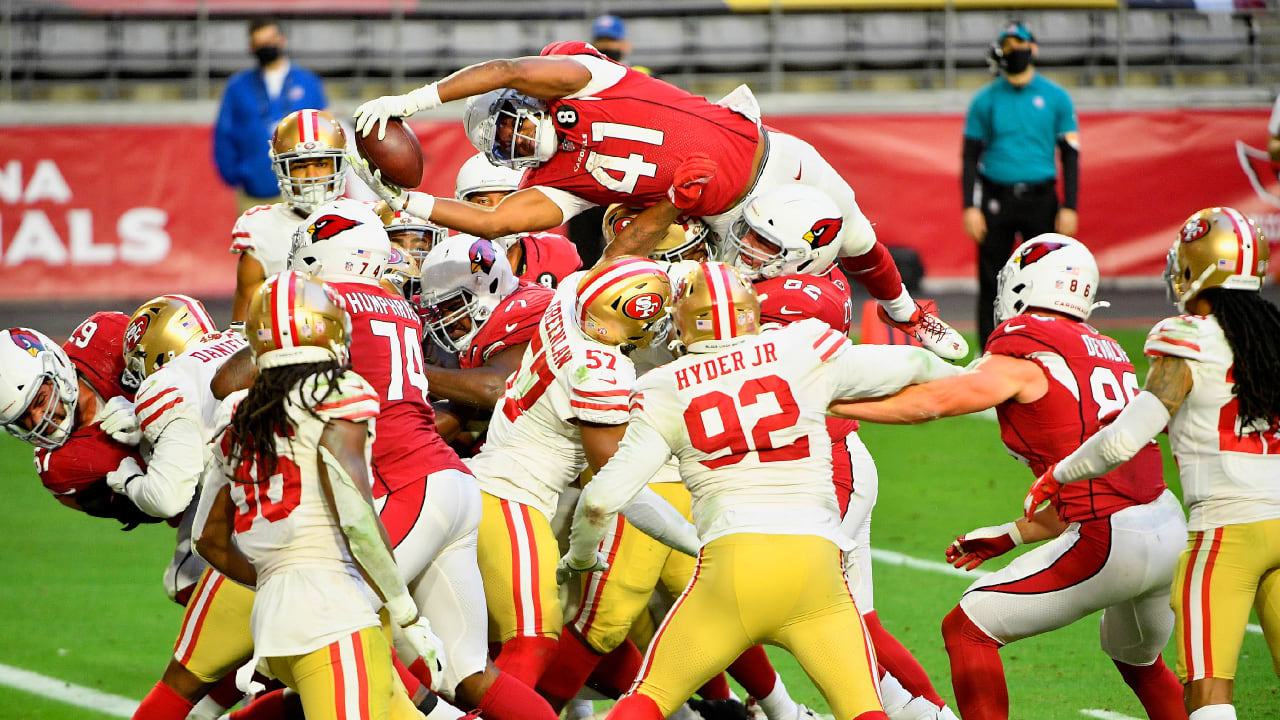 One potential way to get back control: If the Seahawks beat the Rams Sunday, the Cardinals would be able to get back into the postseason just by beating the Rams. But again, that would mean toppling a Rams' team that they have had major trouble with for seven straight meetings.
"This is the closest I've been to the playoffs since my rookie year," tackle D.J. Humphries said. "This is definitely frustrating. (The postseason is) something you want to have and you continue looking for. It's still in front of us. Go out and play our best ball and let the chips fall where they may."
The 49ers (6-9), stuck living in Arizona for nearly a month already, were down to third-string quarterback C.J. Beathard and third-string running back Jeff Wilson. Beathard threw for three touchdowns; Wilson ran for 183 yards on 22 carries.
But it wasn't what the San Francisco offense did as much as the 49ers defense, led by coordinator and hot head-coaching candidate Robert Saleh, who made life difficult for Murray and company all game. Murray threw 50 passes but only gained 247 yards (although he did have a team-leading 75 yards rushing.)
The Cards were outgained, 388-350, despite running 80 plays to the 49ers' 55. They could only convert 4-of-16 third downs.
Even with the stumbles and game-long struggles, they twice had chances in the second half to at least tie. Once came on a failed two-point attempt down 14-12, when Murray couldn't connect with DeAndre Hopkins on a back-shoulder throw.
Then, trailing 20-12, the Cardinals got to second-and-11 at the San Francisco 14 — only to have Murray's attempted lob pass to Christian Kirk in the back corner of the end zone intercepted by cornerback Ahkello Witherspoon.
"We just have to find a way to take the next step," Kingsbury said. "I just think it's part of the process. We have moments that we're really good and we have games we wish we could have back."
The 49ers then went from their own 20 down to the Arizona 18 to try and clinch the game with a field goal, but Robbie Gould, who missed a field goal and extra-point earlier in the game, missed the 37-yards try wide for one last gasp.
The Cardinals got to their own 43, but there was no Hail Murray-type attempt coming. Instead, Murray was drilled in the final scene. (NFL Network reported Murray was leg-whipped and should be OK.)
"Lot of disappointment," said wide receiver Christian Kirk, who had a team-best 78 yards on seven catches. "It's kind of been the story of most of our losses this season. We know how good we can be and today was one of those days where we didn't play to the caliber of football we know we can play at. We let one slip."
There is likely no room to let that happen anymore now. In theory, if the Bears lose to both the Jaguars and Packers, the Cards would be an 8-8 postseason team even with a loss next week. More likely, the Cardinals have to beat the Rams or the season is over.
"We'll see what guys' attitudes are like, what the intensity and energy is like in practice," Reddick said. "If it's not there, then, you know.
"The goal is to flush this one out. We've got one more guaranteed."
https://www.azcardinals.com/news/in-loss-to-49ers-cardinals-may-have-also-lost-playoff-chance