J.J. Watt Hopes To Replicate Reggie White Impact
2 min read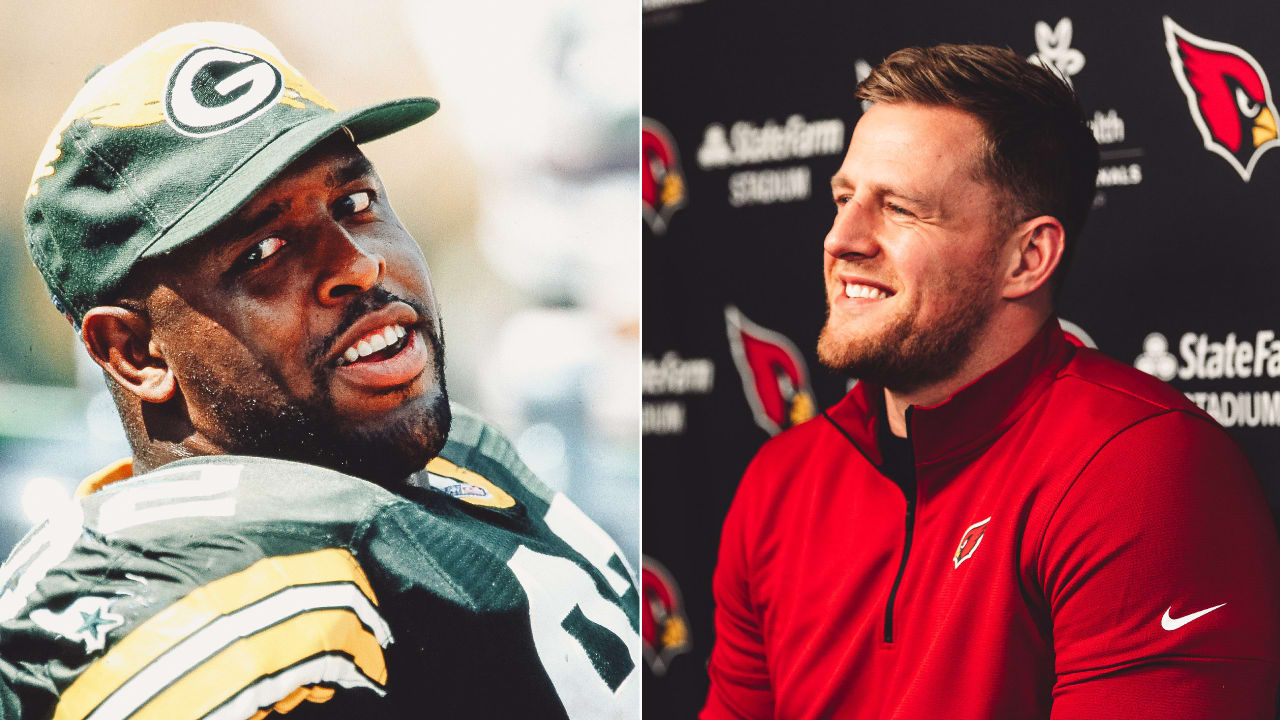 The legendary defensive lineman shocked the NFL world when, as a free agent, he chose to go to a team no one expected.
And it happened well before J.J. Watt ever thought about being in the NFL.
Tuesday marked the anniversary of Reggie White making the eye-opening decision to join the Packers and leave the Eagles in free agency on April 6, 1993. Certainly, the shockwaves it created were even deeper than Watt's decision to come to the Cards – not only because White was one of the first real unrestricted free agents in a new-look NFL, but because White's former team, the Eagles, very much wanted to keep him. Watt, of course, had been released by the Texans to become a free agent.
But when it comes to Watt, the parallels are close enough, especially since Wisconsin-native Watt grew up idolizing White. And now, as Watt enters a new chapter in his career at age 32, he hopes it can echo what White did when he signed with the Packers – going into his age 32 season – and starred with his new team.
"It's kind of funny. I grew up in Wisconsin, and I saw Reggie White as a Green Bay Packer," Watt said on Adam Schefter's podcast. "Most of my life, most of my career, I didn't even realize Reggie didn't start with Green Bay until he was 32 years old."
White didn't turn 32 until later in his first year with the Packers, while Watt turned 32 a couple of weeks ago. But in six seasons with the Packers, he had 68½ sacks and missed only one game. In his final year at Green Bay, White, at age 37, had 16 sacks.
A lofty bar to reach for Watt, who along with White are the only players in NFL with at least 17½ sacks in three different seasons. But, given that Watt's parents had a framed picture of White in their house near their eldest son's various accomplishments, it's one he's aiming for when he declared that he was in Arizona "to dominate."
"J and I were laughing about Reggie White," Cardinals defensive coordinator Vance Joseph said during an appearance on the "Big Red Rage." "Reggie White signed with Green Bay when he was, what 31, 32 years old and he had 60-plus sacks. This is not different. It's happened before. Very similar players, dominant inside rushers, guys who take care of themselves and freaks of nature. So hopefully he can have the same success Reggie had."
https://www.azcardinals.com/news/a-signing-for-the-ages-j-j-watt-hopes-to-replicate-reggie-white-impact