Jake Butt proud but not content after making…
3 min read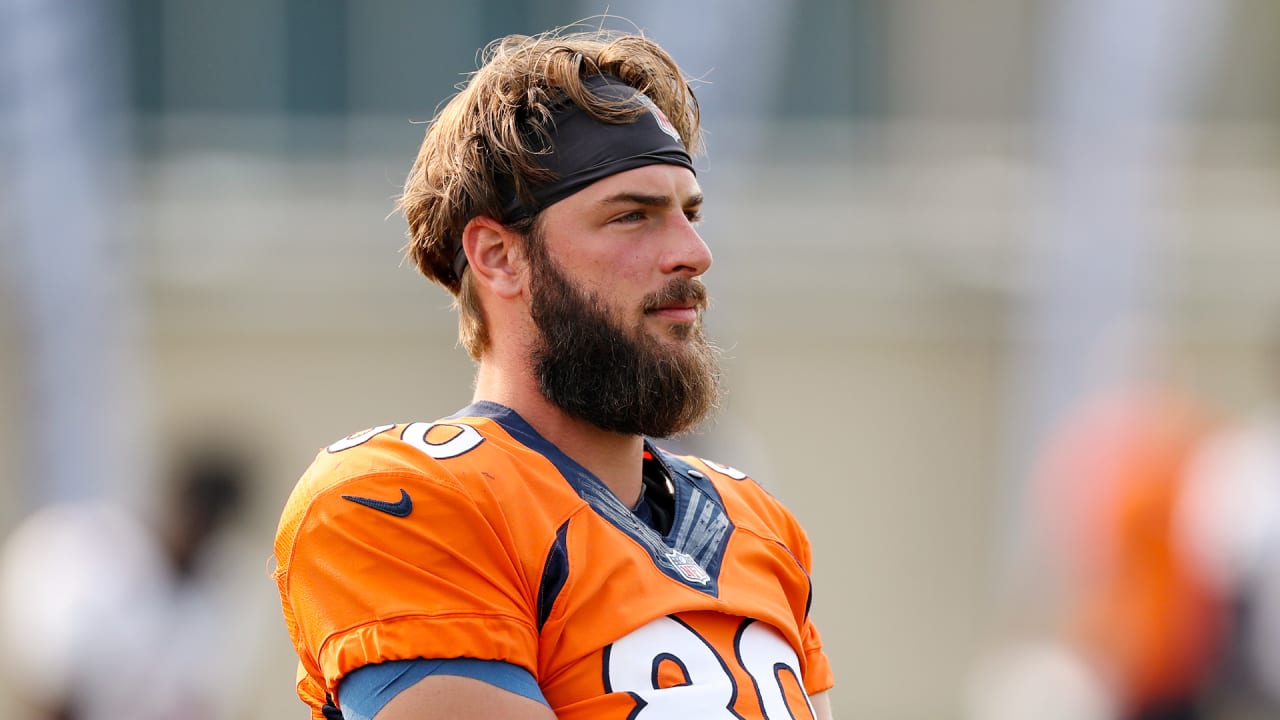 That achievement represents more than just Butt's physical health. After suffering a season-ending ACL injury in 2018, his third since 2014, he struggled to return to full health. Those problems continued in 2019 as he tried to play through a torn meniscus. Through all of these trials, Butt's mental health also suffered.
"For me, I wasn't getting as healthy as quick as I would have liked," Butt said. "It was taking some time, and I wanted to see some progress quicker than what I was seeing. When it wasn't coming, you start to question, 'Hey, is this really meant to be? Is this meant for me? Is this what I'm supposed to be doing or is it time for me to get into another profession?'"
As Butt questioned himself and his future in the sport he loved, he fell deeper into his misery. One person who recognized it quickly was Head Coach Vic Fangio, who spoke with Butt privately shortly after he suffered the meniscus injury during training camp in 2019.
"I think Coach Vic knows mentally what I was going through, fighting demons off," Butt said. "He came and talked to me last year, pulled me aside. I think I wear my heart on my sleeve [and] I think a lot of people saw how much I was struggling mentally and how frustrating it was for me to be hurt all camp last year. And he pulled me aside and kind of encouraged me to keep pushing and keep working and keep going."
Even though Fangio had not worked with Butt for very long — maybe seven months at that point — he had identified the kind of person Butt was and felt he needed something at that moment.
"If you know me as a coach does, you know I love football and you know I love working," Butt said. "And I don't want to miss practice, I don't want to miss games, I don't want to miss a snap. … And when it's out of my control and I feel like I'm doing everything I can, it stings a lot more. And I think that Coach Vic knew that and just kind of reminded me, 'Hey, listen. I don't want to put words in your mouth; you're a grown man and you can make your own decisions. But I also know how much you love this game of football, and I think you'd regret it if you walked away from it.' That was just kind of his advice without knowing anything. That kind of guided me. …
"I think it says a lot about Coach for him to recognize that want — one, to recognize it, and two, to act on it. To encourage me in that moment, it meant a lot, and it obviously pushed me."
And despite continuing to struggle through the season trying to play, including a frustrating series of stretches where he would practice for a few days before missing a week or two, Butt kept working.
"Even with those thoughts, I would always make sure I showed up every single day and worked and just continued to work through it," Butt said. "And over time, it gets a little bit better and a little bit better and a little bit better and you get a little bit more comfortable with your knee and your situation."
By the time Butt reported for training camp in late July, he was healthy and in a good headspace. Though the COVID-19 pandemic had prevented the Broncos from holding organized team activities through the spring, he had taken advantage of the isolation to focus on himself. He picked up meditation and visualization and diligently tried to anticipate what it would feel like to run a route, to cut off his left leg so when he finally would, it would feel completely natural.
https://www.denverbroncos.com/news/jake-butt-broncos-2020-initial-roster-reaction-mindset-training-camp