Jim Irsay, Peyton Manning, Frank Reich & more…
4 min read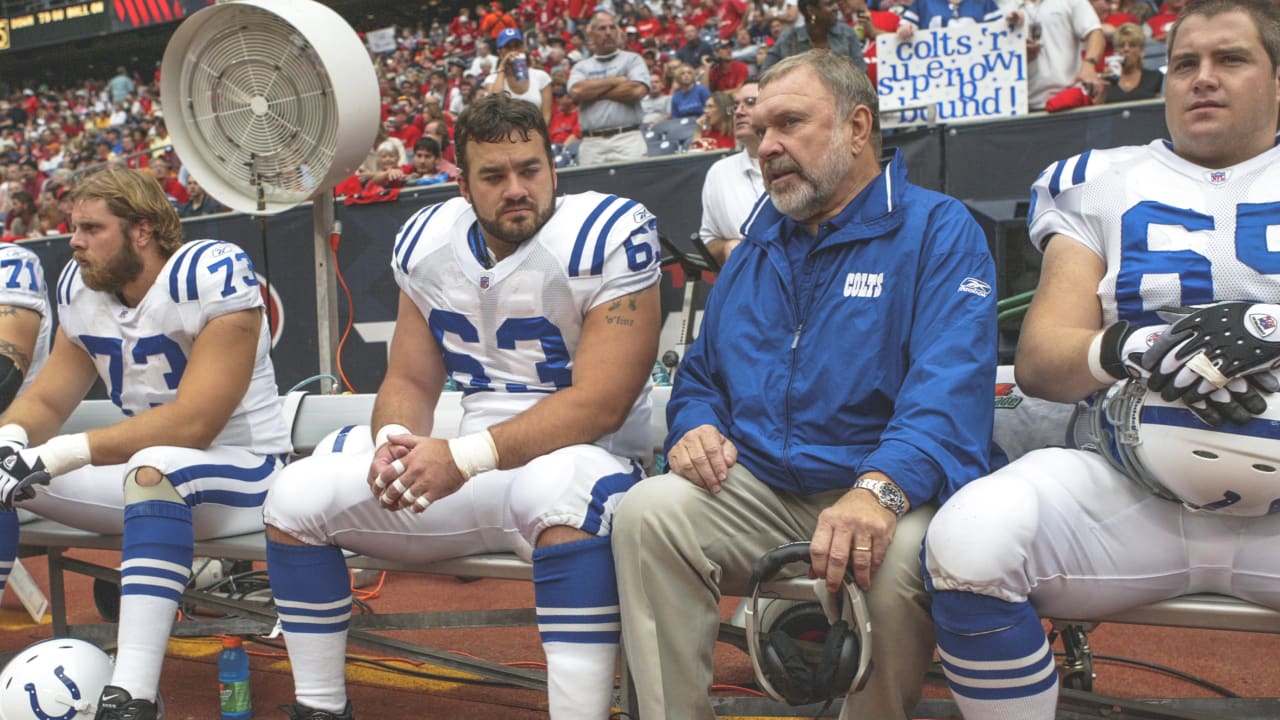 INDIANAPOLIS — It was early in 1998, Howard Mudd had a note waiting for him on his desk.
He had just been hired as the new offensive line coach of the Indianapolis Colts, who had allowed 62 sacks the season prior, the third highest figure in the league. The Colts had just invested the No. 1-overall pick on a quarterback out of the University of Tennessee named Peyton Manning, and Mudd knew his No. 1 objective was to keep that rookie's uniform clean.
But, just in case he needed a reminder, Jim Irsay was happy to oblige.
"I don't want to see dirt on 18's uniform. Not a lick," Irsay recalled writing to Mudd that day. "I mean, nothing. No one touches him."
For the next decade-plus, Mudd — and the offensive linemen he guided — would uphold that standard.
From 1998 through 2009, the Colts would rank no lower than 10th in the league in fewest sacks allowed; more often than not, if they weren't No. 1 in the league in that category — as they were six times under Mudd — they were at least in the top three or four.
The legendary Mudd passed away Wednesday following a tragic motorcycle accident near his Seattle home. He was 78 years old.
Irsay, Manning and several others, including Colts head coach Frank Reich and general manager Chris Ballard, offered their fond memories of time spent with Mudd over the years.
In an interview with Colts.com's Jeffrey Gorman, Irsay talked about how his relationship with Mudd far exceeded that of owner and coach.
"It's a very, very, tough one for Colts Nation," Irsay said. "I've been around a lot of coaches for 50 years in this league, some of them are like fathers and uncles and brothers, and as you get older they're like sons, but Howard was very special, and in all three categories: as a coach, as a man and as a great friend. It's a real difficult day for Colts fans, because everyone knows how much Howard meant to the Horseshoe and how much he was loved."
Mudd first gained notoriety as an All-Pro offensive lineman with the San Fransisco 49ers, who selected the All-American out of tiny Hillsdale College in Michigan in the ninth round of the 1964 NFL Draft.
A member of the NFL 1960s All-Decade Team, Mudd would be named All-Pro two times and selected a starter to three Pro Bowls over the course of his playing career with the 49ers (1964-69) — who have since named Mudd to their All-Golden Era Team — and the Chicago Bears (1969-70).
After an eight-year playing career cut short by a knee injury, Mudd entered the coaching ranks as an offensive line coach at the University of California in 1972, spending two years at the school. He got hired onto the staff of the San Diego Chargers in 1974, sparking a decades-long career as one of the greatest offensive line coaches in NFL history.
Mudd was on the staff of the Chargers (1974-76), 49ers (1977), Seattle Seahawks (1978-82; 1993-97), Cleveland Browns (1983-88), Kansas City Chiefs (1989-92) and Eagles (2011-12), but he's perhaps best known for his work with the Colts' offensive line from 1998 through 2009.
A key member of the Colts' Super Bowl XLI-winning staff in the 2006 season, Mudd's innovative ways — he is largely responsible for the silent count methods utilized by most teams today — and ability to teach and develop players up front set him apart from any other offensive line peer.
"As a football coach: he was — and I don't use this term often — he was remarkable," Irsay said. "I mean, people know football and they know the offensive line is the engine that drives your football team; that is the engine. That is the most important thing in determining victories besides the quarterback is the battle at the line of scrimmage, and Howard was a Hall of Fame chief mechanic. I mean, he knew how to get offensive lines to play."
Irsay recalled a game against the Denver Broncos, who had a stud defensive lineman tearing up the rest of the league on a weekly basis. So Mudd decided to move his All-Pro center, Jeff Saturday, to guard, and move his guard to center, knowing Saturday could handle his own against that particular player.
"The guy was neutralized the whole game," Irsay recalled. "Saturday knew he could block him, and he did, and we won the game just because, I mean, you have to understand, at the NFL level, that's very rarely done; that out of the middle of a season you take a guy from center and move him to guard and then move him back like Howard did. But that was Howard."
https://www.colts.com/news/peyton-manning-jim-irsay-frank-reich-howard-mudd-memories