Jonathan Williams Delivers Second Straight…
4 min read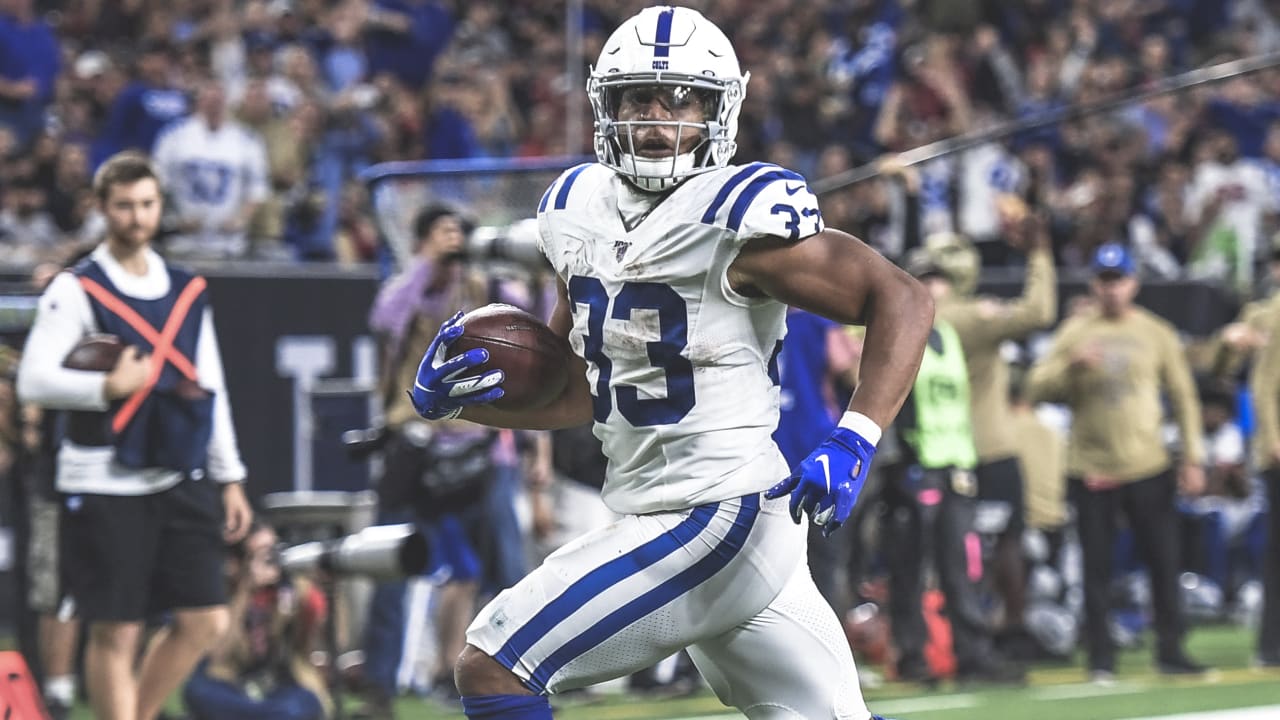 Last Sunday against the Jaguars, Williams, who is listed fourth at running back on the Colts' unofficial depth chart, was able to get extended action for the first time all season as backup Jordan Wilkins worked his way back from an ankle injury suffered the prior week against the Miami Dolphins.
Williams proved to be a solid change of pace from starter Marlon Mack in the first half of that Jaguars game, but he really took off in the second half after Mack was forced to exit with a fractured hand, logging 10 carries for 95 yards over the final two quarters and also using a screen play to convert a 3rd-and-19 scenario into a 31-yard reception.
And while Wilkins was able to work his way back into the mix this week in practice, head coach Frank Reich elected to give Williams the start in Mack's place on Thursday night against the Texans, mostly relegating Wilkins to an emergency role as a precaution.
"Jordan was ready to go — he assured me he was ready to go — but, with Marlon down for a few weeks, more than likely, I just wanted to be smart with Jordan, and kind of use him as an emergency-only," Reich said. "I didn't want him to go in and re-aggravate that, and then now we've gotta go out and get somebody else. So he was just gonna be more of an emergency guy tonight."
The Colts fed Williams time and time again against a talented Houston front that came into the game allowing 102 rushing yards per game, the 13th-best mark in the NFL. He had 13 carries for 33 yards in the first half, but turned in 13 more carries for 71 yards over the final two quarters.
Matched with a few effective runs by Nyheim Hines and a couple scrambles by Brissett, the Colts on Thursday night finished with 39 total carries for 175 yards and two rushing touchdowns, just four days after collecting a season-high 264 rushing yards against the Jaguars.
The Colts now have the league's third-best rushing offense at 144.2 yards per game.
"I think that just shows you what type of group we have," said Brissett, who had his own five-yard rushing touchdown in the second quarter on Thursday. "And our backs are amongst the best of them. And our O-line does a great job. They call for the run, so our receivers and tight ends game in and game out do a heck of a job of blocking downfield. And the 175 yards is a result of that."
As for Williams, he's finally getting an opportunity to show what he can do after bouncing around the rosters of the Buffalo Bills, Denver Broncos, New Orleans Saints and Colts over the past four seasons.
A fifth-round selection by the Bills in the 2016 NFL Draft, Williams would register just 27 carries for 94 yards and a touchdown in Buffalo his rookie year before spending a majority of the 2017 season on the Broncos' practice squad. The Saints signed Williams to their active roster in mid-November of that year, and by the beginning of the 2018 regular season, he had seemingly cracked the rotation in New Orleans. But by the end of September, with Mark Ingram set to return from suspension, the Saints let Williams go.
The Colts signed Williams to their practice squad last October, and then promoted him to their 53-man roster the following month, though he would log no carries with the team last season. He earned a roster spot as the fourth running back heading into the 2019 regular season, and now finds himself carrying the load in the Colts' backfield for the foreseeable future until Mack can get back into the fold.
Williams just kept on chugging along.
Now, the fourth-year Arkansas product can finally rest up after two big performances in four days. It doesn't get any easier from here, though, as the Colts next line up against the Tennessee Titans in Week 13 at Lucas Oil Stadium; the Titans allow 102.5 rushing yards per game, which heads into Sunday's action as the 13th-best mark in the league.
"Body's a little tired — I'm sure everybody else's is, too," Williams said. "A couple days off, but then we gotta get ready for Tennessee."
https://www.colts.com/news/jonathan-williams-100-yards-houston-texans-2019-week-12