Justin Fields excited for first Bears-Packers…
4 min read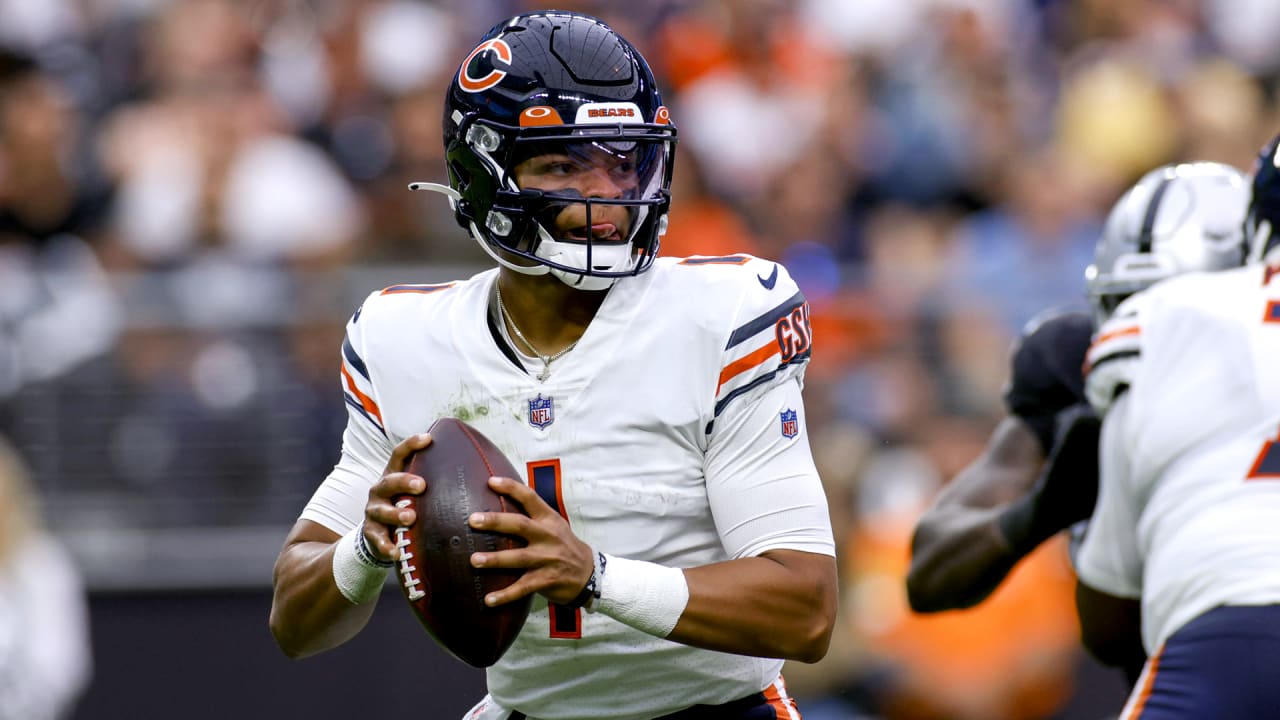 More evidence of the strides that Fields is taking came on the first-round pick's 2-yard touchdown pass to tight end Jesper Horsted. Fields rolled to his right and rifled a frozen rope to a well-covered Horsted, who plucked the ball away from cornerback Amik Robertson in the end zone. 
"No. 1, [it shows that Fields] understands that we talk about all the time inside the 10-yard line, five-yard line, in the end zone, there's a lot of plays that are off script," Nagy said. "That was one prime example. 
"It also tells you that he trusts his players and that he's willing to take a hit when he makes a throw. That was a sidearm throw that wasn't easy. He threw it very accurately. You could see the baseball player in him as he was running out there making that sidearm throw. It shows growth to understand that, 'OK, not every play has to be perfect.'" 
Fields' familiarity and comfort level increases with every snap he takes. 
"Once you run a specific play, a lot of times you just start to get a better feel for the play to see if it's there or not," Fields said. "That way you can get to your checkdown quicker. The more reps I get, the more comfortable I'll get with plays, and the faster I'll be able to go through my reads." 
With rare speed and athleticism at the quarterback position, Fields is capable of producing impact plays down the field as a runner and passer. But he must balance that ability with executing what's on paper in the game plan.
"I think we have a good feel of who he is and how he's growing each week," Nagy said. "We feel good about that and how we can continue to help him grow. We want to make sure that he is doing what we're asking within the scheme, but then also letting his personality and his play show."
Fields has been calm, cool and collected since the day he joined the Bears, and Nagy doesn't expect that to change this week, even with an NFC North showdown against the rival Packers at Soldier Field looming Sunday. 
"That's a huge strength of his," Nagy said. "When we had a loss like we had versus Cleveland or you have a win like we just had against the Raiders, you can't tell a difference. That's a pretty good deal there. 
"As you approach and prepare [for the Packers], we all understand the rivalry of this division game. We all get it. We understand it. We know it. At that position, for him to be as young as he is, I think the experiences he's been through helps him. The confidence he has in himself and his teammates helps him. And he's young; it's only going to get better."
Fields' even-keeled demeanor is seemingly a product of the 22-year-old's maturity and self-awareness.
"I think I'm a great evaluator of myself," he said. "I know when I am doing something wrong. Just knowing who you are, how you react to certain things and how it's going to affect something, I think that's very important really into any career or any part of life really. I try to stay as calm as possible in most situations and just keep going."
Fields figures to remain calm this week, even as he prepares for his first Bears-Packers game Sunday. He'll draw upon his experience playing in rivalry games against Michigan the past two years as Ohio State's quarterback. 
"A rivalry game, it's big," Fields said. "I've been in the position before. I wouldn't say it totally prepares me for this, but I have a pretty good idea of what a big rivalry game looks like."
And what does it look like?
"Trash talk before the game, in warmups, fans talking trash and stuff like that," Fields said. "I always enjoyed that, hearing what they say. The nonsense coming out of their mouths always gave me a good laugh before the game. I mean, just the competition that goes with it. Just the excitement and just the competition and stuff like that."
https://www.chicagobears.com/news/fields-shows-growth-while-gaining-experience-packers-rivalry-game